Mooney, Perry want to return to glory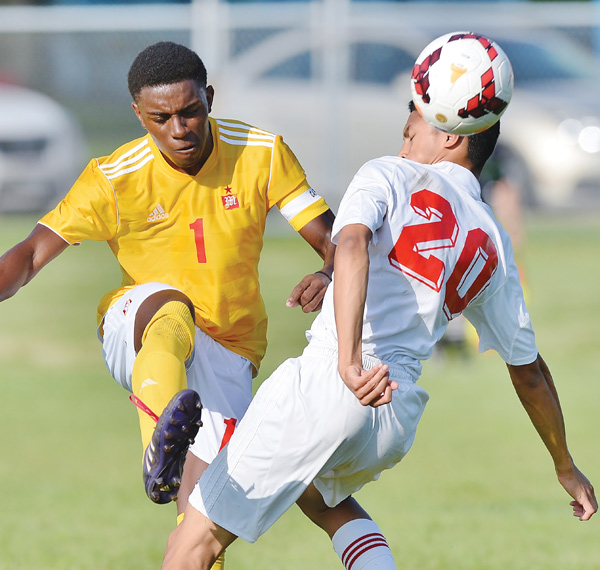 ---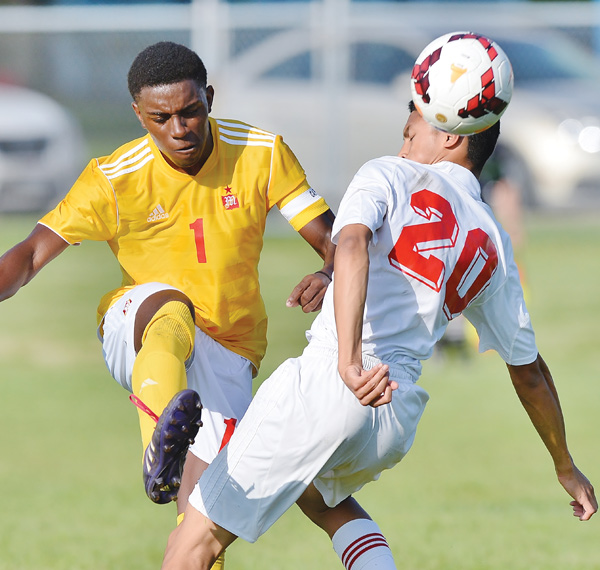 Photo
Cardinal Mooney senior captain Myles Harris kicks the ball over the shoulder of Warren JFK's Marco Lucero during the first half of their game Wednesday in Warren. The Cardinals downed the Eagles, 6-0, behind sophomore Chris Perry who scored three goals.
By Jon Moffett
WARREN
When Chris Perry stands in front of his mirror in his soccer uniform, he notices one thing in particular: his shoes.
While they may seem average to everyone else, he knows how big they are and how badly he wants to fill them.
Perry, a sophomore on the Cardinal Mooney boys soccer team, has a couple of reasons to feel that way. Older brothers David (2010) and Matthew (2014) each won district soccer titles with the Cardinals. And Chris said he's not about to be the odd man out.
"I've been around this program for about eight or nine years and watched both of my brothers win district championships," he said. "I want one too."
Mooney, by their own standard, is in a bit of a drought — sort of like 10 minutes of sunshine in the rainforest. The Cardinals won the district championship consecutively from 2001 to 2010 and were runners-up in 2011 and 2012. Chris Perry said watching his brothers lose the title games was "depressing" and doesn't want to experience that himself.
"I just want to go out and win one too and show everyone that Mooney soccer is still here and that we can still be as good as we've been," he said.
So far, it looks like Perry and the Cardinals have as good a shot as anybody. Right now they're 4-1 after a 6-0 victory over host Warren John F. Kennedy on Wednesday. Perry scored three goals. Mike Myers, Justin Parkins and Nicholas Koken scored Mooney's other goals. Keyton Graff had three assists.
Still, head coach Lou Cali Jr. said there is always room for improvement. And such a decisive victory is a great way to learn what you did wrong.
"I don't want our boys to get in bad habits, and that's the main thing," Cali said. "I don't want to get into a situation where we walk out onto the field and think, 'This is going to be easy,' and then all of a sudden we don't do the things that we need to do."
He added there are very important lessons to learn in a big just as there are in a loss.
"One of the things we've been struggling with and are slowly getting better at as far as this year is sprinting off the ball," he said. "We have a lot of skill on the team, and a lot of the time we'll sit around and admire our passes. We'll make a nice pass and think, 'Hey, that's really pretty' and everybody else is thinking it and then all of a sudden this guy is getting double-teamed because we didn't sprint off the ball. So that's what we've been working on really hard the past few weeks."
Cali, like Perry, said the first goal is to reclaim the top spot in the district. After that, he has visions of state titles.
But, he said, that's not up to him.
"It depends on how quickly they grow up," Cali said. "Adding depth is going to help us, and our schedule is going to help us. Our schedule is brutal. We play the No. 2, 3 and 5 teams in the state in the next two weeks, so that'll give us a little bit of a look as to where we are."