Golf outing will benefit McKinney of Lordstown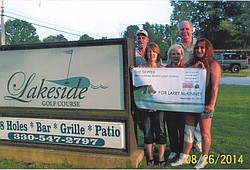 Photo
SPECIAL TO THE VINDICATOR: Members of the planning committee for the Benefit Golf Outing for Larry McKinney of Lordstown are Mark Koenig, Bill Miller, Cyndi DiClaudio, DeEtta Miller and Paula Buzzard. Others on the committee are Libby Andriko, Russ Inglis and Pete Stevens.
Staff report
LAKE MILTON
Friends and family of Larry McKinney of Lordstown are hosting a Beat Leukemia Benefit Golf Outing on Sept. 21 at Lakeside Golf Course, 2404 SE River Road.
The outing will be a scramble beginning with a shotgun start at 8:30 a.m.
The benefit's purpose is to raise funds for McKinney's medical expenses. He was diagnosed in February with a rare, aggressive form of leukemia. McKinney is self-employed but cannot work at this time.
Thanks to the bone marrow donation from his brother John, he is recovering from a bone marrow transplant, which was done at the Cleveland Clinic on June 3 and 4. He still has a long battle ahead.
Golf costs $65 per person in teams of four and includes beverages, breakfast, lunch, dinner, prizes on each hole, skins game, 50-50 raffle, basket auction, and raffles of a basket of booze and a gas grill. To attend only the dinner, the cost is $20.
Participants can sign up at the golf course or call Bill or Dee Miller at 330-792-6660 or 330-207-2671 or mail to Bill Miller, 4478 Burkey Road, Austintown, OH 44515. Make checks out to the Larry McKinney Benefit Fund. The entry deadline is Saturday.
Donations and hole sponsorships also are welcome; call Miller at the above number.
Following are sponsorship opportunities: Basic Donor Sponsor costs $50, Great Donor sponsor costs $75 and Super Donor Sponsor is $100.