Canfield wins on Boardman's short, narrow field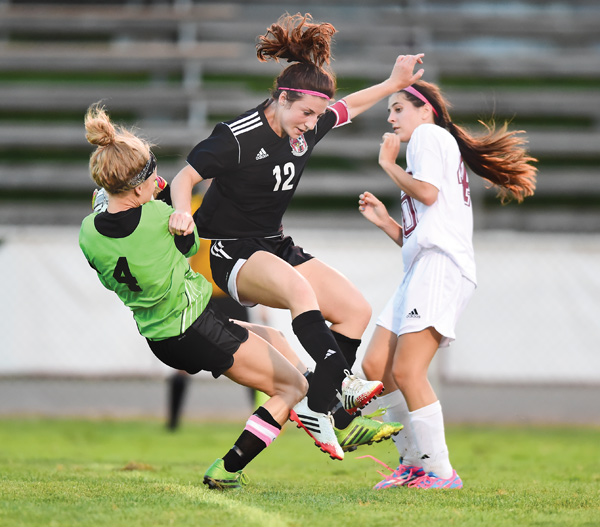 ---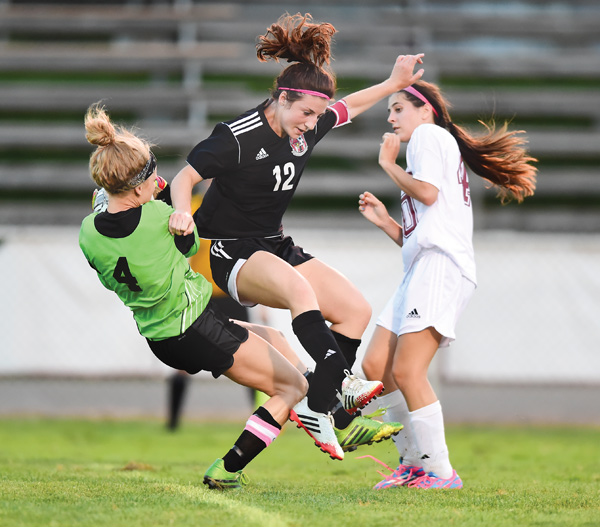 Photo
Canfield's Sophia Mancini (12) collides mid-air with Boardman goalie Kristen Huck (4) during the first half of their game Wednesday at Spartans Stadium in Boardman. The Cardinals defeated the Spartans, 4-2.
Cardinals figure out how to deal
with Boardman's short, narrow field
By Ryan buck
BOARDMAN
To a player, the Canfield High girls soccer team might tell you not much went right Wednesday evening at Spartan Stadium.
But it was enough.
The Cardinals broke a 1-1 halftime tie early in the second half and pulled away for a 4-2 victory over Boardman.
Spartans goalkeeper Kristen Huck valiantly pushed away or corralled 13 Canfield shots, but the visitors' possession and relentless attack overshadowed an admittedly lackluster performance.
"I knew it was going to be an ugly game," said Canfield coach Phil Simone, "on a bumpy, narrow, short field. I knew coming in that (Boardman was) going to pack it back and it's so hard to break that. It's so hard on that small of a field.
"Seven (players) back (on defense) feels like 10 back there."
While the Spartans' newly renovated home field is having its finishing touches arranged, the interim home turf — 20 yards narrower and 20 yards shorter than is customary — slowed Canfield's potent offense.
Spartans standout forward Alison Green gave Boardman a 1-0 lead at the seven-minute mark with a patented breakaway by the speedy scoring leader.
"She did everything we asked her to do," said Boardman coach Fawzi Mujahed.
Canfield quickly responded on Anita Mancini's strike from 25 yards away from goal two minutes later.
"I wasn't panicked yet, but I thought we settled down a bit and got our bearings," Simone said. "I thought we'd be OK."
As Boardman pulled seven and, at times eight, players into a defensive shell, Canfield continually brought pressure.
Huck stood tall in net before her defense finally cracked.
After Sophia Mancini fell at the feet of two Boardman defenders, Haylee Klacik buried the resulting penalty kick beyond Huck's outstretched right hand to give Canfield the lead with 32:39 left.
"It takes a lot mentally," said Klacik, a junior midfielder, "but you can't think about it too much and just shoot for the corner.
"(The scoreless drought) was frustrating, but it's really nice when one does happen."
At the 17:17 mark, Sophia Mancini — the elder sister — smashed home a loose ball off a corner kick in the Spartans' penalty box.
"We brought some midfielders forward hoping to stretch them out a little bit and it just created a couple windows," Simone said.
Ahead two goals, the pace and tempo belonged to Canfield. The defending Division II district champion was reeling from a loss to defending Division I state champion Walsh Jesuit over the weekend.
"We knew the field wasn't that good, but, hey it works," Klacik said. "We couldn't spread them out and couldn't spread ourselves out. It was hard."
With six minutes left in the game, Candace Smith scored on another loose ball in the Boardman box for a 4-1 lead.
The lack of possession undermined any offensive attack for Boardman, which had zero second-half shots on goal and, until Payton Bryant's converted penalty kick with two minutes left, zero scoring chances.
"When they scored in the second half, we opened up the field," Mujahed said. "With it opened, (Canfield has) the skill.
"We played the first half great. In the second half, their experience, skill and quality ... we tried hard, but Canfield finished it."