J.D. Martinez's ninth-inning bomb crushes Indians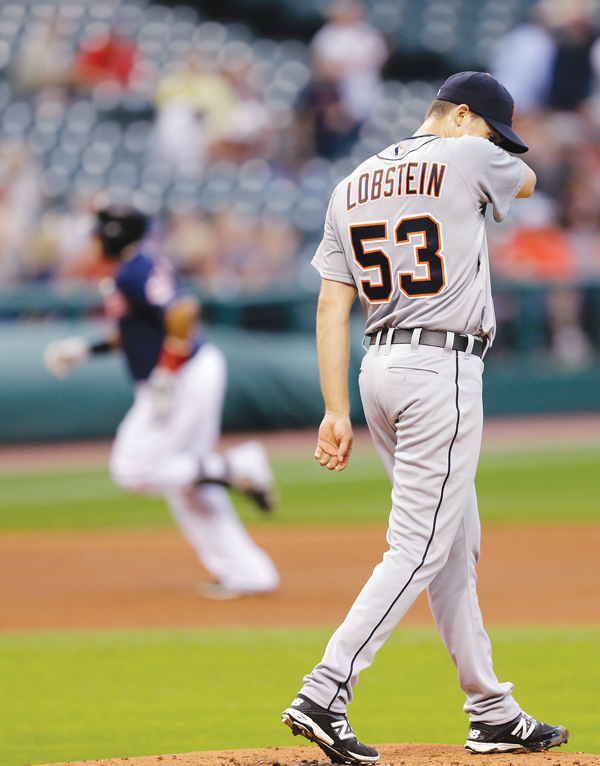 ---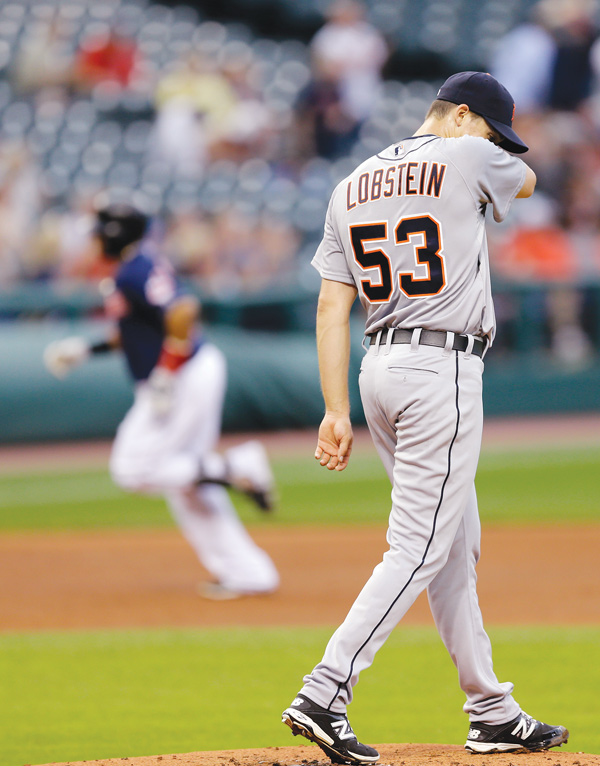 Photo
Tigers starter Kyle Lobstein waits as the Indians' Carlos Santana runs the bases after hitting a two-run homer in the first inning of Tuesday's game in Cleveland. The Tiger rallied in the ninth to win 4-2.
Associated Press
CLEVELAND
For eight innings, the Tigers couldn't connect in the clutch. They were exasperated, annoyed and seemingly on their way to a tough loss.
One swing by J.D. Martinez changed their mood.
Martinez hit a three-run homer off closer Cody Allen with one out in the ninth inning, rallying the Tigers to a 4-2 win over the Cleveland Indians on Tuesday night.
"He hit it so hard, it sounded like thunder," teammate Torii Hunter said.
Martinez's shot into the shrubs beyond the center-field wall bailed out the Tigers, who stranded 12 runners through eight.
But in the ninth, Hunter drew a leadoff walk from Allen (5-4), Miguel Cabrera singled, and after Victor Martinez flied out, J.D. Martinez ripped his 19th homer, a crushing blow to the Indians.
"It was one of those swings where you hit it and it just feels perfect," Martinez said, "like you couldn't do anything else or any better. When I reached home, I was like, 'Did I touch every bag?' You get caught up in the situation. It's September, this is the month you win or go home."
Phil Coke (3-2) pitched 11/3 innings and Joe Nathan worked the ninth for his 29th save.
Detroit's comeback kept the Tigers on the heels of first-place Kansas City in the AL Central. The Royals have a half-game lead in the division.
The Indians wasted a strong performance by Carlos Carrasco, who side-stepped danger for 51/3 innings and struck out a career-high 10.
Carlos Santana hit a two-run homer for Cleveland, which has dropped the first two in this critical four-game series and fell 51/2 games out of first.
J.D. Martinez has hit two homers in three career at-bats off Allen, who was trying to protect a 2-1 lead against the middle of Detroit's vaunted lineup.
"I was just overthrowing it," Allen said. "I just didn't make pitches when I had to. One pitch — J.D. Martinez got extended on a fastball and hit it very hard."
Until Detroit's uprising, Carrasco was in line for his fourth straight win. The right-hander managed to work out of jams in four straight innings, making big pitches and keeping the Tigers' power hitters in the ballpark one night after Detroit slugged five homers and collected 20 hits.
Tigers rookie starter Kyle Lobstein was superb in his first career road start, allowing five hits in 51/3 innings and striking out 10.
Every time the Tigers threatened, Carrasco found a way out of trouble.
"He really dug deep," Indians manager Terry Francona said of Carrasco. "That was really something. He pitched out of so many binds and executed some unbelievable pitches."