With 168th Canfield Fair over, fair board looks to next year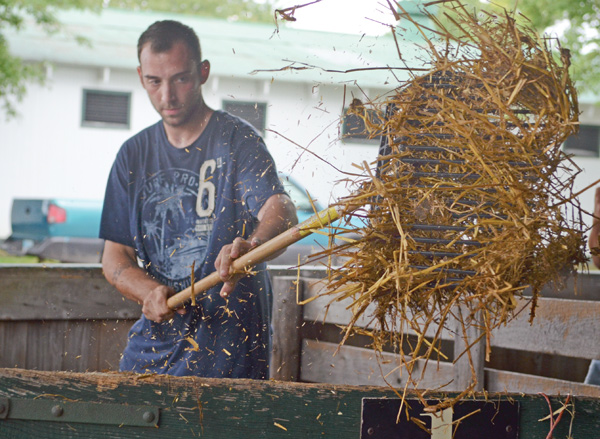 ---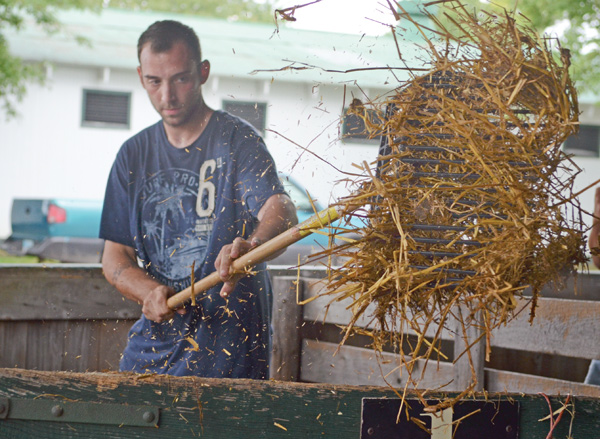 Photo
Jarrod Makis of Youngstown cleans out stalls in the sheep barn at the Canfield Fairgrounds. He did so on Tuesday, one day after the Canfield Fair wrapped up its 168th year.
By EMMALEE C. TORISK | etorisk@vindy.com
CANFIELD
About 10,000 fewer people attended the Canfield Fair this year, mostly due to the threat of rain Sunday, but fair officials aren't too dismayed by that drop in numbers.
Almost "every other day was up from last year," said Craig L. Myers, fair board president. "Was it successful? Absolutely."
A total of 291,539 people attended the Canfield Fair this year, compared with 301,168 last year. In 2012, 293,067 attended the fair.
Attendance was up by 21 percent Wednesday, by 7 percent Thursday and by 5 percent Friday. It dipped by 3 percent because of the heat Saturday, then Sunday's inclement weather pushed attendance down to just 55,752 — a 29 percent decrease from 2013's 78,394 fairgoers. Attendance recovered once again Monday, when it was up by about 14 percent.
Myers, for whom the 168th Canfield Fair marked his first as president, did note that the approximately 3 percent decline in overall attend- ance likely would have a "fairly large impact" — somewhere in the vicinity of $50,000 — on fair finances. He said the 17-member fair board was still waiting on final figures and that a report should be ready by its first post-Canfield Fair meeting Oct. 14.
In the meantime, cleanup — including the sweeping out of barns and stalls, and the breaking down of various displays and exhibits — will continue across the fairground's 353 acres. If the weather cooperates, the grounds will be back to their pre-fair condition within a week, Myers said.
It's a pretty tight schedule. The next event scheduled to take place at the Canfield Fairgrounds is Dave and Ed's Super Auto Event, which will run Sept. 12-14.
Jack Richardson, third-generation owner of Richardson's French Fries, said his business wrapped up cleanup Tuesday. Employees stayed long after the 168th Canfield Fair closed Monday night to do the majority of the work, then spent a couple of hours Tuesday "making sure we had everything," Richardson explained.
He added that the wrapping-up process is relatively quick, considering that it takes a couple of days to set up. The work is worth it, though.
"We have a big following out at the fair," said Richardson, noting that the business, started by his grandfather, has been at the Canfield Fair since 1950. He'll likely be back next year as well. "Everybody knows Richardson's French Fries."
This year, Richardson's French Fries took fifth place in the "Best of Fair" contest sponsored by Fred Martin Ford, according to a news release. Fairgoers were able to cast their votes by visiting the fair's website and by scanning the QR codes posted near vendors' booths.
The other most-popular food vendors at the 168th Canfield Fair were, in descending order, Andrews' Sausage, Bam Bam's Backyard BBQ, Richard's Stuffed Hungarian Peppers, Ziggy's Funnel Cakes, Molnar's Cinnamon Rolls, Guzzo's Fruit Stand, DiRusso's Concessions, Shirley's Steak and Sausage, Molnar's Concessions, Dolly's Homemade Sausage and Mechling Concessions.
The contest will return for the 169th Canfield Fair.
Both Myers and George Roman III, fair board director in charge of concessions and entertainment, said some changes are in the works for next year's fair but that it's too early to say what they'll be.
"We're still in the planning stages," Roman said. "Everybody's just trying to catch their breath right now, but a lot of notes have been made."
The two fair directors added that the two grandstand concerts Sunday and Monday — Reba McEntire, and Justin Moore and Randy Houser, respectively — were well attended, as were other shows, such as Friday's demolition derby and Saturday's truck and tractor pull. All were quality programs, they said.
Myers noted he is truly grateful for the hundreds of Canfield Fair volunteers who donate their time to "put it all together."
All work — from helping to put up banners on the grandstand to landscaping the area near a vendor's stand — is valuable, he said, and "without it, the fair wouldn't be what it is."
"It seems like every year it keeps getting better and better," Myers said.
"We're [already] looking forward to next year," Roman added.