Lawrence County racino awaits decision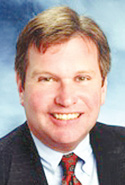 ---

Photo
Dan Vogler, Lawrence County commissioner
By ROBERT CONNELLY
NEW CASTLE, Pa.
A proposed racino in Lawrence County, Pa., is waiting to clear regulatory hurdles before a decision is made on whether the project will move forward.
Lawrence County Commissioner Dan Vogler said the Pennsylvania Gaming Control Board kept the record open for a 60-day period on a public hearing hosted May 8 in the county to allow written comments by those who couldn't make that meeting on the proposed Lawrence Downs Casino and Racing Resort.
"There is considerable public support in Lawrence County for this project," he said. "... There was no one in Lawrence County that stood up at that hearing and spoke against the project, so it's safe to say that the community is very much behind this proposed facility."
The proposed harness track and casino would sit at the intersection of U.S. Route 422 and Pennsylvania state Route 551. That is about 20 miles east of Austintown in Ohio and the Hollywood Gaming at Mahoning Valley Race Course, set to open its casino portion Sept. 17 with 850 video lottery terminals and begin thoroughbred racing Nov. 24.
Lawrence Downs is estimated to provide 600 jobs.
"With 600 employees, they would become one of the larger employers in the county. ... This would result in a very significant economic boost for not only Lawrence County, but for the surrounding counties as well," Vogler said.
The project would include 1,250 slot machines with the capacity for an additional 250, about 40 live table games and 10 poker tables and be valued at $225 million. Officials with the project have estimated it will require 1,000 construction jobs as well.
In an editorial board meeting with The Vindicator last week, Eric Schippers, senior vice president of public affairs for Penn National, said of Lawrence Downs: "It's a very challenging project." He added that Penn National is working with partner Endeka Entertainment on the racino and helping to "line up a financing package."
Both Vogler and Schippers agreed not much has happened since the May public hearing, which is a procedural step by the gaming control board before it approves a license. Schippers said, "It's been very, very quiet."
The project does face opposition from the operators of The Meadows, a harness track based in Washington, Pa., south of Pittsburgh. It has had at least two presentations on the effect a racino in Lawrence County would have on business and argues that another racino in this market would lead to market saturation. This was specifically cited by Sean A. Sullivan, vice president and general manager of The Meadows Racetrack and Casino, in a presentation at the May 8 public hearing.
"If permitted, Lawrence will be one of nine casino operators in a 90-mile radius saturated with 18,000 slot machines [or video lottery terminals] and 450 table games," a presentation page states.
In another presentation by The Meadows, it argued: "... an additional track in the market would further dilute the market with less races per card [day], smaller fields [horses per race], and lower betting handle [listing of all bets waged at the track or at off-track facilities or simulcasts]. Smaller fields and lower handle are two items which drive away horse players, taking their business elsewhere."
Vogler said the gaming control board is processing background checks on the applicants for Lawrence Downs, using the Bureau of Investigation and Enforcement in Pennsylvania, and reviewing documents involved with the racino, such as financial records and studies done on the proposed project. Once that process is finished, then the board will have Penn National and Endeka before its seven-member panel to review the license application.
The project already has received its license for harness racing.
Vogler said the issue can be taken up at one of the next two meetings for the PGCB — Sept. 17, the same day Hollywood Austintown opens, or Oct. 8.
"We're waiting patiently while the gaming control board finalizes the process," Vogler said.
More like this from vindy.com