Big-city dining experience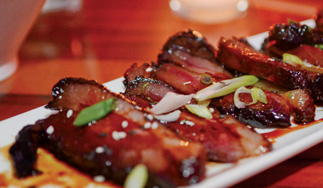 ---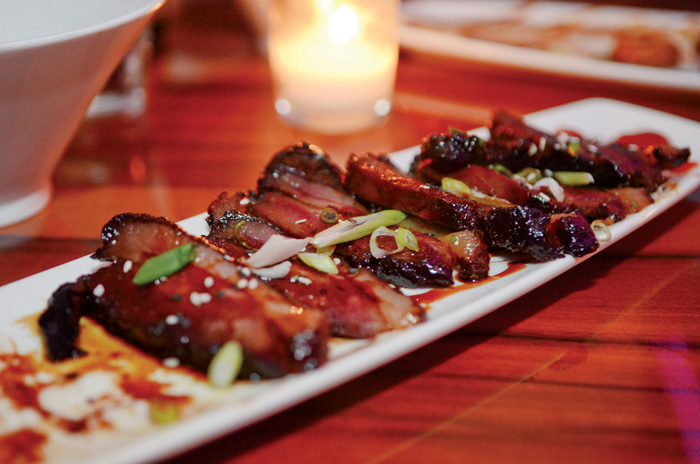 Photo
Featured here is roast duck, served with Udon noodles, the dish costs $24. Brothers in Food tasted signature dishes at the CA Restaurant in Boardman, testing dishes like duck, PEI muscles, Ahi Tuna and much more on Thursday, Oct. 9, 2014.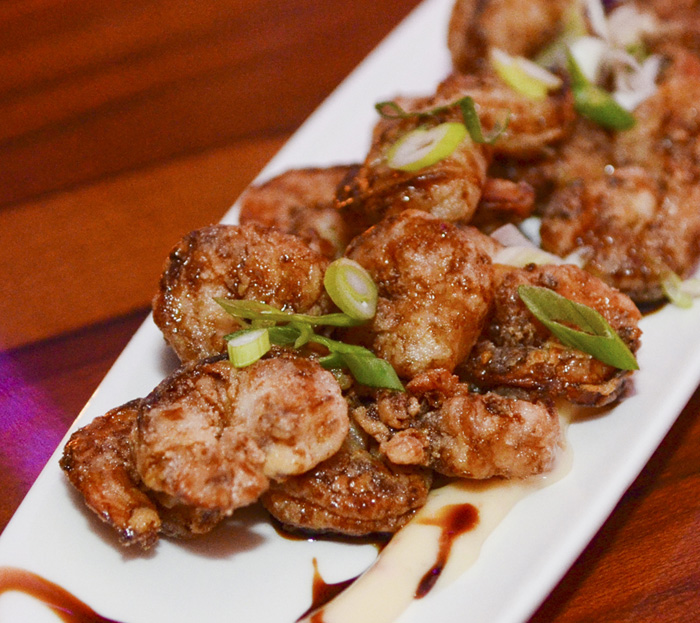 Photo
Brothers in Food tasted signature dishes at the CA Restaurant in Boardman, testing dishes like duck, PEI muscles, Ahi Tuna and much more one Thursday, Oct. 9, 2014. Featured in photo is the rock shrimp which is one of the signature dishes at the restaurant and features fresh shrimp, crispy tempura, spicy chili mayo and scallion and sweet shoyu…the dish runs at $9.
If You Go...
Where: CA Restaurant
Address: 492 McClurg Road, Youngstown
Phone: 330-965-5899
Web site: www.culinaryac.com
Signature dishes:
appetizer: Ahi Tuna Sashimi
entree: Roast Duck and Udon Noodle Bowl
dessert: Butter Cake
Hours: Wednesday and Thursday, 5 to 10 p.m.; Friday and Saturday, 5 to 11 p.m., lounge open to 2 a.m.
by: Mark Smesko and Michael Vallas
Boardman - We arrived at 492 McClurg Road, home of the CA Restaurant. The ambiance gives the vibe that there is something special to come with the clean and contemporary decor. We were seated with Tom Zidian, owner of the CA, and the VP of Brands for Gia Brands, Johnny Coury.
Johnny explained: "Our hope at the CA is to provide a big city dining experience through eclectic food made from superior ingredients, locally sourced, and rotated in a seasonal menu." Tom noted that his dining experiences in Italy as well as other restaurants in big cities such as New York and Chicago help him provide direction to the items featured at the CA.
The CA restaurant indeed has an impressive menu, and we began our dining with a sampling of their signature small plates that are perfect for sharing. First up was Tomato Bruschetta. Fresh chopped tomatoes mixed with garlic infused olive oil and fresh basil over crostini. A simple dish elevated by the freshness of the ingredients.
Next was Buratta with Prosciutto Di Parma. Buratta is a fresh Italian cheese made with mozzarella and cream. The outer shell is solid mozzarella, and the inside is soft and creamy. The fresh milkiness of the buratta matched against the saltiness of the imported ham was quite delicious.
Much to our pleasure, more plates arrived. Roasted red and yellow beets topped with chopped Marcona almonds, feta cheese and a zesty orange vinaigrette. The almonds added a nice texture, and the tangy feta played well with the slightly sweet vinaigrette.
The next dish featured sliced No. 1 grade Ahi tuna. The freshness of the fish was remarkable. It was served with wakame (seaweed) salad, pickled ginger and topped with thinly sliced jalapeno pepper and finished with a drizzle of an aromatic citrus yuzu sauce. High quality ingredients create a very refreshing dish — a standout for us.
The eclectic plates kept coming. Prince Edward Island mussels served with a spicy coconut curry sauce, scallions and crispy crostini. Large, plump perfectly cooked mussels swimming in a flavorful but not overly spicy sauce with scallions. The mussels alone were delicious, but the sauce was amazing. We needed more bread so as not to leave any of the curry sauce in the bowl.
The last small plate was a beautiful tempura rock shrimp served with spicy chili mayo and sweet shoyu sauce. The shoyu sauce has a deeper flavor and is less salty on the palate than traditional soy sauce. The tempura was light and provided a nice crispness to the shrimp. Paired with the contrasting sauces, it made for a tasty dish.
CA Restaurant has a wood-fired pizza oven, so it was a given we would need to try a pie. Ours was a Fresh Mozzarella Neopolitan made using San Marzano tomatoes, fresh basil, house-made mozzarella, and extra virgin olive oil on thin crust. The pizza dough is made with Italian 00 flour and it is cooked to a slight crispy but still chewy consistency. Well executed and delicious.
Despite the numerous samplings of small plates, we moved on to the entrees. If anyone has ever been blessed to dine out with Mark (and who wouldn't want to), you know that if duck is on the menu, there is little doubt what he will be eating. The Roast Duck and Udon noodle bowl was love at first sight. Green tea roasted duck breast paired with buckwheat udon noodles, spicy teriyaki, toasted sesame, scallions and sweet shoyu. Tender duck, soft udon noodles and the combination of sauces provided a wonderful umami experience. This was just an outstanding plate.
Tom ordered up two additional samplings and soon we were enjoying Crispy Rosemary Chicken Parmesan and Pappardelle Bolgnese. The chicken parm features an organic, free range chicken breast cooked golden brown and served with homemade red sauce, fresh mozzarella and al dente spaghettini. The pasta dish featured egg pappardelle topped with a ragu of ground veal, beef and pork flavored with a hint of red wine and topped with freshly grated Parmesan cheese. Both dishes were Italian comfort food at its best.
When you visit the CA restaurant, be sure to leave room for dessert as there's something for whatever your sweet tooth aches for. All are made in house and in an individual portion tray. But if you ask us and Dave Betras (who stopped by to give his enthusiastic albeit unsolicited recommendation), there is just one choice. Butter Cake. This rich cake is served warm and topped with vanilla bean ice cream, chocolate sauce and strawberries. The perfect ending to a superb meal.
Each dish displayed attention to detail, from the choice of ingredients, to the preparation of the dish, and lastly to the plating and presentation. As promised, the CA Restaurant provided us with that big city dining experience in the comfort of our own hometown.
ABOUT Signature Dishes
Mike and Mark are on the lookout for the biggest, hottest and tastiest dishes in the Valley. Email them at BrothersInFood@gmail.com.
More like this from vindy.com