Couple launches ghost tours in Mahoning Valley
---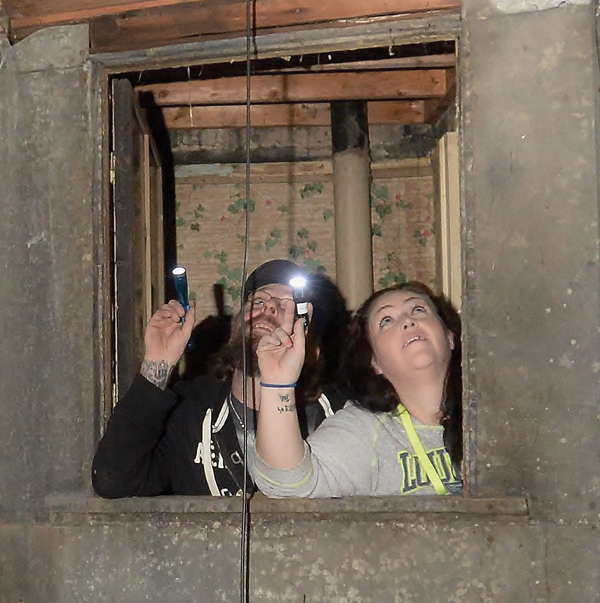 Photo
Thomas Hull and Melissa Sanderbeck peer out of a window inside the J.C. Thompson Building in East Liverpool. The two are part of a paranormal investigation hosted by Dark Shadow Ghost Tours.
YOUNGSTOWN
By day, Shawn and Marianne Donley work full time for the Newton Falls school district.
By night, the couple work part time as guides to the past and the paranormal.
Together, they run Dark Shadow Ghost Tours.
They take groups to sites, generally within a three-hour radius of Mahoning County, that have paranormal claims.
"This is the most enthusiastic business endeavor I've done," Shawn said.
Dark Shadow Ghost Tours started three years ago, but the inspiration came a year before that when the couple attended ghost tours in St. Augustine, Fla. They then visited 30 haunted locations across the country.
Shawn created the Paranormal Activity Network Investigation Center Database — at www.panicd.com — which includes information about the locations they visited.
The Donleys saw an opportunity to use their newfound information to start ghost tours, taking people from the Mahoning Valley to haunted sites within Ohio and neighboring states.
It was not an easy start.
The first tour took place at Zoar Village in Zoar, Ohio. Although 20 people attended, Shawn said it did not sell out and considered the venture far from a success. Marianne said the location was small and relatively unknown, which did not generate enough interest.
"It's a struggle to get the little places," she said.
After a six-month hiatus, the Donleys made another attempt at Hill View Manor, an 88-year-old building that used to be a nursing home in New Castle, Pa. That event was a hit with 55 people attending, Shawn said.
During the tours, the journey is just as important as the destination. Depending on how far the trip is, the couple hires a bus from Fab-U-Less Tours and entertains guests with information about the site's history and paranormal claims. They also provide instruction on how to use audio- and video-recording equipment to detect paranormal activity.
"It's educational, but people don't realize it," Shawn said.
During the tour, each group member receives a T-shirt and a "swag bag" of souvenirs. Refreshments also are provided throughout the tour depending on the length.
"There's something for everyone," Marianne said.
There's an inclusive ticket price based on the cost of souvenirs, venue fees (if any), transportation and how many people attend per group. Prices for the tours range from about $65 to $85, Shawn said.
Once at the location, the owner of the venue provides a tour of the facility. The group is then shown a central location before dividing into smaller units to conduct their own paranormal investigations with some free rein.
Dark Shadow Ghost Tours has events year-round, and not all of them revolve around ghosts. The business also conducts murder-mystery dinners, scavenger hunts and historical tours.
"There's a lot of planning that takes place for these events," he said.
Unlike some ghost hunters, Marianne, who works as a biology teacher, said she's still a skeptic.
"I've had experiences but nothing to take me to the dark side," she said, adding that she likes "the history and the theories behind ghost hunts."
"She's coming around," her husband added, noting that the history is significant. The Donleys especially consider it unethical to use any gimmicks from commercial haunted houses in their ghost tours.
That's a sentiment shared with their collaborators, Ghosting 12 Paranormal Investigations and Historical Research, an actual paranormal investigation group.
"You can't go ghost hunting if you don't know the history of the area," said Kimberly Mitchell, who founded Ghosting 12 in 2008.
Ghosting 12 members have collaborated with Dark Shadow Ghost Tours on several events and volunteered to assist with its tours and murder-mystery dinners. It's also helped the Donleys' ghost tours expand to Columbiana County, since Ghosting 12 operates primarily in Salem.
"They just want to get you out there and experience amazing adventures," Mitchell said.
More like this from vindy.com