Youngstown Fred Astaire Dance Studio marking 60th year
Dance Studio turns 60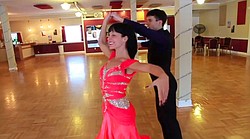 Video
The Fred Astaire Dance Studio of Youngstown has been in business for 60 years.
Youngstown Fred Astaire Dance Studio marking 60th year
By LINDA M. LINONIS
BOARDMAN
The legacy of the innovative Fred Astaire lives on through his films on classic movie networks and through the dance studios that bear his name.
When Astaire put on his top hat and tails, he danced his way to fame on stage, screen and television. The American dancer, choreographer, singer, musician and actor had a career spanning 76 years — dazzling Broadway, starring in 31 musical
films and making award-winning TV specials.
The first Fred Astaire Dance Studio opened in 1947 on Park Avenue in New York City.
In Youngstown, an Astaire studio opened April 19, 1954, at 19 Wick Ave. The studio will celebrate its 60th anniversary and downtown roots with a gala Dec. 5 at the Tyler History Center, 325 W. Federal St.
Dustin Jones and Travis Manero, both award-winning dancers, are co-owners of Youngstown Fred Astaire Dance Studio, 5090 Market St. "This isn't a job but a lifestyle," Manero said.
The studio also was based in the Central Tower in downtown Youngstown and several locations on Market Street, Jones said. For a brief time from 1979-80, it even was located in Idora Park. The co-owners said they wanted to have the gala downtown, where the Astaire studio was launched. The event will feature a professional dance performance and historical tribute. "It's a chance for people to get dressed up and enjoy downtown," Manero said.
Over the years, the studio has experienced a steady stream of students for different reasons — preparing for a wedding, empty-nesters developing a new hobby, ballroom-dancing enthusiasts and dance competitors. "The program, 'Dancing with the Stars,' has made dance more popular," Manero said. "They have awesome dance moves and made dancing exciting."
"People have seen more of the dance world and want to be able to dance," Jones said.
Because of that, the two men said, people are "getting up off the couch and learning how to dance."
"Dancing is more than learning steps," Manero said. "It's a confidence builder and great cardiovascular workout."
For couples, he continued, "It's quality time together while they learn a new skill."
Jones said the studio follows standards of the Astaire franchise. Students are as young as 8 years old and into their 90s. "We do have more adults, and most fall into the 35- to 60-age range," he said.
The men said bridal couples and their parents take lessons for the "wedding dances." With YouTube and cellphone videos, everyone wants to look good, they noted.
Everyone can aspire to the "class, elegance and poise" that Astaire projected, Manero said, and that's a good goal to have. "We want to keep the Astaire legacy alive," Jones added.
Prospective students can take a 30-minute private dance lesson to get acquainted with an instructor and see the more than 3,000 square feet of dance space. Instructors tailor lessons to those who want to learn social dancing and those in competitive dancing.
On Fridays, the studio offers group classes for $10 that have a social atmosphere. Private dance lessons afford "one-on-one" instruction for individuals and couples, Jones said. Dances in the studio's repertoire include foxtrot, waltz, tango, rumba, cha-cha, samba, mambo, West Coast Swing, merengue, salsa, country two-step and polka.
"Here at Fred Astaire, we want people to become good social dancers. It's about getting comfortable and confident," Manero said.
More like this from vindy.com