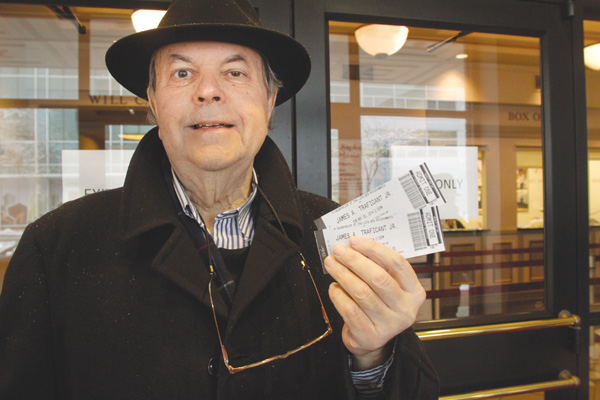 ---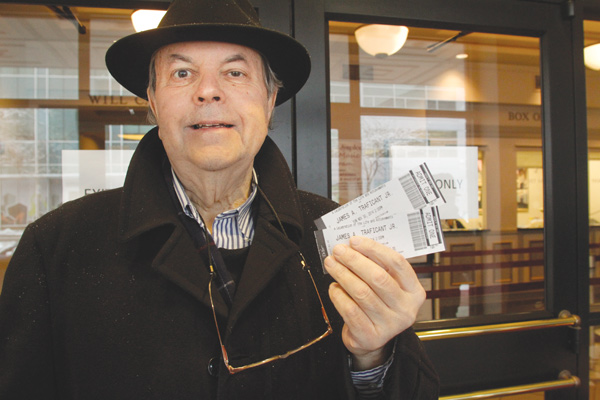 Photo
Joseph Planey of Boardman was among the first to get free tickets Monday morning to a Nov. 30 celebration of the life of former U.S. Rep. James A. Traficant Jr.
By David Skolnick | skolnick@vindy.com
YOUNGSTOWN
Nearly 1,500 free tickets for a Nov. 30 public event to celebrate and honor the life of former U.S. Rep. James A. Traficant Jr. were given away Monday — the first day to get them.
People came from as far as Rochester, N.Y., and the Cleveland area in less-than-ideal weather conditions to get the free passes, said Katie Merrill, box office manager for the DeYor Performing Arts Center, the location of the Traficant memorial.
The ticket giveaway was to start at 10 a.m. Monday, but the box office opened 30 minutes early because of the weather.
About 10 people lined up outside DeYor about 9:15 a.m. waiting for the center to open its doors.
A number of those who came to get free tickets early Monday said they knew Traficant, who died Sept. 27, four days after a tractor he was driving fell on top of him. He was 73.
"I grew up with Jim in the Lansingville area" of Youngstown, said Joseph Planey of Boardman. "With all the good he did in the area, he should get a packed house."
The event will be at 2 p.m. Nov. 30 in DeYor's Edward W. Powers Auditorium.
"My mom grew up with him," said Cheryl Kramer of Boardman, who was among the first to get tickets. "I thought he was a great congressman. I thought he was good for the people. He was awesome. He made you feel like he knew you."
The box office is open from 10 a.m. to 3 p.m. weekdays. There is a limit of four tickets per person and are being given away on a first-come, first-served basis. Tickets are required to attend the event.
The facility can hold up to 2,300 people, but if there is a greater demand, DeYor can increase the capacity, officials said.
"I wouldn't miss it for anything," said Karen Cunningham of Warren, among the first to get tickets for the event. "He was a very nice, kind man. He was good for the area."
Cunningham came to DeYor with Irene Lutz of Newton Falls.
"I respect him as one of the few people in Congress to tell the truth and not worry about the repercussions," Lutz said. "I liked his honesty. He seemed to care about the people he represented. He was a great person. I wouldn't come out in this weather for much. But I wanted to get my ticket to pay respect to a great man."
Leo Glaser of Independence, near Cleveland, came to Youngstown to get tickets for himself and some friends.
Glaser was a juror in Traficant's federal corruption trial in 2002 in which the then-congressman was found guilty on 10 felony counts, including racketeering, bribery, tax evasion and obstruction of justice.
After finding Traficant guilty, Glaser said his verdict would have changed after hearing evidence not introduced in the trial.
Traficant spent a little more than seven years in federal prison after the conviction, and was only the second U.S. House member to be expelled since the Civil War. He served about 17 years in Congress.
Glaser said that since Traficant's release, he's met with the former congressman a number of times including having breakfast with him at a Poland restaurant the morning of the accident.
"When I heard he had an accident on the radio, I almost went off the road," Glaser said. "He was a great man."
Also picking up tickets early Monday was William Nagy of Hubbard, who played football with Traficant at Cardinal Mooney High School.
"He was a heck of an athlete, a heck of a quarterback," Nagy said. "This tribute is a good way to remember him. He did a lot for this area."
Meanwhile, an effort to raise $17,500 by Saturday to include Traficant's death in a documentary about him, called "Traficant: Congressman of Crimetown," already exceeded its goal.
The Kickstarter.com effort — in which people pledge money online and will receive gifts ranging from lunch with actor Ed O'Neill, who's involved with the project, to tickets to the film's premiere, to jars of hot peppers — had $25,119 in pledges from 102 backers as of Monday.
Eric Murphy, the filmmaker who's worked on the project since 2009, said the $17,500 goal was reached in 11 days. He then wanted to get to $25,000, which he has, to use for expenses related to the film.
"I am deeply humbled by the generous support for the film and my Kickstarter campaign," Murphy said. Local producer "Jeff Alberini and I are very excited to finish the film and release it in 2015."
More like this from vindy.com