Published: Wed, November 12, 2014 @ 12:00 a.m.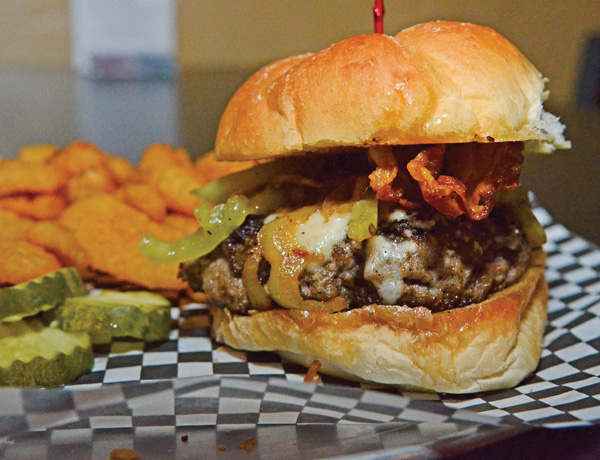 Photo
The "Try It With" burger at The Pour House Bar & Grill.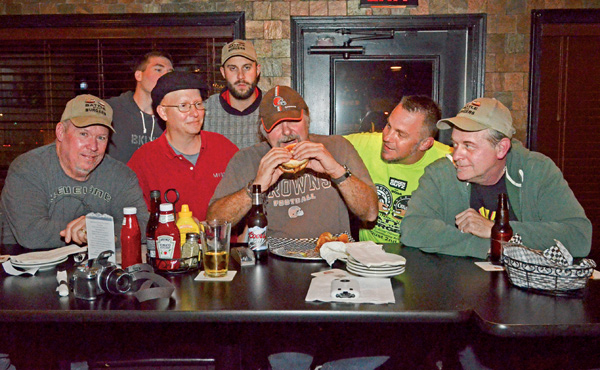 Photo
Burger Guyz crowd around Fast Freddie from 93.3 the Wolf at The Pour House Bar and Grill in Canfield. From left to right in front, Scott Long, Anthony Fuda, Fast Freddie, Jim Murphy, JT Tranovich. Back row Eric Tranovich and James Chizmark.
When You Go...
Where: The Pour House Bar & Grill
Address: 3620 Starrs Centre Dr. Canfield, Ohio 44406
Phone: 330-533-3522
Hours: Mon: Sat 11 am - 1 am, Sun: 12 pm - 11 pm
Menu: 5 burgers and a specialty menu burger ($8.99 - $9.99)
Website:www.pourhousecanfield.com
By Anthony M. Fuda
mvbrb@hotmail.com
The forecast called for a downpour of beer and burgers. It was raining cold suds and tasty beef and we were happily caught in the precipitation.
The pouring glass above the entrance welcomed us in, and we braced ourselves for what the Pour House had in store for our group.
We were joined by local DJ and everybody's buddy, CD 93's own Fast Freddie. He was more than happy to be a guest reviewer.
We found a couple tables away from the crowd in this cozy eatery where we could conduct our business. The Pour House features what General Manager Craig Deoring calls "upscale bar food."
Our waitress, Jen Peoples, showed us the menu and we were on our way to an evening of burger frivolity.
There are five half-pound burgers on the regular menu and one burger on the daily Specialty Menu. Craig says, "Our burgers are a meatball burger made from a meatball recipe which keeps them very moist, and they are made fresh daily."
We did our best to try all the uniquely named Flat Top Meatball Burgers: Try it With (crispy bacon, caramelized hot peppers, Romano, melted Jack cheese), We Got One With (crispy jalapeños, lettuce, tomato, Jack cheese), BBQ and Bacon (grilled onions, melted cheddar), Aaaaahhhh Yeaa (Jack Daniels Glazed with crispy onion petals ), and Don't Forget About Grandma (you get meat and a bun, maybe some lettuce and tomato).
The specialty menu featured the Blackened Blue Burger (crumbled Gorgonzola and bacon).
The burgers come with your choice of homemade fries, hot chips or onion petals.
Fast Freddie regaled us with sports and radio stories over a "very tasty burger." He said he had trouble choosing a burger because they all sounded so good.
He went with the Blackened Blue Burger because "it's hard to resist one of my favorites and it's always good." Fred added, "I order my burgers well done, and this one was still moist inside with a great flavor."
I chose the Try It With burger, and first noticed how juicy the beef was while retaining all the great seasonings. The hot peppers and cheeses enhanced each bite, and then the bacon brought it all together. The toasted bun kept all those flavors at the ready while I savored each of those bites.
Knuckles said, "Upon arriving at The Pour House, we were supplied with some of their JALAPEÑO BOTTLE CAPS served with a spicy ranch and their BEST WINGS EVER, which are their signature char-grilled wings served with some unique flavors (we had the Habanero BBQ). If the flavor of their apps & wings were a precursor to what we were to expect in their burgers, we were in for a good night at The Pour house."
He added, "I ordered a Medium Rare TRY IT WITH with a side of crispy Onion Petals! Being a "Meatball Burger" I was surprised at the size and presentation when the Burger was delivered! In front of me stood what had to be a gorgeous 1⁄2 pound burger in a fresh bun! Cutting into the burger, I could see just how juicy this medium rare burger was and after taking the first bite, I was pleasantly surprised! The mixture of toppings paired perfectly with the seasoning and grill of this burger!"
Knuckles finished by saying, "Seeing the name & logo of the Pour House, you know they do beer well (over 30 beers on tap) but know this… They do Burgers even better!! If you want a solid four knuckle burger, drive down 224 and look for the Pouring Mug! Although the name The Pour House may seem like a creative play on words, they do Beer Great & food even better… and at a price that won't break the bank!!"
Eric, always looking for the hottest burger on the menu, said, "I went with the burger know as the "We Got One With" and was very pleased. The inclusion of crispy jalapeños and jack cheese sounded like a start to a great burger. Being the heat enthusiast that I am, I added caramelized Hot Peppers and some Habanero BBQ sauce to amp it up. This really seemed to add more to an already tasty sandwich. The first few bites I didn't notice anything and was beginning to wonder if what I asked for was added. This concern lasted about two seconds longer when the habanero sauce came out of left field. The heat fiend inside of me was satisfied. The beef itself was cooked to order and very juicy. The bun was very fresh, and although it didn't hold up quite as well as I had hoped, I can chalk that up to my throwing all the extras that I did. Overall, if you're someone looking for a great sandwich at an amazing establishment then I can endorse this burger. Go ahead and add the extras. I dare you."
"The Pour House was a delicious finale to a great year in burger excellence," Chiz said. "I was very excited to try the meatball burgers, and was not let down. I consumed the special, a Black and Blue burger with bacon. It was the bomb! In between two grease absorbing buns contained a evenly blackened seasoned meatball burger, topped with Gorgonzola cheese and a load of bacon. The meat was top notch, juicy and delightful. The toppings were great too, giving my taste buds a curve ball from the normal black and bleu burger I'm used to. This is my #1 ranked Black n Bleu burger I've had to date... a must try!!!"
Spatman had the BBQ and Bacon Burger and commented, "This burger was a well done flat-top meatball patty. It was crispy outside, yet juicy inside, and smothered in caramelized onions, melted cheese, crispy bacon. And was placed on a toasted semi-hard roll. I chose the onion petals. This meal had a great taste at a good price; it was a delight to my taste buds. I rate it 4 out of 5 on my wet-nap scale"
JT said, "What an awesome place! I love the atmosphere. A great place to catch a game or just have some beers. I stopped in a few months back, so, this is the second burger I'm trying here and it's every bit as delicious as the first." Owners John and Kristy Berndt (who also own Johnny's) opened the Pour House in 2013 and keep the 30 mostly craft beers on tap flowing by pairing them with five great burgers. Any time you are in Canfield stop by the Pour House and relax with a tasty burger meal.
Also, look for the Pour House Poland, where you can also get these great burgers, but with 45 beers on tap.
With an endorsement from Fast Freddie, along with the BurgerGuyz, you won't have to worry, because your stomach will be full and your wallet with thank you.
4 stars
Keep reading the Valley food section each Wednesday for the best food the Valley has to offer.
If you know of a burger that should be on our hit list, send the info to mvbrb@hotmail.com, or on our Facebook page BurgerGuyz