Eight Mahoning Valley football teams move on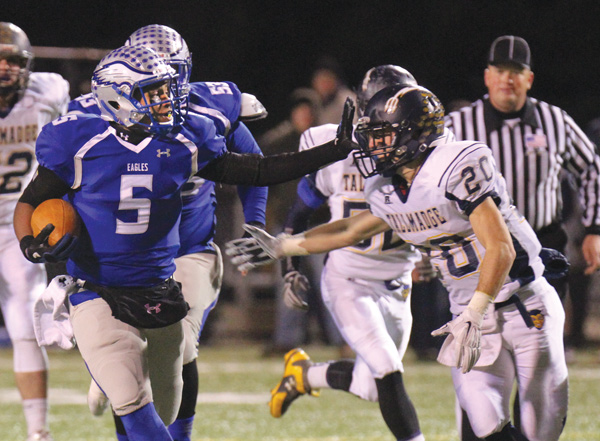 ---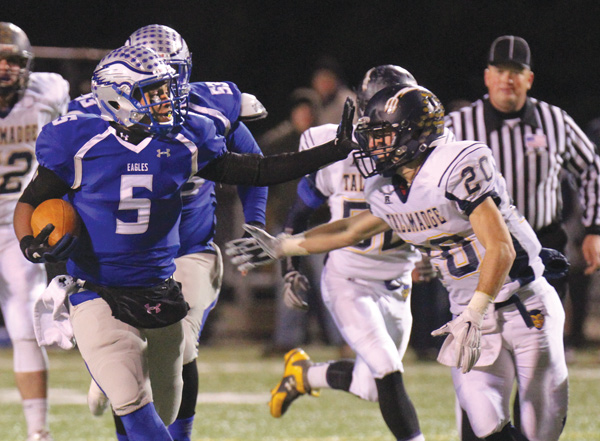 Photo
Hubbard quarterback Cam Ingram holds back Tallmadge's Quentin Teeling during their Division V regional quarterfinal Friday in Hubbard. The Eagles soared over the Blue Devils, 45-14, to become one of eight Valley teams to make it into Round 2 of the playoffs.
Eight Mahoning Valley teams headed for regional semifinals
By Steve Ruman
For McDonald, Springfield, Girard, Mathews, United and Wellsville, it's time to look forward to 2015.
For Austintown Fitch, Hubbard, Poland, Cardinal Mooney, Liberty, Ursuline, Crestview and Western Reserve, the march through the postseason moves forward.
Eight of the 14 area teams which qualified for the Ohio High School Athletic Association playoffs enjoyed first-round success, thus advancing to the regional semifinals.
Round two of the five-week tournament kicks off Friday with three games involving area teams. On Saturday, the slate includes four games featuring five area schools.
Austintown Fitch (8-2) advanced in Division I, Region 1 with a 15-3 win over Wadsworth. The Falcons now face Westerville Central (10-1) Saturday at Fawcett Stadium in Canton. A year ago, the two teams also met in a regional semifinal, with the Falcons prevailing 40-24.
Division III, Region 7 will be represented by a pair of All-American Conference schools. Hubbard (11-0) advanced with a 45-14 win over Tallmadge. The Eagles now face Aurora (10-1) Friday at Bo Rein Stadium in Niles. The two teams met in a second-round game a year ago, with the Eagles winning 49-19.
Aurora has appeared in the playoffs in each of the last 10 years, winning a state title in 2008.
"We're going up against a very solid program which features a senior-laden team," said Hubbard coach Brian Hoffman. "Aurora is extremely well-coached and they play very sound football. This will be a huge test."
Hoffman's Eagles found themselves in a 14-14 game with Tallmadge before scoring 31 unanswered points.
"I was pleased with the way our guys responded to a little adversity, but at the same time I expect that from them because they've been in the situation before," Hoffman said. "This is playoff football. They know they are going to face the best of the best from here on out."
Poland (10-1) and Akron St. Vincent-St. Mary (9-2) will square off in the other Region 7 semifinal. This too is a rematch of a second-round game from a year ago, which was won by St. V's 35-7. The Irish went on to capture their second straight state title.
The Bulldogs and the Irish will play Friday at Uniontown Lake High School.
Division IV, Region 11 will feature a rematch of last year's regional final game when Cardinal Mooney (6-4) plays Cleveland Benedictine (10-1) Friday at Revere High School in Richfield. Last year, the Cardinals prevailed 28-21 and eventually advanced to the state title game.
Combined, Mooney and Benedictine have won 14 state titles.
Three local teams remain alive in Division V, Region 15. Liberty (10-0) and Ursuline (7-4) will meet for the first time in 10 years when the two teams clash Saturday at Warren's Mollenkopf Stadium. The Leopards and Irish last met in a second-round playoff game in 2004, with Liberty coming away with a 6-0 win.
"We have yet to see [Liberty] on film, but we know that at this time of the year, every team that is still alive is dangerous," said Ursuline coach Larry Kempe. "If you're playing in week 12, you're there for a reason."
"In our first-round win [over United], we improved from a week ago. We ran and threw the ball well, and we didn't miss many tackles, so I was pleased with the way we began our playoff run."
In the other half of the Region 15 bracket, Crestview (7-4) will play Canton Central Catholic (11-0) Saturday at Dr. Robert Hines Stadium in Minerva.
Canton Central Catholic finished atop the final Division V statewide AP poll. The Crusaders also finished first in the Region 15 computer rankings. In fact, they compiled more computer points (30.30) than all but six Division I schools.
Western Reserve (10-1) opened the playoffs with a 27-17 win over Toronto. As a result, the Blue Devils will face Lucas (7-4) in a Division VII, Region 23 semifinal game Saturday at Orrville Red Rider Stadium.
The Blue Devils have now logged at least one playoff win in each of the last four seasons.
Lucas won its first-ever playoff game this past weekend when it defeated Plymouth 35-34.
Winners this week will advance to the championship game in their respective regions, and play for the right to advance to the state semifinals.
A year ago, 16 area teams qualified for the playoffs, with nine advancing to the second round.
PLAYOFF NOTES
When the OHSAA created the playoffs in 1972, there were 12 participants in three divisions. This year marked the second season in which 224 schools in seven divisions participated in the tournament. ... In the first round of the playoffs the host schools (higher seeds) went 88-24. In Divisions II through VII, the No. 1 seed was 24-0, the No. 2 seed was 17-7, the No. 3 seed went 18-6 and the No. 4 seed went 19-5. ... In Division I, three double-digit seeds won in the first round, with the biggest upset coming when No. 16 seed West Chester Lakota West toppled No. 1 seed Centerville. ... Six of the seven defending state champions have advanced to the second round. All six had home playoff games in the first round, including Cincinnati Archbishop Moeller (Div. I), Akron St. Vincent-St. Mary (Div. III), Clarksville Clin ton-Massie (Div. IV), Coldwater (Div. V), Kirtland (Div. VI) and Maria Stein Marion Local (Div. VII). ... The highly successful Midwest Athletic Conference went 5-1 in the first round of the playoffs and is now 56-2 in first round playoff games against non-MAC schools since the playoffs expanded to eight qualifiers per region in 1999. ... Entering the 2014 season, 88 OHSAA member schools had never made the football playoffs. Ten of those schools became first-time playoff qualifiers this year and three of them have advanced to the second round, including Jamestown Greeneview (Div. V), Van Buren (Div. VI) and Fort Recovery (Div. VII). ... Dayton's Welcome Stadium has hosted more playoff games (158) than any other stadium in the state. Massillon's Paul Brown Stadium is second on the list (141) followed by Fawcett Stadium in Canton (133)
More like this from vindy.com