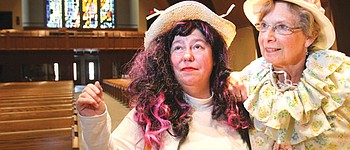 Clowns for Christ shares the word of God
Published: 11/10/14 @ 12:05
By LINDA M. LINONIS
BOARDMAN
Clowns for Christ, a ministry of Boardman United Methodist Church, shares the word of God in an unconventional way.
Judy Zyvith said she's been "clowning around for Christ" for about 17 years. She said she was inspired years before that as a college student when a clown ministry from Westminster College, New Wilmington, Pa., visited her church. She said using the clown persona was a unique way to spread the word of God, and it appealed to her.
The clown ministry is a recent innovation at the church at 6809 Market St. though Zyvith said this is the third church where she has participated in it.
Along with Zyvith, who is coordinator, and is called "Flowers," other members of the clown group are: Bethany Bulone, "Love;" Diane Finch, "Strawberry;" and her son, Anton Finch, "Bubba," who also juggles. Zyvith said names reflect positive thoughts.
Recently, the Clowns for Christ participated in a new service at the church, Contemporary Combined Classic, which is described as the marriage of contemporary and traditional elements. The clown ministry participated in the children's message.
"They add visual arts, which makes the story come alive for children," said the Rev. Pamela Buzalka, pastor.
Zyvith said the clowns have offered children's messages with "Jonah and the Whale," "The Lord's Prayer" and "Jellybean Prayer."
The group uses various resources such as children's stories and the Bible as the basis of its presentations. "We have a cute skit for the lost sheep," Zyvith said.
Another aspect of the clown ministry is visiting church members at Shepherd of the Valley. Zyvith said people can't help but smile when the clowns visit and share an inspirational message.
For adults, Zyvith said the group wears its costumes and puts on makeup to really look the part and add more frivolity.
For children, the clowns dress up but appear sans makeup. "We've found many children are afraid or intimidated by the makeup," Zyvith said.
Zyvith said the clown costume serves to "break down barriers." "You can do anything in a clown costume," she said, adding that is, anything appropriate for church. She noted she and the others are mindful of the church setting and are respectful of it.
Bulone said she participates in the clown ministry because the joy of it appealed to her. "This is a way for me to show my heart for God and my church family," she said. "I think people deal with a lot of stuff in their lives," she continued, and the clowns' message may make them happy.
Zyvith recites this prayer to start presentations. "Heavenly Father, this I pray. Let me bring joy to someone this day."
Subscribe Today
Sign up for our email newsletter to receive daily news.
Want more? Click here to subscribe to either the Print or Digital Editions.