Valley animal rescue groups raise awareness at first tri-county event
YOUNGSTOWN
Empty the Shelters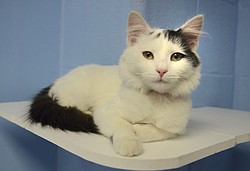 Gallery
There are 630 animals stuck in shelters in the tri-county area, according to Jason Cooke, former board president of Animal Charity Humane Society.
"That's a sad number to me," he said.
Cooke learned about how animal shelters in both Texas and Arizona banded together in August to host "Empty the Shelters Day" to get all their shelter pets adopted. More than 2,000 pets were adopted in each of those events.
Cooke said he was inspired by those groups' efforts.
"This has never been done in the Valley," he said. "All shelters have an adoption day, but there's never been a day for all the shelters to get together on this. I thought that this area has a lot of shelters. So why not host an Empty the Shelters Day?"
For the past few months, Cooke began promoting Empty the Shelters Day, which he scheduled for Saturday, for Mahoning County animal shelters, humane societies, sanctuaries, pounds and animal rescues. But after several Trumbull and Columbiana county shelters reached out to him, he expanded the awareness day to the tri-county region.
Twenty Valley organizations participated in Cooke's Empty the Shelters Day by either offering promotions, fundraisers or more awareness Saturday.
"I encouraged all these places to have specials, but none of the places was offering animals for free," he said. "There's always adoption fees because of legal issues – you don't want people to adopt a dog if they can't afford a basic adoption fee."
Though none of the shelters or humane societies said they expected to send all of their animals to a home Saturday, many hoped to raise awareness about the issue of overcrowding in the shelters. Keith Novotak, feline manager at Angels for Animals in Canfield, said he didn't think the goal of the event was to "empty an entire shelter."
"It's more about getting people to the shelter to see these animals and learn about the overpopulation problem," he said.
On a normal Saturday, Novotak said 10 cats are adopted. Today, more than 20 cats were adopted from Angels for Animals.
"Even seeing those extra few cats adopted is a win," he said.
Animal Charity Humane Society in Boardman didn't have any promotions on their animals Saturday, but Mary Louk, the nonprofit organization's board president, said they saw a good turnout of new visitors and volunteers because of Empty the Shelters Day.
"The main purpose of Saturday was to raise awareness of the number of dogs and cats needing homes in the area, and not necessarily getting every single dog and cat out," she said.
More like this from vindy.com