Miss Smaldino, Mr. Heddleston to marry Nov. 22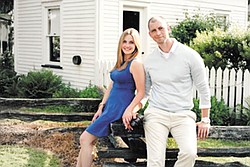 Photo
Jenna Smaldino and Nathan Heddleston
Gary and Diane Smaldino of Boardman, and Richard and Rosalie Heddleston of Austintown are announcing the upcoming wedding of their children, Jenna Smaldino of Boardman and Nathan Heddleston of Alliance.
The couple will exchange vows at 1:30 p.m. Nov. 22 at St. Charles Church, and a reception will follow at the Georgetown. Both are in Boardman. Invitations have been issued for both.
The bride-elect graduated from Youngstown State University with a bachelor's degree in nursing. She is a registered nurse for St. Elizabeth Health Center. She plans continue her education at the University of Akron in 2015 to become a nurse anesthetist.
Her fiancé graduated from the University of Mount Union with a bachelor's degree in English. He also earned a master's degree in teaching. He teaches English and is the girls track coach at West Branch High School in Beloit.
More like this from vindy.com