Campbell Elementary principal to retire after almost 9 years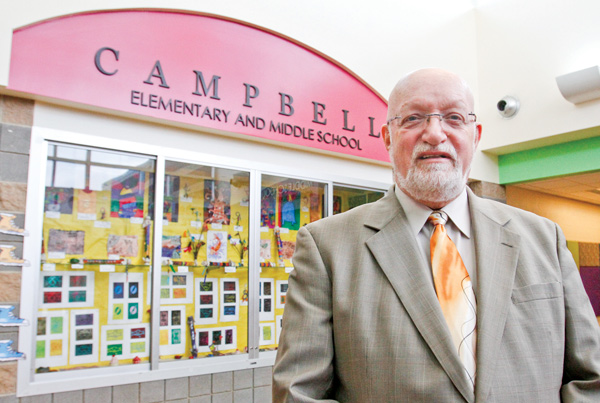 ---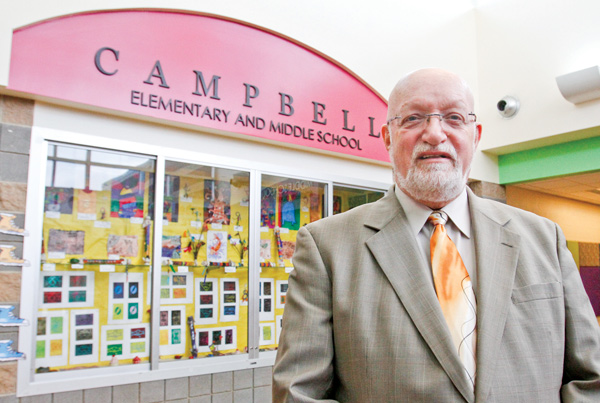 Photo
Robert M. Walls, who has been principal of Campbell Elementary School for the past nine years, is retiring June 9. James Klingensmith, who was principal of Topsail Middle School in Hampstead, N.C., will replace Walls as the district's new elementary- and middle-school principal for kindergarten through seventh grade.
By EMMALEE C. TORISK
CAMPBELL
For Robert M. Walls, the afternoon of June 9 will be much the same as all others over the past nine years.
He'll stand in the hallway of Campbell Elementary School, right outside of the main office, and wave a fond goodbye to the more than 500 preschoolers through fourth-graders he refers to as his grandchildren.
But on that day, his goodbye will take on a more permanent feel. It will be his last as the elementary school's principal — a post he's had since the summer of 2005.
"It was the best thing that ever happened to me," said Walls, who moved to Campbell in 2007. "It's been the best nine years of my educational life."
Since coming to Campbell Elementary School, Walls has obtained more than $2 million in grants and programs — the first of those being funding for a school-resource officer position, which the building has retained since 2005.
In that same year, partnering with Second Harvest Food Bank of the Mahoning Valley, the school under Walls' leadership implemented the county's first BackPack Program, which ensures that participating children don't go hungry on weekends and holidays, when other food sources are not available.
The following year, Walls helped the school district expand its preschool classes, of which it now has four. He's also been behind the twice-yearly visits of the St. Elizabeth Mobile Dental Van, along with the bicycle-giveaway program that rewards fourth-graders for their performance on standardized tests — to name only a few of his contributions to Campbell Elementary School over the years.
Walls' career began long before his arrival in Campbell, however.
Thirty-two years ago, Walls began teaching classes such as social studies, economics and psychology at The Rayen School in Youngstown, followed by Lakeview High School in Cortland. But even then, as a high-school teacher, Walls preferred tables and chairs arranged in a horseshoe shape to traditional rows of desks. He also liked to have fun and interesting things hanging from his classroom ceiling.
Pretty soon, fellow teachers began to take notice — and told Walls he might want to consider teaching elementary school. It wasn't until he became assistant principal of Maplewood Elementary School near Cortland, though, that he began to work with elementary school-age children.
He loved it.
"It's just so much fun," Walls said, adding that he enjoys having the opportunity to see students' growth both academically and personally throughout their elementary-school years. "All they want to do is get some hugs here and there, and some pats on the head, and learn."
About that same time, Walls was at work on his doctorate in educational leadership from Youngstown State University, which he completed in his first year at Campbell Elementary School. He noted that much has changed from then to now, especially in regard to technology, and explained that if educators aren't willing to also move in that direction, they'll struggle to keep their students engaged.
Next year, for example, every teacher in the elementary school will have an interactive whiteboard in his or her classroom. The school also is moving toward becoming paperless, with an online employee kiosk to retrieve and submit materials, for example.
"Campbell City Schools has always been a visionary school district that sees what's coming and says, 'We might as well do it now,'" Walls said. "Our world is shrinking ... [and] we're progressively moving ahead."
But the 66-year-old Walls said the time has come for him to officially retire — and "for the youngsters to take over." He's planning to travel and visit his three sons, along with his 10 grandchildren, for at least the next two years, beginning with a seven-day Alaska cruise.
James Klingensmith, who was principal of Topsail Middle School in Hampstead, N.C., will replace Walls as the district's new elementary- and middle-school principal for kindergarten through seventh grade.
"I'm just going to miss it," Walls said. "[The kids] make your day. The kids mean everything."
And Deborah Miller, elementary-school secretary, added that she'll miss Walls, whom she called "such a good boss." He's always been caring, she said, and has treated the children who attend Campbell Elementary School as though they were his own.
"No one knows how much someone's missed until they're not here," Miller said. "But I couldn't ask for anybody better."