Gillispie's plan, patience paid off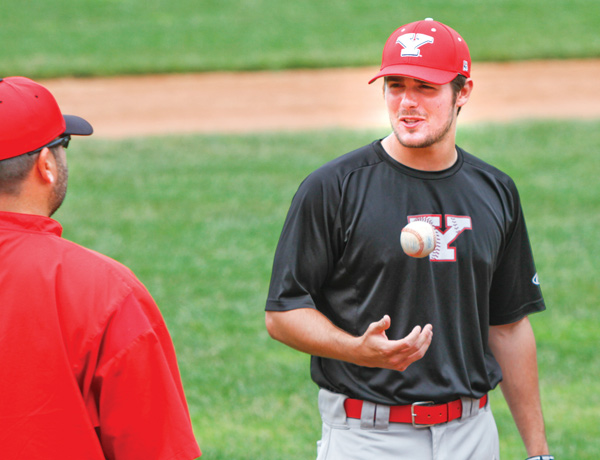 ---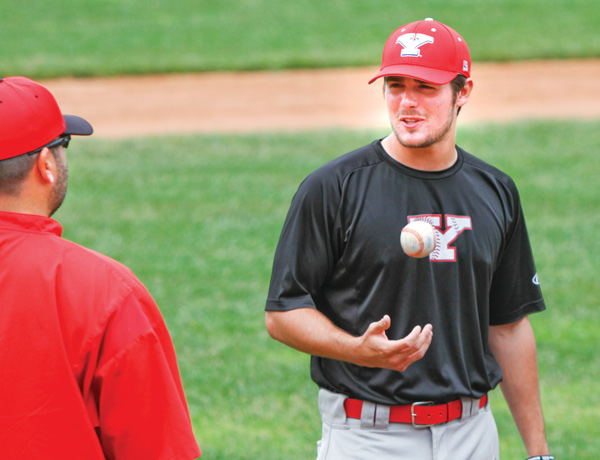 Photo
Youngstown State junior pitcher Ryan Krokos, right, talks with Penguins assistant coach Jason Neal during practice Tuesday at Eastwood Field. YSU, fresh off a stunning Horizon League tournament run, is preparing for an NCAA regional appearance beginning Friday night in Bloomington, Ind.
NILES
The Youngstown State baseball team has been preparing for this moment all season.
The players may not have been aware of it until now, and some might not realize it until they take the field Friday at 7 p.m. in the opening game of the NCAA regional in Bloomington, Ind., but they have been.
It's because second-year head coach Steve Gillispie planned it that way.
The preparation was scheduled to begin with the first two games of the season in Charlotte, N.C. The Penguins' opener against Virginia Tech was cancelled because of weather. Their next game against Charlotte was called off, too.
The experience Gillispie was looking for would finally come two weeks later, and about 180 miles northeast of Charlotte, in Raleigh. The Penguins played in front of a crowd of 1,324 on the campus of North Carolina State. They lost to the Wolfpack 16-1, but that wasn't why Gillispie scheduled the game.
"I wanted to put them in an uncomfortable or different situation," Gillispie said. "Now we didn't handle that situation very well and it showed, but they got a feel for it and that was the idea."
Fast-forward nearly three months to today — or more specifically Friday. Indiana University is known more for its basketball program than its baseball success, but the Hoosiers (42-13) are coming off a College World Series appearance last year and became the first Big Ten school to earn a national seed thanks to a 30-3 finish down the stretch.
The Penguins (16-36) play the host Hoosiers on Friday at Bart Kaufman Field. Capacity: 2,500.
"Tracy [Smith] has done a great job building a program there," Gillispie said of Indiana's coach. "I think their style is a little bit more what we're used to seeing, with focus on pitching and defense, but they're a very good team.
"The challenge for us will be to go out there and not get rattled by the home crowd, which isn't easy to do, but we've at least got a taste of it earlier in the year."
Gillispie will give the ball to 6-foot-5 sophomore Jared Wight, a native of Los Angeles, Calif. Wight appeared in 16 games this season, started six of them, and takes a 1-3 record with a ERA just under seven into Friday's matchup.
Gillispie informed the lefty of his decision before practice on Tuesday.
"I think its really important to go out there [in the] first inning and throw up a zero and just keep my team in the ball game," Wight said. "I'm really excited. You know I've got some nerves, but that usually happens before a start so I'm ready."
Wight started YSU's Horizon League tournament opener against Valparaiso and allowed one run on three hits over four innings. He struck out three and walked three. The lone run came on a solo home run.
"We want to approach this tournament the way we did the last one," Gillispie said of naming Wight the starter. "It's the most successful week we've had during the year.
"I just told him we're gonna go back with what got us here and that he needed to do what he did — throw strikes, change speeds, and keep the tempo up — and he'd be just fine."
While the Hoosiers will provide a different challenge than the Horizon League, the Penguins aren't allowing that to cloud their minds. At least not yet.
"I think our confidence is through the roof right now," Wight said. "We're playing better than we've played all year. We're hot at the right time, so hopefully we can carry it into the regionals."