Published: Wed, May 28, 2014 @ 6:04 a.m.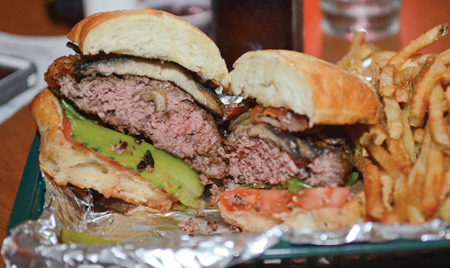 Photo
The char-grilled burgers at The Vista Lounge on Donald Avenue boast a half-pound of Angus beef.
If You Go...
Where: Vista Lounge
Where: 1830 Donald Ave., Youngstown; 330-799-2018
Hours: Tuesday to Friday, 4 to 10 p.m.; Saturday and Sunday, Noon to 10 p.m.
Website: vistalounge.yolasite.com
By Anthony M. FUDA
YOUNGSTOWN
They say looks are deceiving. But when you drive through Youngstown and see all the old, unkept buildings, you think that what's behind the cracked facade must be even worse.
We happened upon the Vista Lounge, and by the look of the old building, we'd just as soon keep going. We're glad we stayed because, as they say, "it's what's inside that counts."
Owners Jason "Chip" Chappell and Tom Cimmento bought the bar a year-and-a-half ago and did major renovations. The floors were completely redone, the walls are different, and they updated the electrical system . To top if off, they added a brand new kitchen. After all that, they have turned the Vista Lounge into a great place to enjoy a cold beer and a mouth-watering burger.
And recently they began working on an outside patio so you can enjoy the pleasant evenings with a plate of any of the delicious food on the menu.
We walked in and were greeted by our waitress/bartender Vicky D'Amato, and she helped us get our burger bearings.
The menu boasts five strong half-pound burgers, (with all the items on the menu named after the owner's family members): All Andrew (American cheese and bacon), All Frankie (provolone, grilled onion, mushrooms and bacon), Poppa Cimmento (provolone, grilled onion, bacon and steak sauce), Big Tee (grilled mushrooms. grilled onions, double bacon and BBQ sauce), and Poppa Stana (Swiss cheese, grilled onion, mushrooms and bacon).
The burgers are sided with a healthy portion of thin-cut crispy fries.
Chip says "The burgers are a half pound after they are cooked." And he's not kidding. The burgers are not only huge, but the flavor inside is just as big.
I chose the All Frankie and the first thing I noticed was that the enormous burger was cooked a perfect medium — pink in the center and a nice char on the outside. The all-around flavor is amazing. The beef is seasoned perfectly, as well as the onions. The bacon is crisp. The mushrooms have a flavor all their own, but when you combine everything you get a taste sensation that is second to none. This is a burger I'd make at home, because it has a bit of everything I like and is cooked the way I would.
Scott had the Poppa Stana, and said, "That was the kind of place we were thinking about when we started this group. It is a neighborhood bar and a hidden gem. I thought the meat was excellently seasoned and cooked to perfection, a perfect medium. I was skeptical when I first saw the bun as it was toasted quite a bit, but with the size of the burger it needed that toasting to make sure that the bun would hold up! It was just a great burger. Make sure you are hungry when you go, because you won't be hungry when you leave."
Spatman had the Poppa Cimmento and said, "This is one of the best burgers I've had in my 2-plus years with the GUYZ. From top to bottom and every thing in between, it was packed with flavor. And when I finished, it left me wanting more. Placed on a great ciabatta bun, the half-pound pattie was grilled well and seasoned just right — it was a true delight for the taste buds. Crunchy on the outside but juicy on the inside. Topped with melted mozzarella cheese, grilled onions and piled high with bacon it all combined for a flavor I won't soon forget. Sided with fresh-cut fries and a cold beer, it's a meal I will soon return for. A big 5 out of 5 on my wet-nap scale."
Eric also had the Poppa Cimmento, and his thoughts were, "An absolutely mouth-watering burger. The beef was seasoned amazingly, and cooked to the perfect temperature. Topped off with a tangy BBQ sauce, bacon, and a grilled bun that held together fantastically, I was more than satisfied with this choice. But be warned readers, come with an appetite because these burgers have some girth, and keep a knife handy because there is a good chance you're going to need to cut these bad boys up!
Chiz went with the Big Tee, and said, "I am still in shock at the quality of burger they put together, and $8.99 is all you pay for taste-bud luxury. The burger itself was seasoned perfectly, and taken care of by a master chef on the char-broiler. I say taken care of, because it was a perfect medium just as I prefer. From the first bite to the last, this was burger bliss. It dripped seductive goodness all over my foil where my fries sat, and I even dipped the fries in that. Even the mushrooms and onions on this beast were delightful with TONS of flavor. Talk about a slam dunk! To sum it up in one sentence: This burger was melt-in-your-mouth, lip-smacking, luscious, delectable, and just down right finger-licking good!
Jim M. also went with the Big Tee, and said, "Being a lover of anything bacon, I chose the "Big Tee", ordered "medium" which was Ω-pound fresh Angus beef, grilled onions, mushrooms and double bacon with a side of BBQ sauce.''
He added, "This burger came out and …. WOW! The sheer size of the half- pound Angus beef and pile of thin cut crispy fair fries were astounding! After admiring the sheer size and appearance of this burger, I cut into the burger and fell in love! It's not very often that you order a burger "medium" and truly get it!! They did this perfectly!! Great char from the flame-broiled grill and extremely juicy beef made me smile inside. And then I took a bite of this monster … OMG!! The flavor bursting from this burger complemented by the onions, mushrooms and bacon on the crisp Ciabatta roll and I was in heaven!" When you're looking for somewhere new and want to find that "diamond in the rough," look no farther than the Vista Lounge. This is a great local bar, with an awesome atmosphere and an amazing burger.
If you know of a burger that should be on our hit list, send the info to mvbrb@hotmail.com, or on our Facebook page BurgerGuyz