YSU interim president plans vacation last 10 days of term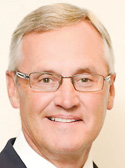 ---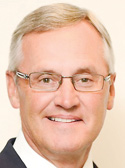 Photo
By Denise Dick
YOUNGSTOWN
With interim Youngstown State University President Ikram Khawaja taking vacation the last 10 days of his term, the office will be open again.
Khawaja plans to go on vacation June 20. His effective retirement is June 30. Jim Tressel is expected to take office as the university's ninth president July 1.
University Trustee Harry Meshel said several board members are interested in having Tressel begin early.
"I just think it would be wonderful to get him on early — whether it's two days or 20," Meshel said.
Trustee Carole Weimer said no decisions have been made.
"We still don't have a signed and completed contract" with Tressel, she said.
Earlier this month, Tressel and trustees approved contract terms. Tressel is executive vice president of student success at the University of Akron until June 30.
Both Weimer and Meshel said Tressel has been on YSU's campus frequently since his selection as president, meeting with people and groups.
"No decision has been made about an early start date for him," Weimer said. "He's been meeting people, doing all the things he should do to have a smooth transition, but he's still employed by the University of Akron until the end of the month and Dr. Khawaja is still our interim president until the end of the month. It's complicated to try to maneuver something like that."
Tressel couldn't be reached for comment.
Whether in an official or unofficial capacity, Tressel will be on campus doing his due diligence to prepare for the job, Weimer said.
"You can't have two people with the same title at the same time," Weimer said.
It's something the university's lawyers have to address, she said.
The university's succession plan calls for the provost to be the interim president if the president is unavailable for more than five days. Khawaja was the provost and was appointed interim president when Randy J. Dunn resigned in March after eight months on the job to become president of Southern Illinois University.
Theresa Riley was then appointed interim provost, so following that succession plan, she would fill in during those 10 days while Khawaja is on vacation.
But any appointment requires board action, Meshel said.