Memorial Day honors our country's bravest
---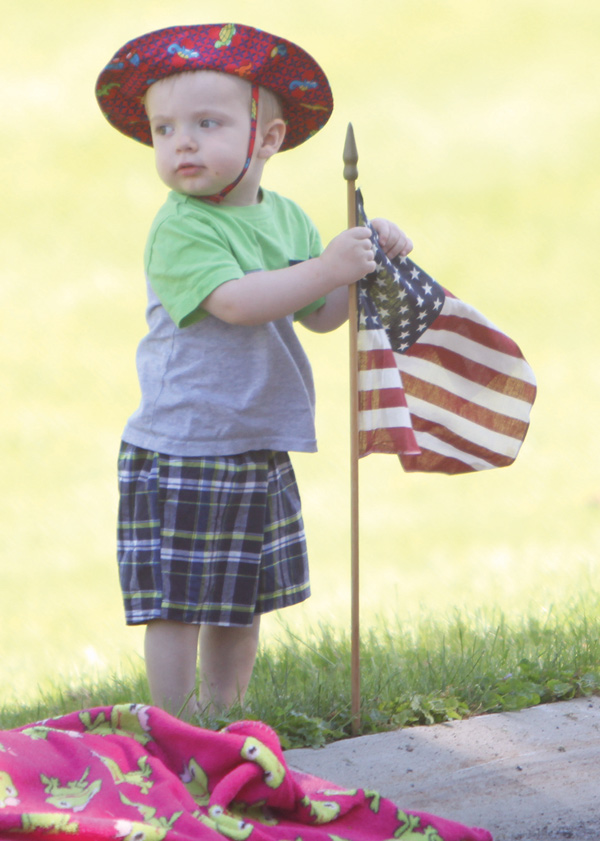 Photo
Jeffrey Van Winkle, 18 months, of Poland holds an American flag during the parade, which began on Market Street and ended at the park.
By Sean Barron
BOARDMAN
Cyndi Wainio proudly carried a light-blue sign that, with few words, captured the essence of a longtime Memorial Day observance.
"He was a wonderful mentor willing to help others," Wainio said, referring to George L. Grim, a Navy veteran who also worked with Boardman-based Boy Scout Troop 46. "He meant a lot to us."
In the middle of Wainio's sign, which read, "We will never forget, but always remember," was a small photograph of Grim, who died March 26 at age 81.
Grim was among the veterans who were remembered and memorialized during Monday's 110th annual Boardman Kiwanis Memorial Day parade and service at Boardman Park's Maag Outdoor Arts Theater.
The somber gathering was to honor and pay respects to military veterans and personnel who made the ultimate sacrifice serving their country. Also honored were those now serving in all branches of the military.
In addition to his Navy service, Grim's accomplishments included serving on the Whispering Pines District Boy Scouts of America's advancement committee and commission, as well as president of the Kiwanis Club of Boardman and a Junior Fair Board adviser. For many years, he helped coordinate the yearly Memorial Day service, and in 2010 was named the Boardman Civic Association's Citizen of the Year.
"I got my Eagle Scout [award] because of him," said William Wainio, Cyndi Wainio's son, who also was in Troop 46. "George was by my side the whole way."
William Wainio, a 2011 Cardinal Mooney High School graduate and Youngstown State University psychology major, delivered the invocation during the observance.
Also at the event was William's grandmother, Sandy Rega, who praised Grim for serving as a positive role model for her grandson, among other things.
The keynote speaker was Mark Fulks, who served in the Air Force Academy and was a longtime Boardman Board of Education member.
Before sharing a few stories about his Air Force experiences, Fulks asked his audience to "remember and pay tribute to our nation's bravest."
Fulks, who served 16 years with the board of education, including three as president, recalled having received parachuting training while stationed at Fort Benning, Ga., in August 1975.
Fulks spent six years flying a T-38 supersonic plane and served in the International Guard in Michigan. He recalled having been one of 14 trainees who learned the intricacies of jumping from planes, though several jumps required him to pull on the parachutes' reserves when the chutes failed to open properly and timely, he explained.
In one jump, a backup chute opened in time to break his fall, though Fulks landed in a creek and was chastised by and received a sarcastic compliment from an instructor, he continued.
Also, Fulks asked attendees to honor four Boardman men: Patrick Carey, Jimmy Pipoly, Marc Esposito and Arman Olgun, all of whom grew up with his two sons and are serving in the armed forces.
Additional remarks were from Mark Luke of the Boardman Kiwanis; Joyce Mistovich, a Boardman Park commissioner; and John L. Grim, son of George Grim.
The program also featured the placement of two wreaths, one each to honor deceased veterans and current military personnel. Beforehand, an "Armed Forces Salute" was played in which all veterans proceeded to a flagpole as their service songs were heard.
Treating the audience to her rendition of "The Star Spangled Banner" was Emily Choleva, a Market Street Elementary School third-grader. The Boardman High School Wind Ensemble performed other musical selections.
Preceding the program was a parade that began at Boardman Center Middle School on Market Street and marched on U.S. Route 224.
Among the hundreds enjoying the festivities along the parade route were 18-month-old Mike Van Winkle; his sister, Catherine, 5; and parents, Jeffrey and Jenelle Van Winkle of Poland. The family recently moved to the area from Columbus, Jeffrey said, adding that Monday was their first time at the Memorial Day program.
William Wainio noted that a scholarship program in Grim's name is open to all Boy Scouts and Mahoning County Junior Fair Board members.
For information, go to www.mahoningcountyjuniorfair.org. Send donations to Wainio at 1849 Halbert Drive, Poland, OH 44514.