Pittsburgh-based artist gives back to hometown through mural project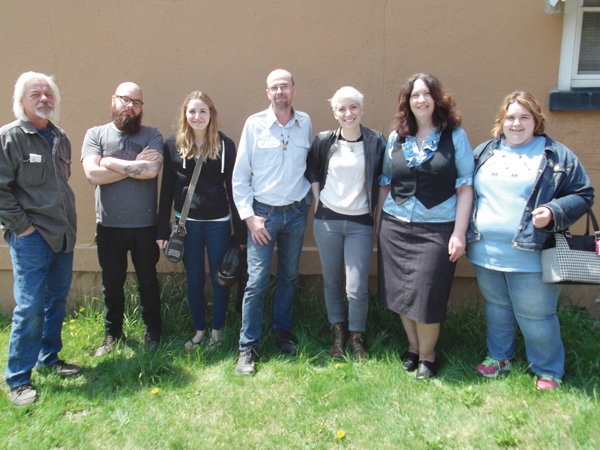 ---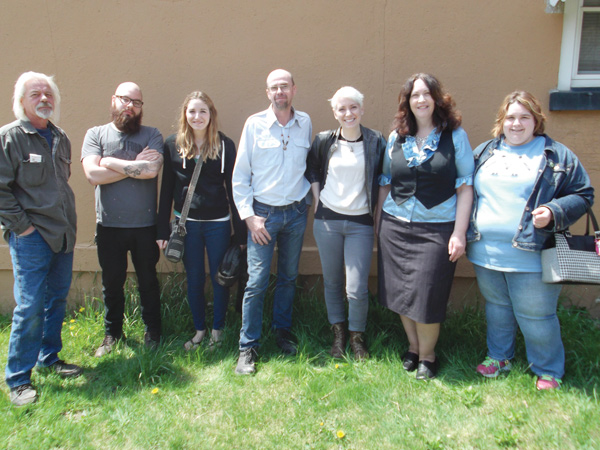 Photo
Posing for a photograph in front of the blank wall that will soon be covered with a mural depicting life throughout the decades in the Youngstown Sheet & Tube Co. worker housing complex in Campbell are, from left, David Donofrio, Clayton Donofrio, Marcy Gussenhofen , Tim Sokoloff , Katelyn Gould, Linda Gens and April Caruso-Richards. Gould, a Pittsburgh-based artist, will paint the mural, and be assisted by Gussenhofen. Sokoloff , Gens and Caruso-Richards are the Iron Soup Historical Preservation Co.'s president and chairman, executive director and board secretary, respectively.
By EMMALEE C. TORISK
CAMPBELL
Growing up in Campbell left an indelible impact on Katelyn Gould — and in particular, her artwork.
Like the city she once called home, her drawings, much of them done in ballpoint pen, are gritty and honest, yet also energetic. A pop of brightness occasionally breaks up the muted monochromatic hues she favors, neutral shades that mirror the area's weather patterns. She doesn't erase.
And as for her subject matter, she prefers to explore the beauty of everyday people doing everyday things, gathering inspiration from sources as varied as old black-and-white photographs or her own life experiences.
Over two weeks in August, likely from Aug. 10 to 23, the 26-year-old Gould will take a break from her work as a gallery attendant at the Andy Warhol Museum in Pittsburgh, where she now lives, to create a piece of artwork she hopes will "bring some sort of inspiration" to those who still reside in her hometown.
Her plan is to paint a mural stretching roughly 20 feet by 30 feet on the side of a building at Delmar Avenue and Chambers Street — just one row house out of many in the 6-acre complex that was built in 1918 by the Youngstown Sheet & Tube Co. to house steelworkers and their families.
Twenty-three out of the 190-some remaining units — there were originally 218 — are owned by the Iron Soup Historical Preservation Co., which is working to preserve and revitalize the national historic site. Gould contacted the nonprofit organization via its Facebook page a few months ago, volunteering her services.
"[The complex] is the perfect atmosphere for my artwork," Gould said. "I'm just one person, but I wanted to do whatever I could to help build up my hometown, instead of just moving away and forgetting about it."
The mural's theme will be "Life in the Company Homes," and its design will be inspired by no less than a dozen photographs taken in the complex, and of its residents, throughout the decades. Gould said she hopes to even incorporate photographs of those who live there now, like, perhaps, a group of boys who were running around the complex when she visited the mural site earlier this month.
They reminded her of her father, Morgan Gould Jr., and his friends, who lived there decades ago.
Gould said she's hopeful that her mural, once completed, will be one small step toward bringing back a cohesive sense of community in the complex — a place where it "seemed like everybody really got along."
"Things were different in Campbell, and they can turn around," Gould said. "You can come back to glory. You just have to want it."
Tim Sokoloff, president and chairman of Iron Soup, called Gould's willingness to use her vacation time to paint the mural there "a pretty monumental thing" in its own right. He added that the mural will "bring a lot of positive attention" to Iron Soup's efforts, and specifically to its goal of transforming the site into a historical district by 2018.
"This is the first modern apartment complex ever built on Earth," Sokoloff said. "It set the stage."
In addition, though a date hasn't yet been set, an open house will be hosted by Iron Soup a few weeks after the mural's completion and likely will become an annual event.
Plans for the event — which requires additional sponsors and volunteers — are still tentative, said Linda Gens, Iron Soup's executive director, but so far, it will feature musical acts, speakers from community organizations and, of course, an unveiling of the mural.
"We believe that bringing art and flowers into demoralized areas mitigates the effects that blight has on the community, especially for children," Gens said. "It gives them hope."
For information about the Iron Soup Historical Preservation Co., which is based in a former company home at 40 Chambers St., visit www.ironsoup.com.
More like this from vindy.com