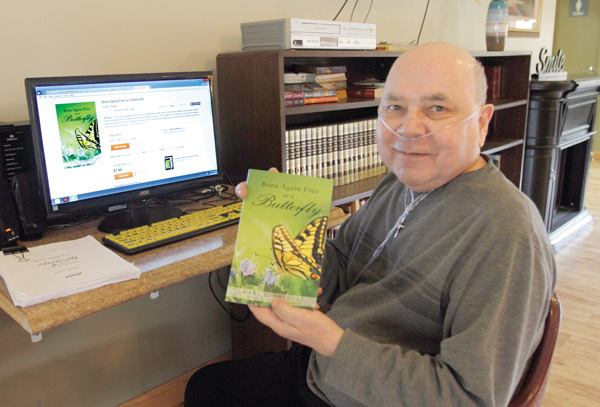 ---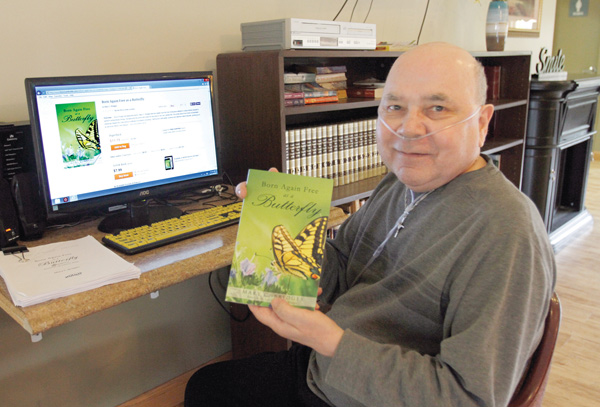 Photo
Joe Spera, a resident of Liberty's Campus Health Care Center, has been rejuvenated by using a new computer in the center's activities room to help write a book. Spera, who has chronic obstructive pulmonary disease, said the book is about his sister's life.
LIBERTY
Joe Spera can walk well enough now through the halls at Campus Health Care Center, his oxygen tank on wheels at his side.
But walking wasn't always so easy.
"I couldn't walk from the bedroom to the bathroom at home, even with oxygen," said Spera, 66, a former Boardman resident.
"I called the ER at St. E's once a month because I couldn't get my breath, and it scared me," he continued.
He was alone, except for his two small dogs. "I had no human contact," he said.
Spera couldn't go anywhere.
"I couldn't get around. I was on oxygen, and one tank wouldn't last long enough even to go to church."
So Spera, who had made his living as a clinical psychologist and who also is a licensed minister, found that his chronic obstructive pulmonary disease, or COPD, was dictating that he live with fear, limitations and loneliness.
Then came a bad fall that put him in the hospital with five broken ribs.
The hospital suggested that Spera come to Campus on Colonial Drive, which he did. He's been there three years, and he's come back physically, mentally and spiritually, he says, giving the nursing home and its staff the credit for that.
But one piece of equipment in the home's activity room played a big role in his rehabilitation — the computer.
And one person who's been in his life all along gave him the biggest reason to use it. Her name is Mary C. Bridges, his sister.
"She came here to visit me two Christmases ago," he said. "I hadn't seen her for a long time. My aunt and uncle brought her. They live in Crestview [Florida]."
"She said, 'Joseph, will you write a book about my life?'" he continued.
His sister, he said, had plenty of a life to write about. Born with a cleft lip and cleft palate, she spent three months as a baby at The John Hopkins Hospital in Baltimore.
She would go on to have 20 operations until she was 40. She graduated from The Johns Hopkins Hospital School of X-Ray Technology when she was 21, and she worked in that field for 44 years.
She married a man who turned out to be an alcoholic, but she stayed with him. A devout Catholic, she believed it would be against God's will to leave her husband. They raised a son and daughter in Cumberland, Md., where she and Spera were born.
Bridges struggled with dyslexia, a developmental reading disorder, and bipolar disorder, going through episodes of major depression.
Her husband died at 56 of lung cancer, and she married another man whom she met through a friend. He was charming, but he'd just been released from prison, and it turned out he only wanted her money. Spera calls that part of the book the "drama."
He suddenly found himself with a lot of work on his hands. There was research to do on cleft palate and on alcoholism and its effects on families. He and his sister talked by phone several times a week.
He fit it all in between the Bible lessons he was preparing at the computer at the encouragement of the Campus staff, who thought he might like dusting off his preaching skills.
Eighteen months later, his sister's faith-based book, "Born Again Free as a Butterfly," was finished. It was published in April.
The experience, he said, has been transforming. "My sister and I grew spiritually and grew closer."
He said he believes the book also will benefit others who are struggling.
It's available at online retailers amazon.com, xulonpress.com and barnesandnoble.com. Barnes & Noble Booksellers in Boardman also has copies.