HULA HOOPLA A new twist in entertainment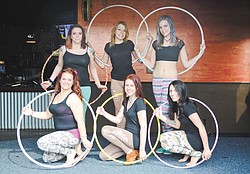 Photo
Katie Rickman | The Vindicator: The six members of Infini-Tribe, who entertain with a program of hula-hoop tricks and routines, are, from left in front, Katie Morris of Austintown, Delia Dow of Boardman and Brittney Marinelli of Boardman; and in back, Erika Smegal of Farrell, Pa., Haley Luckage of Ravenna and Callie Reda of Youngstown.
A new twist in entertainment
By Sean Barron
BOARDMAN
Erika Smegal seemed lost in her own world as her focus was strictly on smoothly interspersing a few vortexes, basket weaves and shoulder duck-outs before the rising sun.
Nevertheless, her performance had nothing to do with early-morning tornadoes, sewing or physical therapy.
"A friend introduced it to me and I branched off from there," the Farrell, Pa., woman said, referring to a battery of moves she often uses while performing as part of Infini-Tribe, a group of six young women who have taken a variety of hula-hoop tricks and routines to dizzying heights.
The others in the group, which formed last February, are Katie Morris of Austintown; Haley Luckage of Ravenna; Callie Reda of Youngstown; and Delia Dow and Brittney Marinelli, both of Boardman.
Smegal described her series of moves during a recent afternoon group and solo performance to oldies and dance music at the Magic Tree Pub & Eatery, 7463 South Ave.
While doing a vortex, Smegal and the others used their arms to quickly spin the hoop up and down in a syncopated manner that resembled a twister. A basket weave is alternating side by side with one arm; a shoulder duck-out is popping the head in and out while the hula-hoop spins on the neck; and a rising-sun move is twirling the hoop up and down behind the body.
Besides providing plenty of entertainment — including a few optical illusions — the activity is great for keeping the body toned and in shape, explained Marinelli, who began practicing with hoops about three years ago and said it's also a great form of meditation and relaxation.
'I began at my first music fest at Nelson Ledges, where I saw others doing it and knew right then I wanted to do it," recalled Marinelli, who also works at a Southern Park Mall jewelry store.
The activity is newer to Reda, who began last January when Dow handed her a hula-hoop at Dow's home, she recalled.
Reda, who works at Chipotle Mexican Grill in Boardman, said she practices her craft several times a week and gets together with fellow group members most Saturdays at World of Fitness LLC in Niles.
"We just enjoy hula-hooping as a way of expressing ourselves," added Luckage, who also twirled her hoop on her toes and performed several slower moves during her solo part to the hit song "Walking on the Sun" by Smash Mouth.
Luckage, who works full time as a customer-service representative for an engineering firm, also makes and sells hoops, including some with computer chips, she explained.
During her solo act, Dow kept the audience entertained with her simultaneous tips and turns, bounces and reverses coupled with fast-paced twirls behind her back and around her neck. Accompanying her was the song "Your Body" by Pretty Ricky, a Miami-based R&B/hip-hop group.
"It's fun to do intricate tricks," said Dow, who works at InfoCision Management Corp.
Performing with hula-hoops may have a reputation for seeming childish to some people, but the activity is catching on and growing, observed Morris, who has been at it roughly three years. She added that all six members of Infini-Tribe get along well with one another.
For her solo part, Morris did a series of twirls, turns, jumps, spins and flips to the tune "Run Right Back" by a 13-year-old Akron-based rock 'n' roll duo called The Black Keys.
During their closing group feats and performance, all six donned their hoops and gave their audience a new way to remember a remix of "Roustabout," a fusion-based song by Beats Antique.