Experience pays off for juniors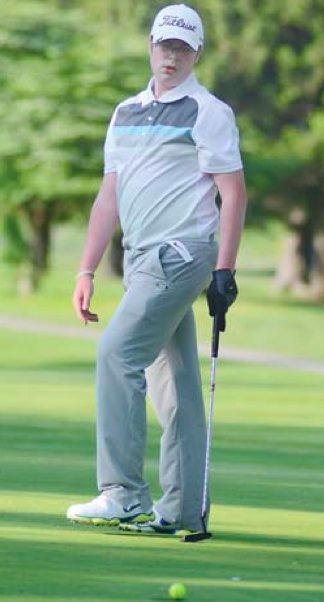 ---
Colbert, Neumeister solve Pine Lakes to qualify
HUBBARD
Hickory High School junior Billy Colbert had nearly 10 months to figure out how he was going to follow up his playoff championship performance in last year's Greatest Golfer of the Valley juniors tournament.
Saturday at Pine Lakes Golf Course, Colbert decided to eliminate any drama and post a round of 77 as part of the first group in the clubhouse.
Of course, he had to wait almost two hours for the final boys under-17 group to post their scores, but it was a lot less stressful than last year's four-man playoff.
"This just kind of eases my mind so I don't have to worry or stress out too much for the next few I'm playing in," Colbert said, as the first automatic qualifier into this year's junior championship. "Now I can kind of have fun, I guess.
"I'll probably still keep it serious at the same time just to play [well]."
Rarely showing much emotion on the course, Colbert was intently watching as his competitors gradually finished up their rounds. He quickly realized the 77 he posted was going to be difficult to beat.
"I might have only missed two or three fairways and I made most of my putts that were inside 10 feet," Colbert said. "That really helped me make pars."
One of Colbert's playing partners, Nick Braydich, tied for second with Zach Jacobson with a round of 81. Vince Goleno came in third with a 83.
"We had a lot of good shots in our group," Colbert said. "If you don't have to stop playing, it usually helps."
There was little doubt in the girls under-17 division on Saturday as Kaylee Neumeister ran away from the field with an impressive round of 80.
The next closest finisher was also in her group, Alexa Tringhese, who finished with a round of 94.
"I had no idea what the other girls were shooting to be honest," Neumeister said, who automatically qualified for the girls championship. "But this sure takes a lot of the pressure off these next couple of events."
Neumeister, a sophomore at Lakeview, was coming off a third place finish in her first year in the upper division. Year two already appears to be more what she had in mind.
"I guess the rest of the qualifiers will be a personal boost type of thing," Neumeister said. "I also like them knowing I'm in the finals. Maybe put a little bit of pressure on the rest of the girls.
"I know it'll be a strong field at the finals."
Finishing behind Neumeister and Tringhese was Nicole Gula with a 95 and Kaci Carpenter with a 97.
The difficult course conditions made for high scores all afternoon. A strong close made the difference for Neumeister.
"The pin placements were really tough today," she said. "On the back nine, my putting really came through."
Conner Stevens won the boys under-14 division after shooting 80 and Hannah Keffler won the girls under-14 with a round of 91.
The four winners from each division are exempt from this year's new points system. However finishers two through five earn points toward an at-large bid into the championship at Avalon Lakes Golf Club on July 27.
For updated standings and complete scores, visit vindy.com/golf.