Youngstown educator Athena recipient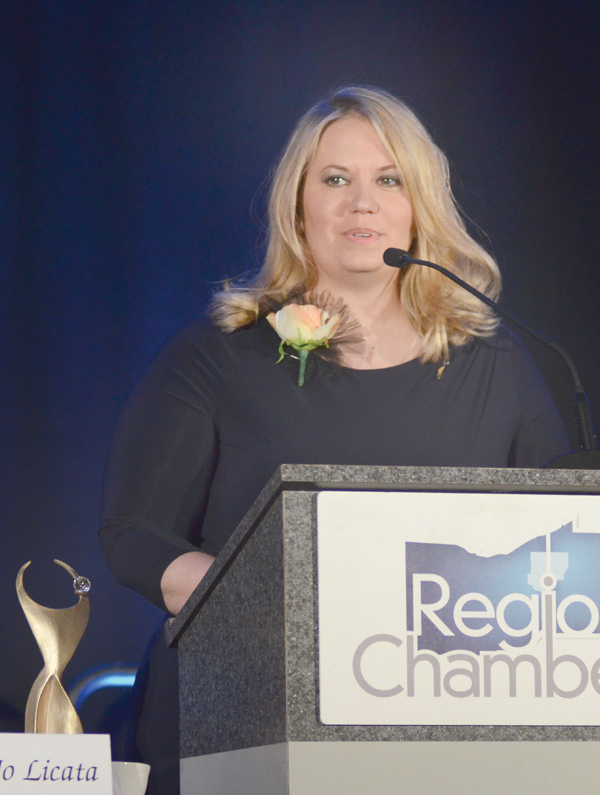 ---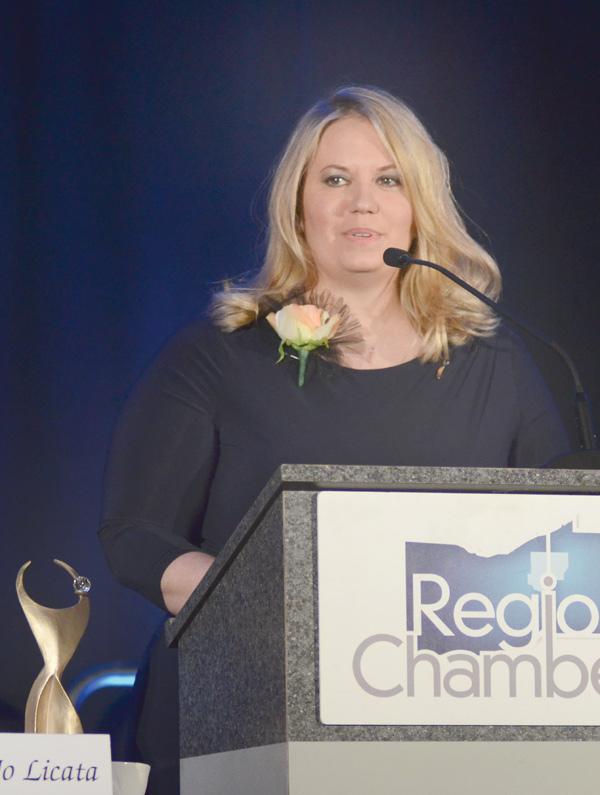 Photo
Holly Welch, curriculum supervisor for Choffin Career and Technical Center, is the 2014 ATHENA Award winner. She hopes to one day become a superintendent to make a larger impact on students.
By KALEA HALL
khall@vindy.com
BOARDMAN
She has taught thousands in the past 13 years of her career.
She began a biotechnology prep program in the basement of Choffin Career and Technical Center in Youngstown with only one outlet and no sinks.
She went on to become curriculum supervisor at Youngstown City Schools — Choffin so she could make a bigger impact on more students.
Her name is Holly Welch and she is the 2014 recipient of the ATHENA Award.
"[The award] meant everything. It meant if you work hard and you believe in yourself and you believe in the good that there is in this world, that your dreams can come true and that good wins," Welch said.
In addition to naming Welch the award winner, the Youngstown/Warren Regional Chamber presented all 20 nominees to a crowd of about 600 at the 22nd Annual ATHENA Award program at Mr. Anthony's Thursday evening. The program featured keynote speaker Diana Tremblay, vice president of global business services for General Motors.
The event is co-sponsored by the chamber, The Vindicator and Vindy.com to promote the outstanding professional women in the Valley. The local ATHENA Award program is among the top five ATHENA programs in the U.S.
"This award celebrates the accomplishments of the outstanding women in our Valley," Welch said in her acceptance speech. "I admire all [of the nominees] and share this with them."
Welch named all of the other 19 nominees, which included women in the health-care field, banking, fitness, higher education, realty, manufacturing and more.
The ATHENA Award is based on career accomplishments, mentoring and volunteering.
The biotechnology program at Choffin is an advanced biology and chemistry program where the students can earn high-school science credits and up to 19 Youngstown State University credits in the areas of science, technology, engineering and math. Welch wants to be able to reach out to as many students as possible to help them. She hopes to one day become a superintendent. She had six students when the program started and has progressed to 50.
"Education is [the students'] ladder to a better future," Welch said. "I love them and I believe in them. I wanted to give my life to that so they can be the best they can be."
Welch received her award following the speech by Tremblay, who once lived in the Valley where her father worked at GM's Lordstown plant. She graduated from Kettering University, where she now sits on the board of trustees. She worked in the foundry business and became a Massachusetts Institute of Technology Sloan fellow, then went on to hold many leadership positions and learned over the years what makes a leader.
"The first thing I learned was not to be afraid to take on tough assignments," Tremblay told the audience.
She applied to go to the Lordstown plant, but after months of waiting was rejected because she was female, and also because her father had worked at the plant, then left the company.
"So I had two strikes against me," she said.
She discovered the foundry plant in Defiance and decided to go there instead.
"It was a fabulous experience for me," she said.
When she got into GM, she stayed with the company through all of its hardships.
"People have asked me, 'Why did you stay with GM, particularly during the bankruptcy?' and it made me think of growing up in Youngstown," she said.
Tremblay was here during the shutdown of the steel mills and saw firsthand how difficult those times were for the Valley.
"How would it feel if I left the company when we were in desperate [times]?" Tremblay said.
Now, Tremblay works on the finance side for GM after time in labor relations. She discussed the need to keep up with changes in your industry in order to be a leader, and to know your strengths.
"Be your own leader," she said. "Be your own kind of leader. Don't think you have to fit someone's mold. The fourth and last [piece of advice] is to do your current job really, really well."
The 2014 ATHENA Scholarship recipient is Emily Erb from South Range High School. Erb plans to study pre-med at Youngstown State University in the fall.
Katie Auth of Boardman High School received the Anthem Scholarship and plans to study music performance at YSU in the fall. Breanna Winters from West Branch High School also received the Anthem Scholarship and plans to study education next spring at YSU.