Rock-paper-scissors? Chaney students make app for that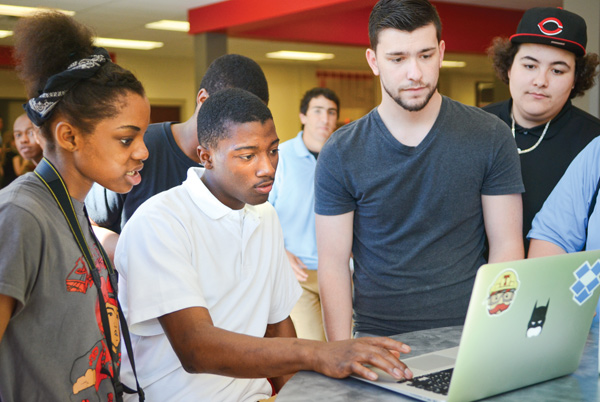 ---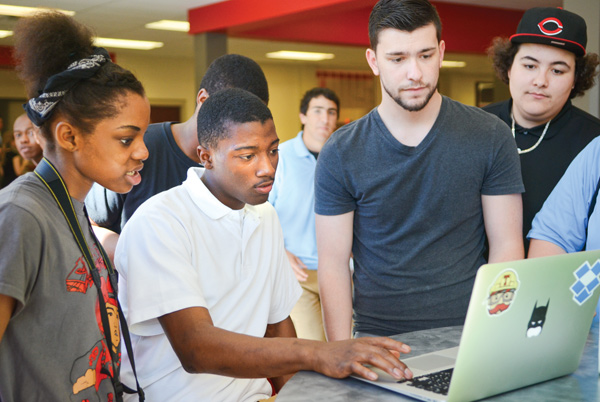 Photo
Chaney High School students, from left, Breona Taylor and De'Ondre Walker, Drund software engineer Mike Helmick and student Jason Carlo review the application the students created during the Chaney Code Academy.
By Denise Dick
YOUNGSTOWN
Fourteen Chaney High School students spent time after school this year creating an app.
The program, called Chaney Code Academy and funded by the PNC Foundation, the Burton D. Morgan Foundation, the Young Philanthropists Fund of the Community Foundation of the Mahoning Valley and First Place Bank Community Foundation, introduced students to computer coding and starting a business.
Junior Achievement of Mahoning Valley and the Youngstown Business Incubator implemented the program.
"We learned how to code a computer program," said junior De'Ondre Walker.
Breona Taylor, a senior, explained they created a game, using a variety of computer languages, that can be accessed on any computer or smartphone.
"It's rock-paper-scissors," she said.
It can be accessed at chaneycode.com.
De'Ondre said writing computer code is an important skill to have. More businesses will be looking for employees with that skill in the future, and he believes it will make him more marketable when he enters the workforce.
Junior Jason Carlo pointed out that more complicated video games, such as the popular "Call of Duty," take many hours and many people to write the code needed to make the game a reality.
Ryan Pastore of PNC Bank said the idea for the code academy started as a brainstorming session with YBI and Junior Achievement.
"PNC funded it, but you guys brought it to life," he told the students.
The aspiring code writers were so enthusiastic about the program, he said, he heard that they were disappointed when the program was canceled because of a snow day this past winter.
Pastore said the idea behind the program is to get high-school students interested in computer coding — a skill in short supply in the Mahoning Valley.
Junior Achievement hopes to expand the code academy program next school year, although that's contingent upon funding.