Youngstown gang suspects arraigned; mom of 2 alleges police brutality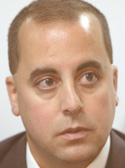 ---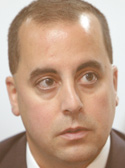 Photo
Martin Desmond, assistant prosecutor
By Joe Gorman
YOUNGSTOWN
An assistant Mahoning County prosecutor handling the case against 12 suspected members of a West Side gang said tips and complaints from residents in the Evanston Avenue area led to the investigation.
"Probably the biggest aid we have in cases like this is public involvement," said Martin Desmond, the assistant prosecutor, referencing the investigation that led to the secret indictments last week against 12 suspected members of the E Block Gang, whose base of operations is Evanston Avenue on the lower West Side.
Law-enforcement agencies began rounding up the suspects Tuesday, and a superseding indictment against them was issued Thursday. Nine of the 12 suspects were arraigned Thursday in common pleas court, though all are in custody.
The mother of two of the gang suspects, Teffany Wilson, said she has talked to the U.S. Department of Justice about how she was treated when officers went to her Brockway Avenue home early Tuesday looking for her son Tawaun Gordon, 18. Another son, Tyrone Gordon, 19, also is accused of being in the gang.
Speaking outside the courthouse after arraignments, Wilson said police kicked in her door and told her there was a warrant for her arrest, then dragged her outside with no clothes on and handcuffed her. She had to wait for several minutes before they took the handcuffs off and said they would give her money to replace her door if she would tell them where her son was.
Wilson said she called Youngstown Mayor John A. McNally's office, who referred her to the Justice Department. She said she is waiting to hear from them.
"The way they handled this was terrible," Wilson said. "They degraded me in front of my neighbors."
Wilson also said she has yet to see a copy of the warrant used to search her home.
"I told them if they would've knocked, I would've opened my door," Wilson said.
All the members arraigned before Magistrate Dominic DeLaurentis entered pleas of not guilty and had May 30 pretrial hearing dates and June 21 trial dates set before Judge Lou D'Apolito.
Missing was Phillip Lemon, 26, who is in a federal prison; Roderick Wilson, 27, who is in state prison; and Derrick Franklin, 18, whose case is being handled in juvenile court because he was a juvenile when the crimes he is accused of committing occurred.
Added to the arraignments was 55-year-old Robert Blackshear, who was arrested in a McGuffey Road home when police were looking for one of the suspects.
Inside the home were several firearms, including assault weapons and a grenade launcher. He faces weapons charges and is not accused of being a member of the gang.
The 12 gang suspects face charges ranging from aggravated robbery, felonious assault, trafficking in cocaine, trafficking in heroin, trafficking in counterfeit controlled substances, aggravated riot and participating in a criminal gang.
Four of the defendants face the felonious-assault and aggravated-robbery charges for the beating and robbery of a man outside a Mahoning Avenue bar in September 2013.
Wilson said she knows her sons "are not angels," but they are not in a gang. She said her sons and their friends are people who have moved from other parts of town to the West Side and they just hang out together.
"This is a bunch of kids who became friends," Wilson said. "They haven't hurt anybody or killed anybody."
As for her own sons, she said, "They're not vicious like they're saying."