Boardman Park hosts Mommy and Me For Tea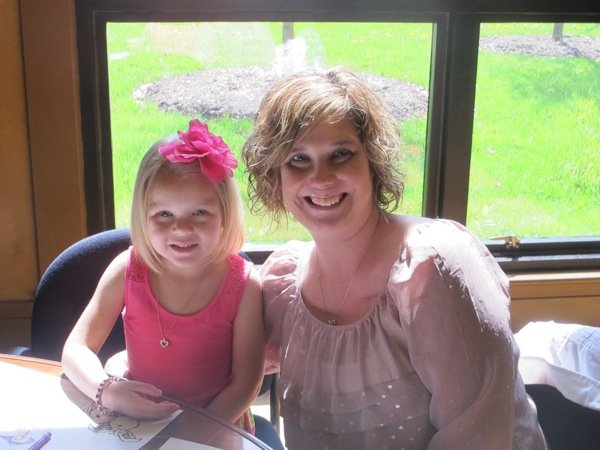 ---
By TIM CLEVELAND
With the demand for last year's event so strong, Boardman Park split this years Mommy and Me For Tea and Fashion Show event into two time slots, 11 a.m. until 1 p.m. and 3-5 p.m. The event was hosted in the Lariccia Family Community Center on May 4.
"This is the 10th annual mommy and me for tea," said Boardman Park Recreation Director Karen McCallum. "This year we've grown enough that we actually have to have two events in one day because we have so many moms and daughters that want to take part in the event. The event is moms and daughters get to have a light lunch, they get to do some crafts together. A lot of 'mommy love you mom,' 'mom's the greatest,' 'you're a tea-rific, mom' crafts. Then after crafts and having lunch with mom, we have the girls put on a fashion show for mom. We have a runway where the girls will walk down and they will be the models. The moms write a description of their daughters and I MC the event and have the girls enjoy their time at center stage. It's a great opportunity for moms and daughters to have that nice time together before Mothers Day."
McCallum said she expected 140 moms and daughters to attend the event. The menu for the mothers and daughters consisted of chicken salad, egg salad, cucumber sandwiches, fruit, hummus and cookies.
She was asked how the idea for the event came about.
"It's one of these things where about 10 years ago when I did my Father-Daughter Dance, I had all these moms saying 'how about us,' so I created a mom and daughter event," she said.
Kristy Malone of Boardman attended along with her daughter, Mary.
"We just wanted a special day to get together and have a mommy and me time together because I have four kids so this is a special time just for me and her," Kristy said.
"I want to spend time with mommy," Mary said as to why she wanted to come to the event.