Poland eliminates Mooney in D-II baseball district final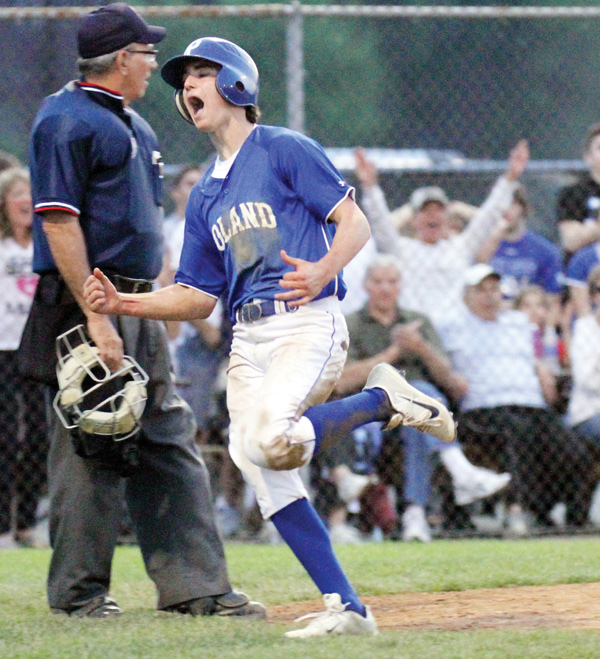 ---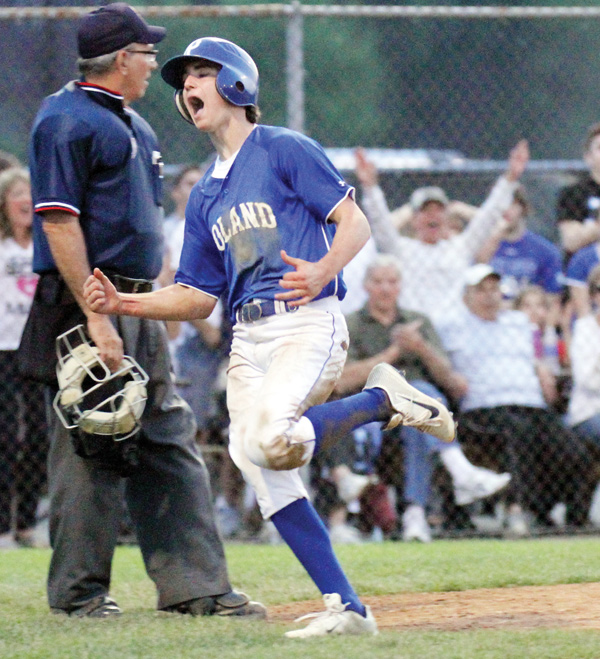 Photo
Poland's Sonny Lipari shouts in celebration after scoring during a Division II district baseball final against Cardinal Mooney on Wednesday at Cene Park in Struthers. The Bulldogs dominated the Cardinals, 8-3, to win the district title and advancing to sectional play on May 29 in Hudson.
By Ryan Buck
STRUTHERS
Baseball's charm is its absence of time limits. Innings, unlike quarters, periods or halves, will never be determined by a matter of time.
The official scorer for Wednesday night's Division II district title game at Bob Cene Park may show that the contest lasted 137 minutes (a lengthy game by traditional high school standards). For the Poland and Cardinal Mooney baseball teams, 45 of those minutes that could very well define their respective seasons.
The Bulldogs (19-5) knocked off the defending district champions, 8-3, thanks to six runs in a prolonged and remarkable top-half of the sixth inning.
After chasing Mooney starter Andrew Armstrong, who had held them to two runs on six hits to that point, the Bulldogs claimed all six decisive runs on two hits and benefitted from four Mooney errors in one-half inning.
"It was a great inning," said Poland junior catcher Ricky Svetlak, who scored a run in the inning and had two hits and two RBIs earlier in the game. "We were down, but we didn't quit. We wanted this since last year. They beat us last year in the district [semifinals], so we felt like we had a little more to play for tonight."
The Cardinals (19-2) entered the district tournament as its top seed, but watched their 3-2 lead vanish methodically in ways unseen during their prodigious regular season.
"We fell apart there," said Mooney coach Al Francheschelli. "We didn't make the plays. [Poland] did. I hate to see all this work that the kids put in this year come down to one inning, but that's baseball.
"We kind of kicked it around. Six runs on two hits just doesn't add up."
It began with the bottom of the Bulldogs' lineup as No. 7 hitter Corey Svatosky reached on a fielder's choice with one out and scored to tie the game on an Anthony Calcagni single to left off reliever Joe Cunningham. Calcagni, the last batter in the order, and Jon Shurilla both came around on lead-off man Chase Knodle's single to give the Bulldogs a 5-3 lead.
Then the wheels came off for Mooney.
Four errors in four at-bats led to runs by Nick Lipari, Pat Carlozzi and Svetlak.
"Armstrong was pitching great and we just kept at it," said Poland coach Rich Murray, celebrating his fifth district title at Poland and first since 2009. "We got some timely hits, put the ball in play and made them make some plays that they didn't make and I couldn't be any happier for our kids tonight."
With the lead in hand, Poland starter Jared Burkert gave Mooney no hopes of a herculean comeback. The sophomore, who allowed two earned runs and surrendered just five hits, never allowed a runner past first base in the final two innings for a complete-game win.
"I used my fastball well and my slider kept them off-balance," Burkert said of a Mooney team that had feasted on fastballs from opposing pitchers all season. "I kept them thinking up there about what I was going to throw. I changed it up."
After Poland took a 1-0 lead in the first, Drew Beck reached on an error and tied it in Mooney's next at-bat. Then trailing 2-1 in the bottom of the third, Beck and Armstrong both scored to take their final lead of the night.
Poland will meet Peninsula Woodridge in a regional semifinal at 2 p.m. on May 29 at The Ball Park at Hudson.