Student artwork on display at Austintown library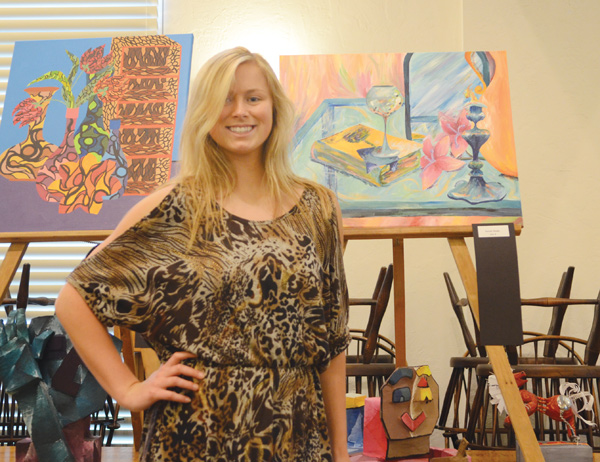 ---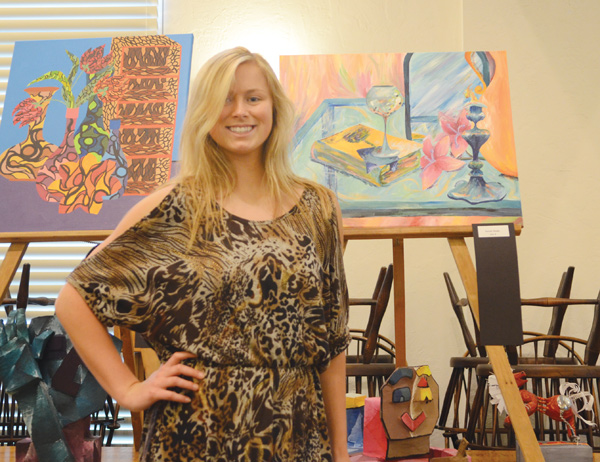 Photo
Sarah Melfe , 18, a student at Austintown Fitch High School, poses in front of her acrylic painting at right on display at an art exhibit at the Austintown branch of the Public Library of Youngstown and Mahoning County.
By Bob Jackson
AUSTINTOWN
Talal Awadallah couldn't believe what he was seeing as he stood and looked around him.
"I'm impressed," the Austintown man said. "Really impressed."
He was talking about dozens of pieces of artwork, done by art students at Austintown Fitch High School, which were displayed at the Austintown branch of the Public Library of Youngstown and Mahoning County. A public reception took place Wednesday evening to mark the exhibit's opening.
Patti Prentiss, one of four art teachers at the school, said the annual show is used to display pieces done by pupils in grades nine through 12. The works included all forms of art, including oil and watercolor paintings, drawings, multimedia, sculpture and ceramics.
"This is just a representation of what our students have done in class throughout the year," Prentiss said.
Awadallah, who just happened upon the show while visiting the library with his friend, Tyler Blankenship, 21, of Austintown, said he was amazed at the talents displayed by the
young artists.
"The things that were once considered as pushing the envelope for people my age are being done now by these young kids," said Awadallah, who himself is an artist and, at 21 years old, is just barely older than the artists whose work he was admiring.
Awadallah said he's done oil painting for years, but doesn't enter his work in art shows. Still, he clearly was blown away by the talents of the young artists.
Among them was 18-year-old Sarah Melfe, a senior, who said she had three or four pieces on display.
"I like drawing best," Melfe said. "But Mrs. Prentiss taught me about painting, and so I've really started to enjoy that as well. Once you learn how to do it right, it's a lot of fun."
Melfe said she and other students enjoy having their works on display because it shows their creations in a different perspective.
"We usually only see them while we're actually working on them," she said. "Some of the kids were talking today about how different it looks when they're all set up and actually on display."
Prentiss said Fitch is fortunate to be a district with a high level of student interest in visual art. There are four full-time instructors and some 400 pupils enrolled in their classes. The teachers generally select the works that will be entered in the show, which will be on display at the library until Tuesday.
During that time, the public can stop by and vote for "Best of Show," which will be the only award given. The winner will be announced later this week, she said.
Melfe said she likely won't pursue any further art education after she graduates, but almost certainly will continue drawing.
"If anything, I like to draw at home," she said. "I like doing sketches."
Her talent comes through her bloodline, as her father and a grandmother also are artists, she said.
"My grandma got me a sketch pad when I was 10 or 11 years old, and I've been drawing since then," she said. "She had drawn a picture of me on the first page. I still have the picture in my room."