Youngstown boasted some fine eateries in its heyday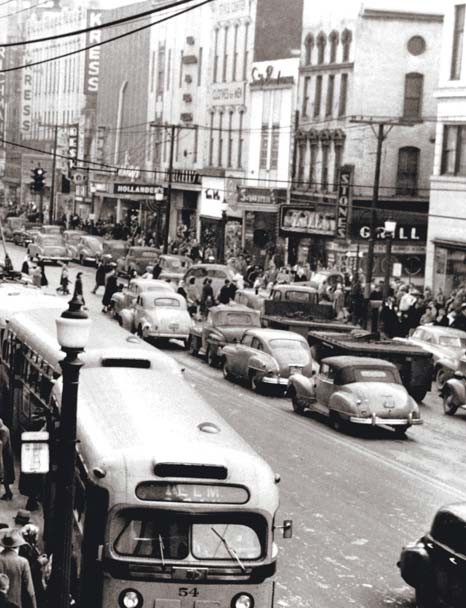 ---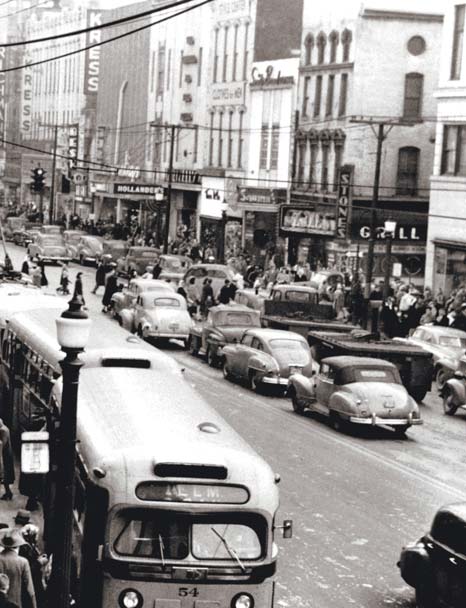 Photo
Crowds filled downtown's West Federal Street in December 1950.
By BOB JACKSON
news@vindy.com
YOUNGSTOWN
Corned beef, pirogi, haluski and pizza. Name the ethnic food specialty, and chances are good that it'll all appear somewhere on the menu of one of the Mahoning Valley's many local restaurants.
It's an edible symbol of how the area's ethnic heritage is reflected in its varied cuisine.
And that was the entree of a lecture by local author and historian Thomas Welsh, who spoke Tuesday evening to the Mahoning Valley Historical Society. He is co-author of "Classic Restaurants of Youngstown," which chronicles the evolution of city eateries from about 1945 to the present.
"Our mission is to celebrate the history of the
Mahoning Valley, and what better way to do that than talk about food?" said William Lawson, MVHS executive director. "There are so many sentimental, cultural connections to food. It's a cultural phenomenon."
About 20 people gathered in the second-floor ballroom of the Tyler History Center on West Federal Street to hear Welsh, who penned the book with Gordon F. Morgan, talk about the city's delicious past and present.
"We did an enormous amount of research for this book," said Welsh, noting that he and Morgan spent some 14 months sinking their teeth into historical records, as well as into the memories of longtime area residents.
He said submission of the final manuscript had to be delayed at least once because the authors would learn of new restaurants that had opened downtown.
"When you think about local cuisine, one of the things people think about is local diversity," Welsh said, noting that formal restaurants aren't the only places known for the food they served. Churches, taverns and specific neighborhoods became popular for their kitchen creations as well.
He said that wide range of ethnic foods — including Italian, Jewish and Slovakian, among others — have become so ingrained into the city's identity that all or most of them will show up on the menu of most area restaurants, regardless of their particular specialty.
"Food often was the thing that brought people together," Welsh said. "It has played an important part in integrating the community and breaking down [cultural] barriers."
That began, he said, with the simplicity of children sharing their school lunches, which they'd brought from home.
In the late 1940s and the 1950s, fine-dining establishments such as The Mansion and The Mural Room flourished in the city. At those places, and others, diners could get "L.A. and New York-standard food," he said. Cicero's was reminiscent of Las Vegas restaurants.
When the local economy began to tank and businesses began migrating to the suburbs, most of those fine-dining establishments had to fold up their tablecloths and go out of business, replaced by national chain restaurants, he said.
But some, such as The Dog House and Arby's, built national names of their own.
"The Dog House was located in more than 30 states before it imploded," Welsh said, noting that the business simply grew too fast for its owners to manage.
Still, he said places such as the MVR in Smoky Hollow and Kravitz Deli on Belmont Avenue have remained as "enduring symbols of continuity" in local cuisine, and new restaurants are continuing to locate downtown.
Elaine Phelan of Youngstown said she attended because she is interested in the Valley's local food history and wanted to hear Welsh's take on it.
"We're a good food Valley," said Phelan, who said she has particularly fond memories of The 20th Century restaurant and the spinning-bowl salads for which it was locally renowned.
"I remember The Mansion," said Linda Duchnak of Niles. "I believe it was on Market Street. I used to go there with friends from work at St. Elizabeth Hospital."
Larissa Woloszyn of Youngstown said she attended the program out of her interests in both history and food.
"I remember the Golden Dawn," she said. "I went to YSU and I remember that one of my professors used to talk all the time about going there."
The Golden Dawn is still in business on the city's North Side.
More like this from vindy.com