Published: Wed, May 21, 2014 @ 12:00 a.m.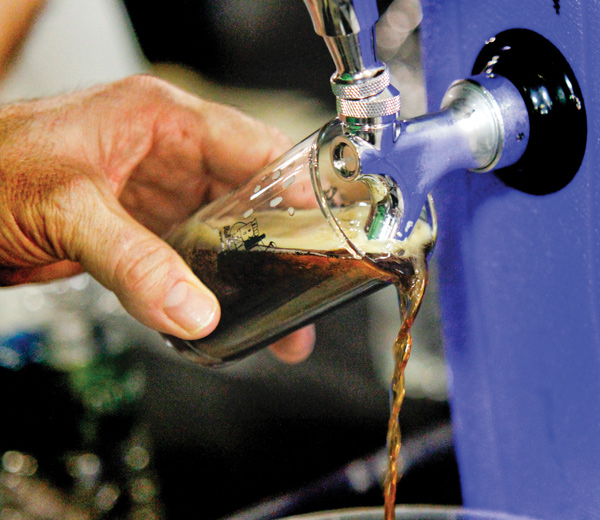 Photo
Bob Baker of Warren pours Ayinger, a German beer, during the 4th Annual Big Tap In at the Shepherd Event Center in Boardman.
If You Go...
What: The Big Tap In
Where: The Shepherd Center, 7469 South Ave., Boardman
When: 3 to 6 p.m. May 31
Tickets: $50, available at www.bigtapin.com or at Vintage Estates and The Magic Tree Pub and Eatery
Valley beer lovers are buzzing with anticipation as preparations are underway for The Big Tap In Real Craft Beer Festival. The annual event returns to The Shepherd Center in Boardman on May 31 for what promises to be a great day for lovers of the craft beer movement.
The event has become so popular that it has evolved into a weeklong celebration with special tastings taking place each night as part of "Big Tap In Week." The event's co-founder, Phill Reda, says the year's event calendar is the most robust yet.
"The first year we did BTI we were just trying to get it all going. It kind of evolved into a weeklong party on its own the following year. There were so many breweries coming in from all over the country for the event and we decided to make the most of their being in our area."
To say that The Big Tap In is popular with local beer lovers would be a tremendous understatement. The VIP Session sold out in less than 24 hours. Ticket sales for the Main Session have been very strong, and Reda expects the event to sell out before May 31. He is proud of the event's origin and evolution over the years.
"BTI was really the core creator of the craft beer trend in the Youngstown area. It embodies the positive energy that goes into making real craft beer. This event created a real awareness of great, high quality craft beer in our area."
Big Tap In Week will feature multiple events at both Vintage Estates and The Magic Tree Pub and Eatery starting Monday. Here's a look at some of the breweries planning special events during Big Tap In Week:
North Country Brewing
This is one of my favorite craft brewers in our region. I've visited its outstanding brew pub-restaurant in Slippery Rock, Pa., and have been impressed with each visit. The exciting news for Valley residents is that its beer will now be available for purchase in Ohio. The North Country Brewing Launch Party will take place Tuesday as part of Big Tap In Week.
The Church Brew Works
This is one of the most unusual and interesting breweries you will ever visit in your life and a longtime favorite of Pittsburghers and Valley residents alike. Special guests from the brewery will be pouring some limited release beers and sharing some old favorites like Pipe Organ Pale Ale, Celestial Golf and Pious Monk Dunkel Ale.
Full Pint Brewing Co.
The guys who make these wonderful beers will be hosting a "meet the brewers night". There will be special keg tappings of beers not typically available outside the brewery as well as tastings of its flagship beers, such as Chinookie IPA and White Lightning Belgian White.
There are many other great events planned featuring Four String Brewery, Mad Tree Brewing and Revolution Brewing Co. just to name a few. Log on to www.Bigtapin.com for all the details.