Police, FBI round up West Side gang suspects in Youngstown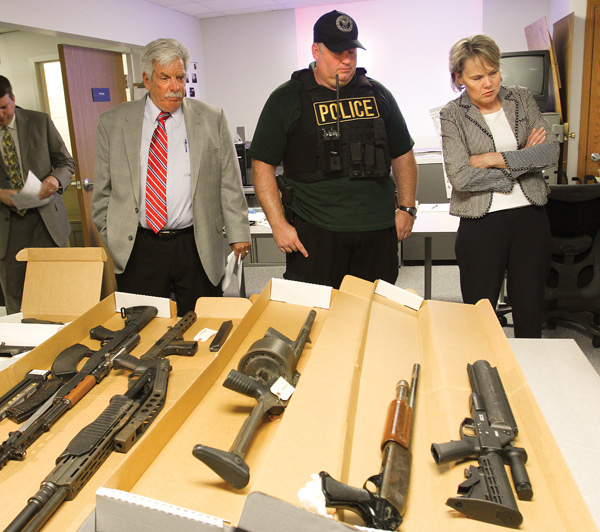 ---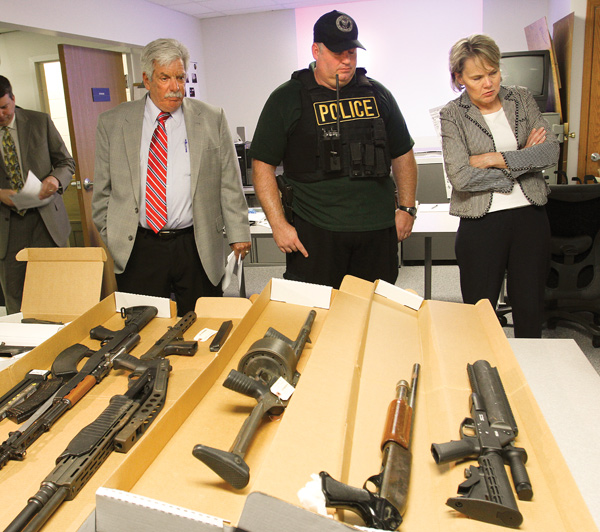 Photo
Paul Gains, left, Mahoning County prosecutor, Officer Don Cox from YSU police, and Judge Theresa Dellick of the county's juvenile court look over some of the weapons seized when gang suspects were arrested Tuesday.
By Joe Gorman
YOUNGSTOWN
It may have taken awhile, but law-enforcement officials said tips and complaints they received from residents of the lower West Side paid off last week with the secret indictments of suspected members of the E Block Street gang.
Police from several agencies, including the FBI SWAT team in Cleveland, served arrest warrants Tuesday on those indicted and rounded up 10 of the 12.
Derrick Franklin, 18, is charged as a juvenile because he was under 18 when he was accused of committing the crimes. He remains at large. Also not in custody is Tawuan Gordon, age not available. Police were looking for them late Tuesday.
Included in the haul was a cache of weapons seized from an East Side home on McGuffey Road that included assault weapons and a grenade launcher.
Police Chief Robin Lees said at the news conference to announce the indictments that he was frustrated he couldn't share with residents about coming relief because of the ongoing investigation that began last year.
The 12 suspected gang members were charged last week in secret indictments issued by a Mahoning County grand jury. The grand jury handed up charges of trafficking in cocaine, trafficking in heroin, felonious assault, trafficking in counterfeit controlled substances, aggravated robbery, possession of heroin and participating in a criminal gang.
The gang used Evanston Avenue as its base of operations on the lower West Side and the streets around there, including Lakeview and Portland avenues, police said.
Martin Desmond, an assistant county prosecutor handling the case, said gang members sold drugs and fake drugs. The aggravated-riot charges stem from four gang members' beating up a perceived informant who was on a bicycle outside a Mahoning Avenue gas station in 2011 — an assault, Desmond said, that was captured on video.
Desmond has prosecuted several gang cases across the different sides of Youngstown, and he said there is no difference in any of them.
"They're all bad," he said.
Desmond said charges the gang members are facing go back to 2009, and that there will be more charges filed against them.
The Mahoning Valley Violent Crimes Task Force and the FBI began its investigation of the gang in 2013, following up on complaints and tips from residents, said FBI Special Agent Todd Werth. Task force officer Jerry Tuscano, a member of the Mahoning County Juvenile Probation Department, headed up the investigation.
Werth said the key to the investigation was the cooperation of several law-enforcement agencies.
County Prosecutor Paul J. Gains urged citizens with complaints to get in touch with the police or the prosecutor's office. He said the E Block case is proof that complaints get acted on, even if it takes a couple of years.
"These complaints do get routed to the appropriate people," Gains said.
One of the members indicted, Keith Tillis Jr., 25, was a key witness in the 2007 murder trial of two men who were convicted of ambushing a man, Martwain Dill, in daylight at Glenwood and Earle avenues in November 2006.
He was charged with aggravated murder, but the charge was dropped in exchange for his testimony. Court records show he was sentenced to probation on a felony drug-abuse charge in 2013 in common pleas court.
Court records also show most of those indicted have been arrested in the past on low-level felony weapons or drug charges.