Hubbard Library serves up reading menu for summer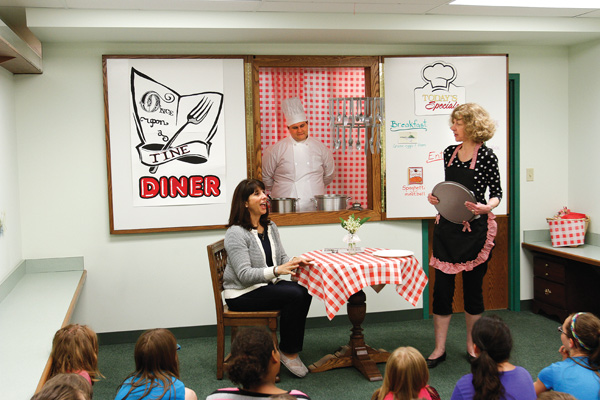 ---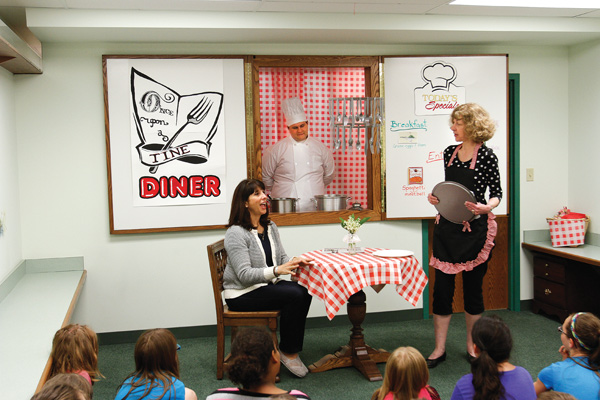 Photo
Nancy Grapevine, seated, Jonathan Wlodarski and Mary Ann Russo are characters in a skit about the Once Upon a Tine Diner at the Hubbard Public Library. The library began presenting the skit last week and will continue through this week for Hubbard Elementary School students during class visits. Students watch the skit, learn about the library's summer reading program and can check out books.
HUBBARD
At the Once Upon a Tine Diner — that's Tine, as in fork prong — you might go hungry if you aren't careful how you order.
Customer Nancy Grapevine pointed to the spaghetti and told waitress Mary Ann Russo: "I'd like a plate!"
All she got was the plate.
So she ordered spaghetti.
She got it. With no sauce.
So she ordered sauce. It arrived with no meatballs.
So she ordered them. They needed cheese, please!
A napkin maybe? No fork. At the TINE Diner? Chef Reid Moore's spaghetti was tasty, Grapevine said. But, she asserted, Russo's bad service was not going to earn her a tip.
No tip? Wait a minute, said Russo, to the amusement of the other patrons, who had walked from their fourth-grade Hubbard Elementary School classes Tuesday to check out what was on the menu at the diner — open for a limited time last week and this week only in a room at the Hubbard Library.
They never did get waited on, as Grapevine struggled to get everything she wanted for her lunch from Russo.
Russo gave out her own tip, though, for Grapevine and for the fourth-graders: "You should go to the Hubbard Public Library," she said. "They have great service! They'll find you any kind of book you like. They have a book buffet!"
The diner is open only for Class Visits, when Hubbard Elementary students from kindergarten to fourth grade walk to the library to watch the skit there, learn about the library's summer-reading program and check out some books.
When the diner isn't open, Russo returns to her job as children's librarian. Grapevine goes back to hers as assistant librarian, and Chef Moore becomes library volunteer Jonathan Wlodarski.
Through their work at the diner, however, they hope to entice the students to enter the reading program.
Each diner "patron" received a special Recipe for Reading which, if followed, will serve one fourth-grader with an endless appetite for reading all summer long:
RECIPE FOR READING
Children age 2 to 12
Books from the library. Read, or have them read to you.
Visit the library during listed hours: Mondays, Tuesdays, Wednesdays, 9 a.m. to 7 p.m; Thursdays, 9 a.m. to 4 p.m., and Saturdays, 9 a.m. to 1 p.m.
Choose one book you've read to talk about with a librarian.
Then participate in a specified activity for the week:
June 16-21, Fork Friends Craft; June 23-28, Pizza Works coupon award; June 30 to July 5, Utensil painting craft; July 7-12, receive a color-change spoon; July 14-19, fork-weaving craft; July 21, Read It or Eat It Festival, during which participants transform books into culinary masterpieces.
Before they went back to their classes, students checked out the stacks to get a taste of what's cooking for the summer at the library. Registration for the program is from 3 to 6 p.m. June 11; and from 10 a.m. to 1 p.m. June 12 and 14.