Struthers Historical Society hosts open house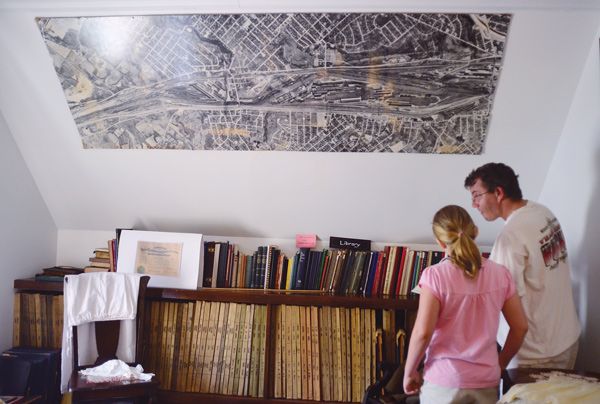 ---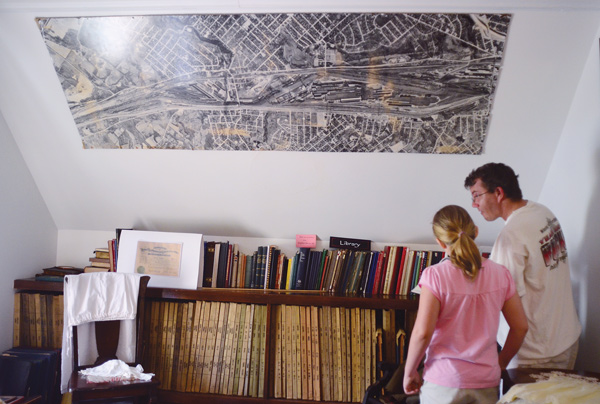 Photo
Marty William of Struthers and his daughter, 9-year-old Mary William, look through old Struthers High School yearbooks during the Struthers Historical Society's open house Sunday.
By EMMALEE C. TORISK
STRUTHERS
Bonnie Strong often had wondered about the two-story frame dwelling at 50 Terrace St., built in 1884 in the Gothic style of architecture, and located right down the street from her own house.
On Sunday afternoon, Strong dropped by the former residence, which now houses the Struthers Historical Society, hoping to discover a little bit more about her hometown.
She wasn't the only one. Dozens of past and present city residents toured the museum from 1 to 4 p.m. Sunday during the historical society's open house — an event that featured both familiar and new displays, and also marked the museum's reopening after a long winter.
"I think it's really nice [that] they're preserving the history of Struthers," Strong said. "There's a lot more than I thought they could fit in here."
There was so much there, in fact, that Strong walked through the house twice: once with her 6-year-old son, Christopher Strong, and then a second time by herself after taking him home. Strong said she especially enjoyed learning about the history of the house itself, as well as about its sole residents: the Frankforts.
As Marian Kutlesa, founder of the Struthers Historical Society, recounted, Alexander Frankfort — who was the city's last surviving Civil War veteran in Struthers when he died in 1930 — built the residence for his wife, Louisa, and his infant daughter, Alma, after purchasing the land from Thomas Struthers for $190.
For the next 93 years, Alma Frankfort lived in the home, using its two front rooms for her seamstress business during much of that time. After her death at age 100, her heirs donated the house to the Struthers Historical Society, and members completed its extensive renovation three years later, in 1989.
With an entire house of its own, Kutlesa said, the historical society could show off everything from bound files of the Struthers, Campbell and Lowellville Journal to various artifacts found during the excavation of the Hopewell Furnace to a Youngstown Sheet & Tube Co. shift-change whistle that can be heard from seven miles away.
"There is so much history here," Kutlesa said.
Strong, who spent much of her visit digging through old photographs in the museum's library, added that she also was taken by the antique clothing modeled by mannequins in Alma Frankfort's former bedroom, which is on the second floor and retains the original bed, dresser and wardrobe.
Some of the clothing there actually belonged to Alma Frankfort, while other pieces were donated, added Linda Skrinyer of Boardman, a member of the Struthers Historical Society and Kutlesa's niece. Skrinyer remarked upon the garments' intricate, handmade details, as well as their exceptionally diminutive size.
"You had to make it if you wanted it, using all of those skills we don't have anymore," she said, pointing out, for example, the crocheted yoke of a ladies undergarment.
Other items displayed on the home's second floor include tiny knitted and crocheted bonnets, booties and sweaters, which accompany an exhibit on midwifery.
Ruth Charles of Struthers, another member of the historical society and a former registered nurse, explained that years ago, most people couldn't afford to deliver their babies in a hospital, so doing so at home, with the assistance of a midwife, was quite common.
Unlike most visitors to the museum Sunday, Joe Chuk of Struthers actually added to the collection. Chuk, who said he used to collect antiques, had just cleaned out his house — and brought with him to the museum some of his finds, including a lightning rod.
He hadn't been to the museum before, but said he was impressed, and in particular by the display of projectile points — more commonly known as arrowheads — found along the Mahoning River in Struthers.
"They've collected a lot of nice things here that you'd hate to see go by the wayside," Chuk said. "You can't replace them. Once they're gone, they're gone."
The Struthers Historical Society's museum is typically open once a month during the summer months, then closed during the winter. It also is open by appointment. For more information, call Marian Kutlesa at 330-755-7189.