Scouting's best receive awards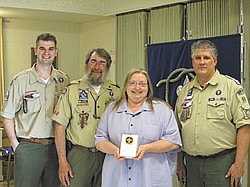 Photo
SPECIAL TO THE VINDICATOR The Harnishfeger family of Boardman was named the 2013 Scouting Family of the Year at a Scouting awards event in April. From left are Preston Cockrell, presenter, Byron and Beth Harnishfeger and District Chairman Kurt Hilderbrand. Karl Harnishfeger also is part of the family.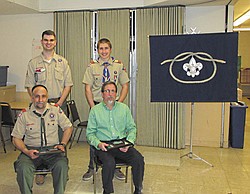 Photo
The 2013 Whispering Pines District Award of Merit recipients are, in front from left, Tony Ricciutti and Randy Osiniak, both of Boardman. In the second row are Preston Cockrell and Matthew Osiniak, Randy's son.
Staff report
BOARDMAN
The Whispering Pines District of the Greater Western Reserve Council, Boy Scouts of America, hosted its 2014 district Recognition and Awards Dinner recently at St. James Episcopal Church.
The dinner honored 33 Scouts who earned the highest rank, the Eagle Scout. Several adult volunteers received training awards, and others honored were 2013 Scouting Family of the Year, Cubmaster of the Year, Scoutmaster of the Year and District Award of Merit, the highest award to an adult Scouter.
Scouts of the Whispering Pines District who earned Eagle Scout Awards were Austintown Troop 184: James A. Bakos; Boardman Troop 46: Jeffrey Bean, Brandon Ciavarella, William Duganne, Samuel M. Morrow, Matthew Osiniak, Joseph S. Pinkerton-Lamp and Matthew Stark; Canfield Troop 25: Benjamin Boughner, Donald A. Duda III and Michael Rammuno; Canfield Troop 115: Jordan D. Brown, Nicholas Crescimanno, Benjamin A. Crouch, Milan A. Milroy and James V. Mularkey; Ellsworth Troop 71: Brett J. Centofanti, Sage C. Edwards, Donald Hald Jr., Justin M. Smith and Zachary A. Timmins; Hubbard Troop 100: Calvin Krlich and Justin A. Oaks; New Springfield Troop 119: Joseph Angelo, Zachary A. Cain, Walter G. Hlderbrand, Dillon Lewis, Brian Swansiger, Brian Swantek; North Lima Troop 80: Joseph Humenick; Poland Troop 2: Sidney Aaron, Benjamin Haylett, Nicholas K. Huggins, and Clayton Walker; Poland Troop 44: Charles E. May, George J. Moncilovich and Randall Pfahl; Youngstown Troop 22: Michael Malenic; and Youngstown Troop 55: Adam Phillips.
Adults who earned training awards are Matt Grantonic of Troop 49, who earned the Scouters Training Award; Dan Bucci of Pack 114, who earned the Unit Leader Award of Merit; and Andrew Yoder and Chuck James of Pack 100, who earned the Tiger Cub Den Leader Award. The following leaders from Pack 100 earned the Cub Scout Den Leader Award: Robert Stoneburner Jr., Stacy Stafford, Jim Stafford, Mona Jones, Heather Criazzo and Courney Tupa; and Alex Kegley won the Cubmaster Award.
The Scouting Family of the Year Award went to the Harnishfeger family of Boardman. Dad, Byron; mom, Beth; and son, Karl, are an all-around Scouting family.
The 2013 Cubmaster of the Year is Chuck Shasho of Youngstown Cub Scout Pack 22 at St. Christine Parish, and the 2013 Scoutmaster of the Year is Dennis Mansfield of Boy Scout Troop 49 of New Middletown.
The District Award of Merit, the highest district honor, was presented to two people: Randy Osiniak and Tony Ricchiuti.