Ryan Blaney second in Nationwide race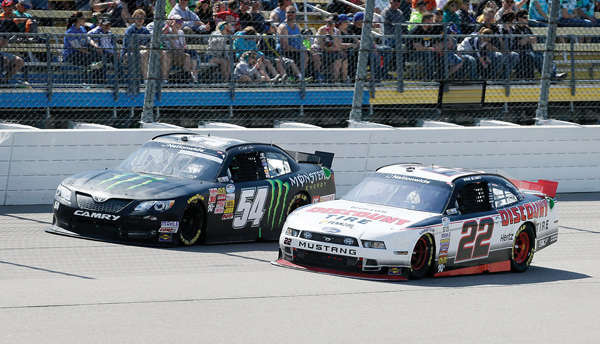 ---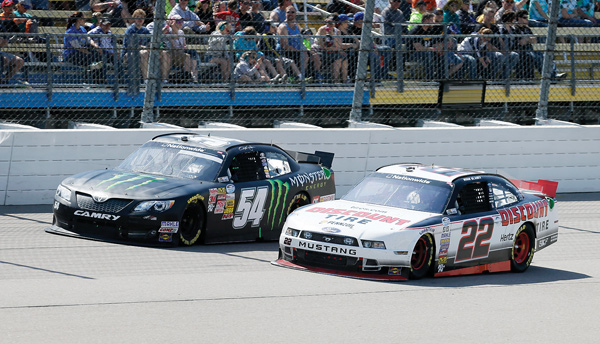 Photo
Ryan Blaney, right, tries to pass Sam Hornish Jr. during the NASCAR Nationwide auto race Sunday at Iowa Speedway in Newton, Iowa. Hornish won the race, and Blaney finished in second place.
Associated Press
NEWTON, Iowa
Sam Hornish Jr. went from nearly winning the NASCAR Nationwide Series season title to losing his ride.
Hornish reminded everyone Sunday that a lack of sponsorship funding is the only reason he's not pushing for the champion again.
Hornish Jr., who finished second in the Nationwide Series in 2013, beat pole-winner Ryan Blaney off a restart with 21 laps to go and hung on to win at Iowa Speedway.
Blaney, the son of Trumbull County native Dave Blaney, was second, followed by Regan Smith, Chase Elliott and Elliott Sadler in the first stand-alone event of the season.
Hornish, piloting the No. 54 car usually driven by Kyle Busch, led 167 of 250 laps to win in second start of the year for Joe Gibbs Racing.
"I got a lot of crap from people on Twitter wanting to know why I don't have a full-time ride. But I'd rather be part-time in this car than full-time in a lot of others," Hornish said.
Hornish, who drove for Penske Racing last year, opened his season as Busch's substitute with a fifth-place finish at Talladega two weeks ago.
From the start of Sunday's race, Hornish and Blaney were the only drivers in serious contention.
The 20-year-old Blaney began the race on the outside of the front row after winning his first series pole Saturday. But Hornish, who qualified second, pulled in front on the opening lap.
Blaney and Hornish were the only leaders for the first 214 laps, and lapped traffic was often more of a concern that the cars directly behind them.
Blaney eventually caught Hornish at the tail end of a green flag run that lasted roughly 65 laps. But the final restart belonged to Hornish, who fell just three points shy of champion Austin Dillon a year ago.
"We had great long run speed after about 50 laps or so," Blaney said. "We just didn't have the new tire speed we needed."
It was the third win in 101 Nationwide starts for the 34-year-old Hornish, who beat a field featuring three drivers aged 20 or younger in the top six starting spots.
"I keep looking in the mirror and I'm like, 'I'm not that old.' .. .and then Ryan Blaney and Chase Elliott come up for driver introductions and I'm like, 'Yeah, I'm getting older,"' Hornish said. "The older you get, the less opportunities you're going to have in the future."
Michael McDowell briefly took the lead with 30 laps to go by taking just two tires while the rest of the leaders took four. But McDowell's gamble failed to pay off, and he settled for seventh.