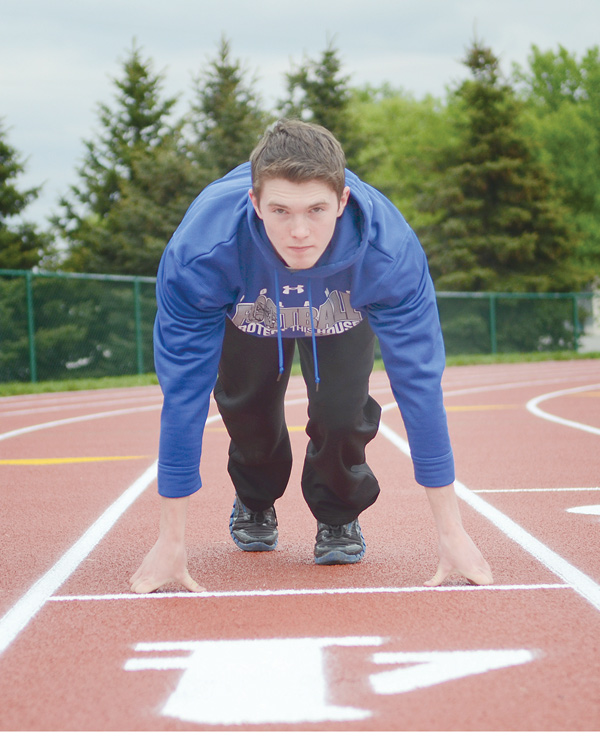 ---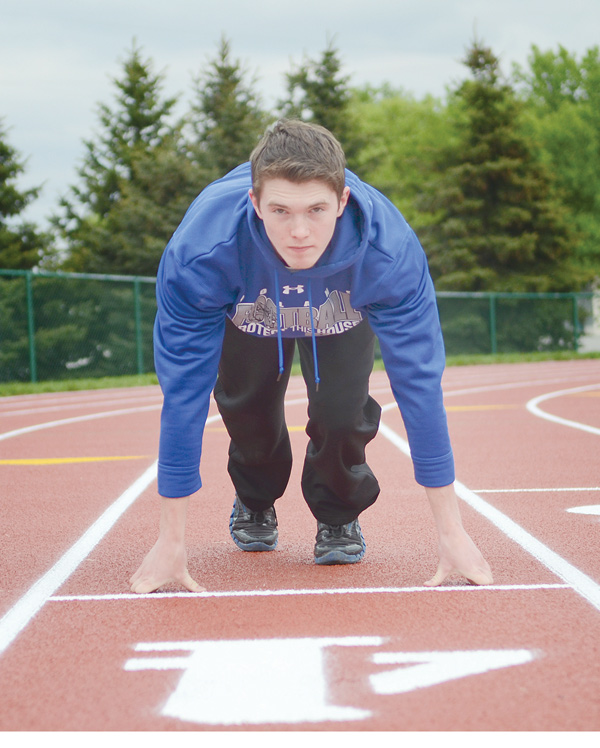 Photo
Poland's Aaron King, 18, warms up before a track meet last Friday at Hubbard High School. King has healed from tearing an ACL during a football game last fall.
By Joe Scalzo
Say this for Poland senior Aaron King — he knows how to come back from a cut.
Eight months ago, in the fourth quarter of a 38-16 win over Niles, King was running down field on kickoff coverage when he tried to juke a Niles blocker.
"I had literally done the same move on the kickoff before and embarrassed him," King said, "so I was going to do it again."
King went one way. His right knee went the other.
"Everything in my knee just popped," he said. "It was the end of the game and there really was no reason for me to be going as hard as I was, but I was still trying to be the first one down.
"That was my thing for kickoff — I just wanted to make every tackle on kickoff."
Up to this point, King was known for being indestructible. He was the guy who did as much as he could to put himself in harm's way, "and I'd just get up and walk off."
This time, he did the same — at least at first. He jogged off the field and thought he might miss a few weeks.
But when his knee ballooned the next morning, he visited Poland's trainer, who told him to get an MRI. She wouldn't even let him drive home.
A few days later, he got the news: a torn ACL. He could either finish the season with a brace, then have surgery, or he could have surgery immediately and be back for track season.
"Track is kind of on the same level of importance to me as football," King said. "When they told me I could be 100 percent again for track, I decided to get the surgery as soon as possible."
He got the surgery in mid-October and devoted himself to his rehab. A two-time state qualifier in the 4x400-meter relay and regional finalist in the 300 hurdles, King is now closing in on his pre-surgery times.
He recently ran a 41.1 in the 300s, just off last year's 40.55, and a 52.5 split in the 4x400 (just off last year's 51.8).
"I'm not quite back," he said, "but I'm making progress."
King is not a state championship threat — heck, he's not even the best hurdler at Poland, a distinction that belongs to junior Bryan Partika — but, then, he wasn't even supposed to be running track.
He played baseball until ninth grade when he got cut.
So, he tried track, "and ended up loving it," he said.
Bulldogs coach Ryan Williams, who also coaches him in football, raved about King's attitude and dedication, calling him "outstanding."
"He just keeps pressing on, no matter what happens to him," Williams said. "It's his ability to overcome anything that has struck us over the years.
"For a high school kid to have that bigger picture in mind and not worry about the day-to-day failures and adversity is rare."
Even more rare? King has not missed a meet or a practice this season, which is almost unheard of in a sport that leads the universe in phantom injuries.
"Especially when it's 35 and snowing," Poland girls coach Gabby Massey added, laughing. "Everybody's got an injury then.
"He's a kid who would run six events if he could run six. He's literally been bugging me the entire year to run the hurdles. 'When can I do it? When can I do it?' Finally, I just said fine."
A 3.5 student, King plans to major in chemical engineering at Youngstown State, where he might walk onto the track team.
In the meantime, he's hoping to make it back to Columbus. He said Poland's 4x400 team is ranked 11th in the northeast region (the top four advance) and he's seventh in the 300 hurdles.
"Getting back to where I was could mean another state trip for me," he said. "I'm not done yet."