Fire strengthens faith of pastor
Faith Strengthened By Fire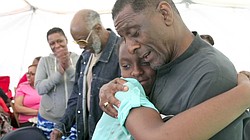 Video
The pastor of a Youngstown Church destroyed by fire talks about his faith.
STORY & PHOTOS
YOUNGSTOWN
God's ways are not our ways, and the Bible says the secret things belong to him.
Bishop C.M. Jenkins Sr., founder and pastor of Grace Evangelistic Temple Ministries, and his members will have to put their faith in those biblical precepts to the test in the aftermath of a fire that destroyed their East Side church building.
A week ago today, in the early morning, fire spread from a nearby house to the church that was built in 1902. Youngstown fire crews fought the blaze, but they were unable to save the building Bishop Jenkins had used to preach and teach for more than 20 years.
In the wee hours of that morning, Bishop Jenkins was awakened by the fire.
"I've had some devastating things in my life, but that had to be the most devastating I'd ever seen. Twenty years just burnt away," he said.
Walking around the ruins of his church, the pastor said he was unable to rescue anything because the fire was too intense.
About 60 church members gathered last Wednesday evening in a tent across Shehy Street from the church to pray and listen as Bishop Jenkins preached despite a fast-moving thunderstorm that packed wind, rain and hail.
After the service, he said, "We wanted to bring everyone together and give the members an opportunity to understand we are not without hope, and God has already made a way for where we are going next."
Plans for rebuilding the church were uncertain, but the pastor quoted from Romans 8:28: "And we know that all things work together for good for them that love God."
The Rev. J. Dwayne Heard, pastor of Elizabeth Missionary Baptist Church, has offered Grace's congregation the use of Elizabeth's old church building at Garland Street and Himrod Avenue as a place of worship, where services will be Sunday.
"We're going to be there until we can make some decisions on what we're going to do next," Bishop Jenkins said.
Standing near the burned-out church, the clergyman was asked what lessons he has learned from the fire.
"I don't know, but I think I'm about to find out," he said. Faith often has been a subject of his sermons, and the pastor smiled and said he now will have to follow some of his own advice.
"Now I'm going to have to see what that thing is all about, faith and trusting in God," he said.