---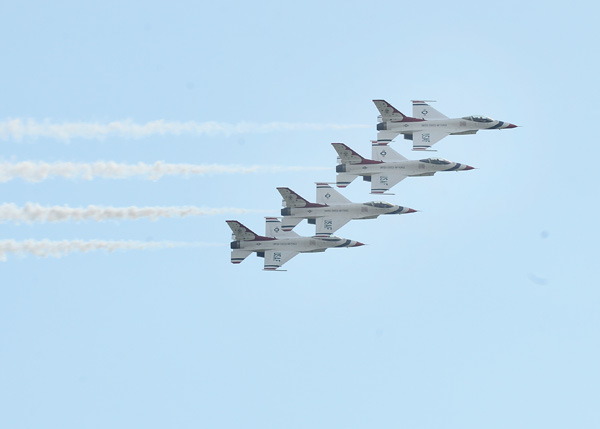 Photo
The Air Force Thunderbirds fly in formation during the Thunder Over the Valley Air Show on Sunday at the Youngstown Air Reserve Station. After inclement weather threw a damper on Saturday's activities, Sunday's attendance was way up thanks to sunny skies and temperatures in the mid-60s.
By Sean Barron
VIENNA
Sibling rivalry usually conjures up images of arguing and fighting about who's the cutest, smartest or gets the most parental attention, but brothers Billy and Dave Werth have placed that style of competition on the fast track.
"We named it that when we were sitting around thinking of something for us to do," said Air Force Maj. Billy Werth of Indianapolis, referring to the name of their fast-paced race between a motorcycle and a plane.
Both brothers' supercharged performance called Greyout Aerosports (Sibling Rivalry) was an accelerated attraction for many of the tens of thousands of spectators who attended Sunday's Thunder Over the Valley Air Show featuring the Air Force Thunderbirds at the Youngstown Air Reserve Station.
An estimated 8,300 people came to the show Saturday, despite the on-and-off rain that grounded the Thunderbirds' performance. Sunday's attendance figure, however, was way up, thanks largely to sunny skies and temperatures in the mid-60s, noted Master Sgt. Bob Barko Jr., the 910th Airlift Wing's public-affairs office superintendent.
The air show's purposes were to showcase the mission of the reservists and the airlift wing, as well as to increase recruiting efforts, officials said.
During Sunday's race, Billy Werth, who began flying in 1988 while at Indiana State University in Terre Haute, was in a small Christen Eagle plane with a six-cylinder engine while his brother rode a motorcycle. They reached speeds between 170 and 175 mph along a runway and, toward the end, Billy slipped his plane in front of Dave, allowing Dave to make contact with the wing — to the astonishment of attendees.
"It doesn't feel as fast as you would think," said Dave, of Albuquerque, N.M., who began racing about five years ago. "Once you get to 120 mph and over, you feel excited, not nervous."
Both brothers also signed many autographs and said they take part in roughly four or five air shows each year. Billy added that he thoroughly enjoyed the hospitality he's received during his first time in the Mahoning Valley, as well as being part of this weekend's festivities.
Before the Thunderbirds took to the skies, people enjoyed events such as the Vanguard Squadron, a six-plane formation that flew around the base. They also were entertained by the numerous acrobatics in the air in which small planes swooped, dived, climbed, arced, dropped, flipped and twirled individually and in choreographed moves and patterns.
On the ground, the driver of a flash-fire jet truck came close in the second attempt at breaking a 375-mph speed record when he reached 371 mph.
Also part of the show was the Warbird Parade in which a P-51 Mustang plane performed in honor of veterans of all military branches.
Lines were long for tours of the numerous Air Force planes, including a relatively new WC-130 Hurricane Hunter model.
"It carries weather equipment that sends data to the National Hurricane Center [in Miami] in real time," noted Maj. Brad Boudreaux, whose brother, Maj. Josh Boudreaux, was one of the Thunderbird pilots.
The plane has the capability to fly into a hurricane's eye and collect vital information to be disseminated as quickly as possible, Brad Boudreaux said.
Standing under the giant propeller plane was 16-year-old Adam Kolley of Canfield, who came with his father, Bob Kolley.
"It's not every day I get to see things this big," the Canfield High School 10th-grader said, referring to the weather plane.
Adam said that a close friend's father is in the Air Force and added that he enjoyed attending his first air show.
Other people took note of several displays such as a hydraulically operated, four-blade variable-pitch propeller that weighs 1,074 pounds. Another was a T56-15 turboprop engine that weighs 1,844 pounds, is 12 feet long and can reach 13,820 revolutions per minute.
Barko, the public-affairs officer, said he was thrilled with Sunday's turnout and thanked the individuals and businesses that donated money and helped put the show together.
"It gives the crowd a chance to get up close and personal with our air personnel, equipment and planes, and meet every branch of the service and talk to recruiters," he said. "Mahoning Valley, we love you."
"We feel the patriotism out here and we appreciate the support," added Maj. Brent Davis, chief public-affairs officer.