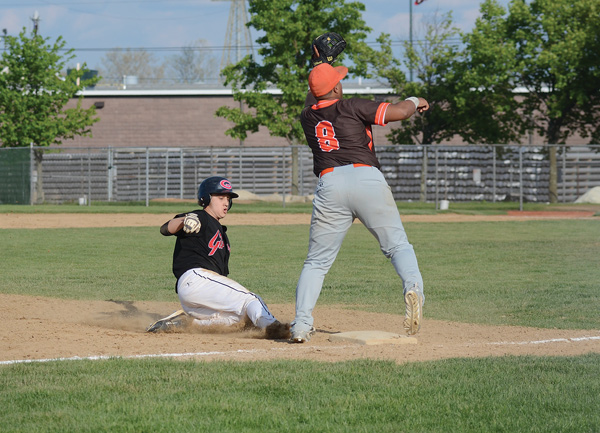 ---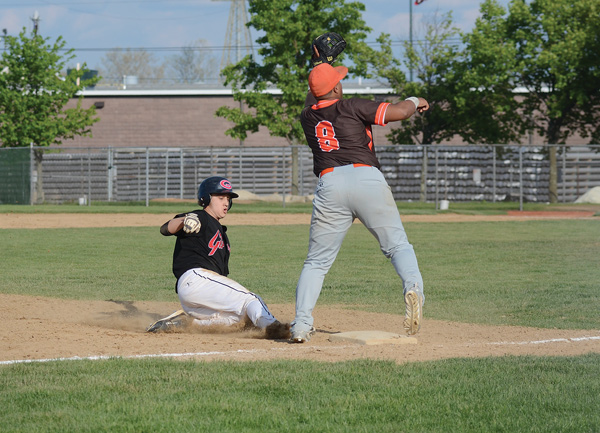 Photo
Girard baserunner Austin DeGregory slides into third base as East Palestine's Blaze Camberlain awaits a throw during Sunday's tournament game at Cene Park in Struthers. Girard won, 8-3, and advances to the Division III district semifinals to face South Range on Wednesday.
By Greg Gulas
STRUTHERS
The OHSAA Northeast District high school baseball tournament gets under way today at 4 p.m. with two Division I games at Bob Cene Park.
It will be a busy week at the baseball complex as four divisions will crown district champions. Division II semifinals are set Tuesday, Division III games are slated Wednesday and Division IV contest begin on Thursday.
Today's games have top-seeded Austintown Fitch (Eastern bracket) playing number five Nordonia (Western bracket) and defending district champion and top-seeded Aurora (Western bracket) playing second-seeded Howland (Eastern bracket).
The Falcons have won eight of their last nine contests, including a 10-2 victory over Warren Harding in a weather suspended game for the sectional title.
Under coach Wally Ford, the Falcons have won three district championships (2003, 2004 and 2007) and remain the only other local team since Boardman in 2002 to win the district's top crown.
Still disappointed after dropping last year's title tilt to Aurora, 13-5, Ford notes that seven years is a long enough wait between regional appearances.
"We're excited to get back to district play, just hoping for a different outcome this year," Ford said. "We felt like we had all of the components in place to win it all last year but it just wasn't to be.
"We lost to an excellent Aurora team in the finals and a lot of players on this year's team remember the sting of that loss," Ford said. "That's been our motivation and we feel like we're heading to district play with much needed momentum."
Howland also ended its season last year with an 11-5 loss to Aurora in a district semifinal game.
"We're ready and looking forward to this year's tournament," Howland head coach Sean Price said. "This is when you want to be playing your best ball and at the end of the season, some tough opponents have challenged us to play our best.
The Falcons (15-9, 5-1 (All-American Conference Red Division) captured a second straight league championship.
Seniors Al DiFrancesco (4-1) and Scott Pierce (3-1) are the pitching mainstays but hitting, according to Ford, has been the key to their resurgence.
"We're a well-rounded unit," Ford said. "While pitching has been a strong suit all season, hitting has been the key during our recent streak."
The Falcons feature Phil Socha (.435) and Kyle Benyo (.408) offensively while third baseman Zach Miller, second baseman Lou Peterson, center fielder Shane Vitullo and Pierce are all hitting above .350.
Nordonia advanced with a 12-2 victory over Kenston to earn their first district berth under second-year coach Drew Hoisington.
"Our schedule has more than prepared us for district play as opponents posted a combined 150-72 overall mark," Hoisington said. "Our plan was to play the best and be playing our best at tournament time. That is how we prepared and that is how it unfolded for us this season."
The Knights feature pitcher Brandon Talion (3-1) and reliever Nick Armao (2-2).
Top hitters include center fielder Alex Alders (.360), catcher Kevin Chonko (.350) and shortstop Logan Strauss (.300).
For Howland, pitchers Kyle Watson (4-2) and Kurt Kuszmaul (3-1) are the go-to twirlers for Price.
Kuszmaul (.400), who also sees time at shortstop, and Tyler Spain (.329) lead the Tigers offensively.
Of the four district finalists, only Aurora is state tested.
They won last year's district crown and advanced to their first state tournament, losing in the semifinals to eventual state champion Cincinnati Moeller.
"Our goal is to win two more games so we can get back to regionals because that's when anything can happen," Aurora coach Tim Deering said. "We aren't as strong as we were a season ago, losing several players to graduation but we're playing our best baseball right now."
A.J. Kimes (5-1, 1.20 earned-run average) and Carter Semancik (2-0, 0.86) are the Greenmen's top pitchers. Second baseman Andy Weber (.318), third baseman Nick Ely (.360) and center fielder Kirk Enoch (.270) provide offensive punch.