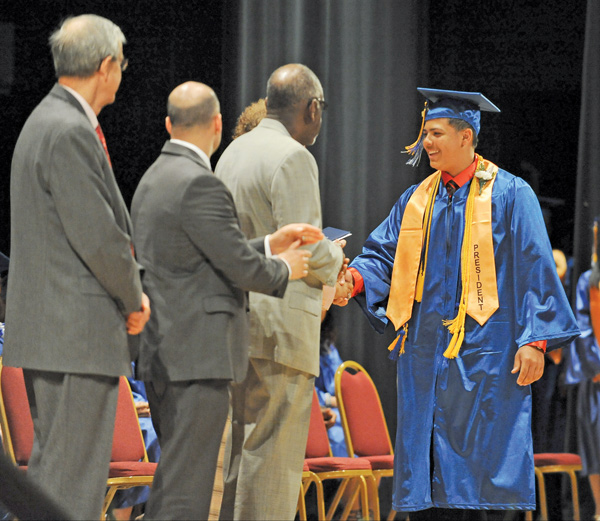 ---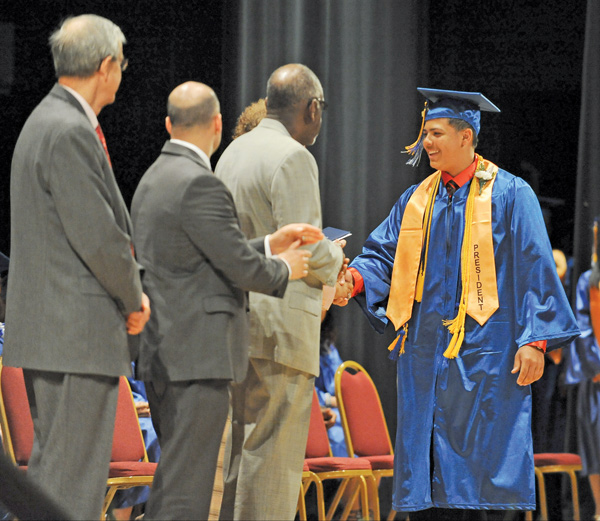 Photo
James Copeland, far right, shakes hands with school administrators during the Youngstown Early College's commencement ceremonies at the DeYor Performing Arts Center on Sunday. Copeland, 18, was president of YEC's Class of 2014 and will attend Ohio State University in the fall on a full academic scholarship.
By Bob Jackson
YOUNGSTOWN
James Copeland has been running his own business for half his life — and he's just 18 years old.
"I cut people's grass with a tractor when I was 9," said Copeland. "Now, we have our own fleet of trucks."
The young entrepreneur from Campbell was one of 45 people who graduated Sunday from Youngstown Early College, where he was president of the Class of 2014. Commencement ceremonies were at the DeYor Performing Arts Center on West Federal Street.
Copeland, who will attend Ohio State University in the fall on a full academic scholarship, recalled his father's teaching him to cut grass when he was 4 years old. Five years later, he was mowing lawns for his neighbors, which was the launching pad for his business.
"My neighbor paid me $50 to cut his grass," said Copeland. "I figured, if he's paying me that much, then how much is someone else paying him? I thought, 'Why should I work for someone else when I could work for myself?'"
His company, JC's Landscaping and Snow Service, employs 12 people and has a fleet of 12 trucks.
"It's a lot of work to manage a business and go to school, but it's been worth it," said Copeland, who will study landscape-design management with a minor in agro-business at OSU. He's training people to take care of his business and keep it rolling while he's away.
Copeland said his father is retired from Commercial Intertech, and his mother was a nurse before she died in May 2013. He honors her by having her name painted on the sides of two of his company trucks. One says "In Memory of Fannie" (her first name), and the other says, "In Memory of Fannie Mae."
After he graduates from OSU, Copeland said he intends to return home and focus on building and expanding his business.
"Someday, I'd like to even go international with it," he said.
That fit right in with a challenge made to the graduates by state Sen. Joe Schiavoni of Boardman, D-33rd, who was the keynote speaker, and encouraged them to put their education to use locally, rather than moving away.
"I'm asking you to take a leap of faith," Schiavoni said. "We need young people to stay and return to the [Mahoning] Valley." Through their education, Schiavoni said the graduates have "built a foundation" on which to stand for the rest of their lives.
"Successful people keep moving forward," said Monica Jones, dean of YEC. "They make mistakes, but don't quit."
Jones said 10 of the YEC graduates received associate degrees Saturday during commencement at Youngstown State University. She said the Class of 2014 had a 100 percent graduation rate and a collective grade-point average of 2.75.
Lyricka Loury, 18, said she moved to Youngstown from Columbus when she was in junior-high school, and attended YEC for four years.
"They always wanted me to go to gifted schools because I had good grades, but I didn't want to do that," said Loury, who was class secretary. "I thought the people there would be all snooty."
But at YEC, she found a "nice mix" of people and found a place to fit in.
She intends to complete requirements for an associate degree in social science at YSU, and then will probably go to law school.
"I want to be a detective, but I want to go to the FBI, too," she said. "I have a keen eye for noticing things, so I might as well put that to use."
Loury said she is the youngest of five children in her family, and the only one to go on to college.
Christina Garcia, 18, originally is from Newport News, Va., and, like Loury, came to Youngstown when her family moved here.
"My dad is from here, so he wanted to be closer to his family," she said.
Garcia said she plans to pursue a bachelor's degree in finance, and then a master's degree in public administration, eventually hoping to launch a career in some sort of city management — maybe even in Youngstown.
"I see potential for Youngstown to do some good things," she said.