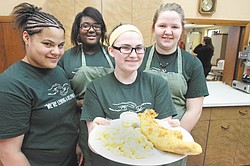 Photo
Among the members of Girls of Joy who served a fish dinner at West Side Community Center recently are, from left, Sherri Ann Odem, Kayla Taylor, Victoria Rousher and Alexis Park. As members of the nondenominational group, the girls experience opportunities to perform community work while developing job skills. William D. Lewis | The Vindicator
By Sean Barron
YOUNGSTOWN
Victoria Rousher and Brittney Nicholson helped serve food during a recent Friday fish-fry gathering, and the experience also filled their plates with valuable intangible items.
"It has helped me express myself more. I moved here seven years ago and was shy and introverted here, and this changed my life," said Victoria, a St. Joseph-Immaculate Heart of Mary eighth-grader.
She was referring to having joined Girls of Joy, a nondenominational community-service group that provides opportunities for mainly middle-school and high-school age girls to perform community work such as the dinner and to develop job skills.
For Victoria and many of the other estimated 25 members, the experience also means improved self-esteem as well as better social skills and leadership abilities.
"I can be who I really am," added Brittney, a Boardman Center Middle School seventh-grader who also was a bullying victim in school.
Girls of Joy has encouraged Brittney to bring up her grades and, perhaps more importantly, helped her make new friends and gain a healthier perspective on having been bullied, she explained.
Victoria and Brittney, along with Sherri Ann Odem, Kayla Taylor and Alexis Park, spoke about the group while preparing the recent dinner of fish, pirogi, macaroni and cheese and sweet potatoes at the West Side Community Center, 304 Matta Ave.
The weekly fish-fry dinners wrapped up earlier this month but will resume in September, noted Brigit Cramer, the center's director and group leader.
"[Girls of Joy] keeps me out of trouble," said Kayla, a Chaney High School freshman. "They do amazing work in others' lives."
The group also has helped Kayla overcome depression, something she suffered from since age 6. In addition, she said, Girls of Joy has made her more outgoing and bolstered her passion for interests such as songwriting, playing the flute and drawing, Kayla continued.
Alexis, a Rayen Early College eighth-grader and seven-year member, shared a similar narrative, saying that being part of the group has helped her work through various personal problems. Also, her shyness has diminished, said Alexis, adding that she hopes to be a special-effects makeup artist.
For 17-year-old Sherri Ann, Girls of Joy has meant reaching beyond herself and learning, for example, more about the value of recycling and other environmental concerns.
Sherri Ann, a junior in Youngstown-based Programs of Promise, said fellow group members have helped her with schoolwork. Being in Girls of Joy also has encouraged her to spend more time around positive people, added Sherri Ann, who plans to major in early-childhood education at Youngstown State University and open a day-care center.
The group, which is affiliated with the West Side Citizens Coalition, began more than 15 years ago and has evolved into allowing its members to give back to their communities, while fostering respect, kindness, teamwork and other virtues, Cramer explained.
Such efforts include singing during the annual Thanksgiving dinner at First Presbyterian Church in Youngstown, caring for a community garden, working at a summer camp from June through August with children 5 to 18 and participating in a citywide cleanup event in August, she continued.
Also assisting with the fish-fry dinner were Babe Spencer and Karen Lapresta, Cramer's mother and sister, respectively. Both also are group mentors and run a catering business at the community center.