Garretts honored for 50th mark with celebration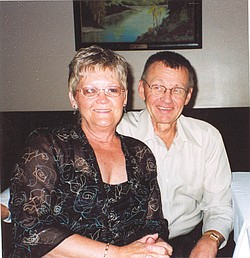 Photo
Mr. and Mrs. Russ Garrett
AUSTINTOWN
Mr. and Mrs. Russ Garrett of Austintown were honored for their 50th wedding anniversary at a celebration Saturday at Dino's Restaurant in North Jackson hosted by their family.
Their children are Jeff (Jennifer) Garrett of Salem and Jon Garrett of Littleton, Colo. They also have two grandchildren.
The former Helen Holland and Mr. Garrett were married May 15, 1964, at the bride's parents' home in Laurinburg, N.C.
Mrs. Garrett is retired. She worked for Packard Electric, Biomedical Laboratories and Austintown School System. She is a member of a golf league at Reserve Run Golf Course in Poland.
Mr. Garrett also is retired. He worked for General Motors Lordstown and Alexander Vending. He served with the 82nd Airborne Division at Fort Bragg, N.C.