Preschool recognizes Week of the Young Child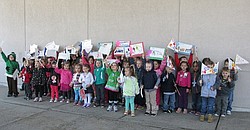 Photo
Neighbors | Submitted .Children from the classes at the Austintown Community Church Preschool Childcare Center had a parade from the school over to the Westland Center to celebrate the Week of the Young Child. The children carried flags and posters that they made expressing their favorite activity at the center.
The 2014 Week of the Young Child at Austintown Community Church Preschool (ACC) was celebrated with a parade in which parents, grandparents and friends of the center were invited to attend.
The children made flags or posters expressing their favorite activity at the preschool and childcare center. The teacher wrote on each flag or poster, indicating which Early Learning Developmental Standard was met with each child's choice.
The center believes that children learn through developmentally-appropriate learning experiences. ACC Preschool Childcare is currently enrolling students for its summer and fall programs.
The Week of the Young Child, now in its 43rd year, is an annual celebration sponsored by the National Association for the Education of Young Children (NAEYC). The purpose of the Week of the Young Child is to focus public attention on the needs of young children and their families and caregivers and to recognize the quality preschools and services that meet those needs.
More detailed information about the preschool and its programs can be found on the Austintown Community Church website at www.yourACC.org.
For tours of the school, summer registration and registration for the 2014-2015 school year, contact the school office at 330-793-1843 Monday through Friday from 8 a.m. until 4 p.m. or email the director, Cindy Ellashek, at CEllashek@yourACC.org.