Lord of Life Lutheran Church celebrates 50th anniversary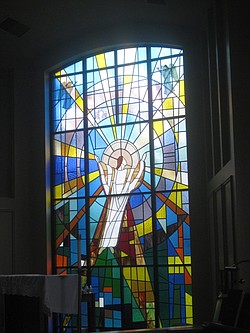 Photo
Neighbors | Abby Slanker.This stained glass window at the Canfield Lord of Life Lutheran Church was moved from the older portion of the church to its current location at the front of the church's sanctuary before the new sanctuary was dedicated June 6, 1999.

Photo
Neighbors | Abby Slanker.The Canfield Lord of Life Lutheran Church will celebrate its 50th anniversary May 17-18. Charter members and long-time members include, from left, (front) Lorinda Moucha, Norma Thomas, Betty Dysert; (back) Sheila Massie, Dan Moucha, Tim L. Elder, Pastor Becky Richie, Jayne Duffett Boucherle and Chuck Dysert.
By ABBY SLANKER
The Canfield Lord of Life Lutheran Church is celebrating its 50th anniversary as a worshipping community May 17-18. A special worship service of Holden Evening Prayer for the community and area Lutheran churches and choirs will be held at 6:30 p.m. May 17, followed by a reception at the church, located at 550 N. Broad St.
The following morning, May 18 at 10 a.m., a special anniversary service will be offered. Deaconess Judy Hoshek, Assistant to the Bishop in the Northeastern Ohio Synod of the Evangelical Lutheran Church in America will be in attendance, in addition to area guest pastors. Following this service, a luncheon will be served at Fellows Riverside Gardens D.D. Davis Center at 1 p.m. Reservations are required.
As part of the celebration, the church has commissioned a new hymn for that weekend by former musician and Canfield native Thomas Pavlechko. Pavlechko is currently Cantor and Composer in Residence at St. Martin's Lutheran Church in Austin, Texas. He served as Lord of Life's Director of Music and Organist between 1979-80. His compositions have been published by numerous publishing companies including Augsburg Fortress, St. James Music Press and Selah. His hymns appear in many denominational books including the current hymnbook of the Evangelical Lutheran Church in America.
The hymn, "Most High, O Holy God," will be utilized during the Holden Evening Prayer service on Saturday evening at 6:30 p.m. and an anthem composed by Pavlechko based upon the hymn will be premiered during the Festival Celebration Sunday morning. The public is cordially invited to attend both events.
"Thomas did a fantastic job with the hymn. He was very gracious about writing it for us," said Tim. L. Elder, Lord of Life Lutheran Church director of music ministry/organist. "The Holden Evening Prayer service in non-denominational. We want to celebrate our 50th anniversary with the Canfield community. We want everyone to feel welcome and bridge the denominational barriers that evening," Elder said.
Lord of Life Church's spiritual leader is Pastor Rebecca Richie, who was ordained on site into the ministry and installed Oct. 10, 2009, as the church's sixth pastor. Ritchie and Elder sent letters to Canfield churches and other area Lutheran churches inviting them and members of their congregation to the anniversary celebration.
"We networked with other area churches and Lutheran churches and invited them to this community event. We have developed ministry partnerships, such as Operation Blessing, and have recently been working with other local churches and we want them to be a part of our celebration," Richie said.
Canfield Lord of Life Lutheran Church began as a mission congregation of the Lutheran Church in America. Pastor Gerry Swanson came to survey the area in October 1963. He found 23 families interested in forming a church. A planning committee of William Anderson, Charles Haggis and William Roorda, along with Pastor Swanson and Rev. Martin Yonts, Regional Secretary of the Board of American Missions, was formed in December 1963. The first worship service was held at C. H. Campbell School Feb. 2, 1964, with 198 people in attendance.
The congregation was officially organized on Pentecost, May 17, 1964. The charter was signed by 97 members. Current charter members are Jim Duffett, Jayne (Duffett) Boucherle, Lorinda (Oakely) Moucha and William and Peppy Theodore. Ground was broken for the current church building Feb. 5, 1967.
Jayne Duffett Boucherle was in fourth grade when she transferred to Lord of Life Church. She is also serving as the chairperson of the 50th anniversary committee.
"In 1964, I was in fourth grade. We transferred to Lord of Life from Honterus Lutheran church, where my uncle, Rev. William Welther, who was the pastor there, had recommended that my family might want to go to a church that was closer to our home. We had a large congregation, many who had transferred to work at GM in Lordstown. My husband, Paul, and myself were married at Lord of Life and moved away to start our family, but we returned to the area in 1999. What I find most comforting about Lord of Life is the people. What you see is what you get. Everyone indeed cares about everyone else. It is a loving and genuine church and I would never think of worshipping anywhere else," Boucherle said.
Daryl (Jim) Duffet is the oldest member of the church.
"I am the oldest current member of Lord of Life church. My wife, Louise, my children, Jayne and Jim, transferred from Honterus Lutheran Church when they started Lord of Life. I was at the pastor's house when we bought the lot of four acres from Cliff Fisher, realtor. I participated in getting the pulpit and kneeling benches to C.H. Campbell School. When we moved into the church, we had only folding chairs," Duffet said.
Charter member Lorinda Moucha has several fond memories of the church.
"I remember this small electric pipe organ that we used at the school. It was a calliope and I enjoyed playing it, but we had to get it to the school every Sunday and it was heavy," Moucha said.
The church has had six pastors and four interim pastors, including Rev. Gerald Swanson, October 1963 through August 1968; Rev. Warner Holmgren (interim), September 1968 through November 1968; Rev. Michael Shahan, November 1968 through June 1974; Rev. D. Gary Schreckengost, July 1974 through July 1981; Rev. Dixon Slingerland (interim), July 1981 through July 1982; Rev. Robert Schmalzle, July 1982 through December 1996; Rev. Dale Deames (interim), January 1997 through October 1997; Rev. Constance Mentzer, October 1997 through June 2008; Rev. Lang Collins (interim) August 2008 through October 2009 and Rev. Rebecca Richie, October 2009 to present.
Lord of Life fundraisers include an annual Election Day Spaghetti Dinner at Canfield High School, participation in the Canfield Fair from 1974-2013 and providing quarterly Metro Park Farm Food Service from 2000 to present. The church also has Trash and Treasure Sales most summers.
Outreach programs include Operation Blessing, Monthly Victory Lutheran Breakfasts and Clothing, Operation Learning, after school program, Habitat for Humanity, Canfield Care Net, Canfield Red Cross Blood Drive, Christmas families, eye glasses for the Lions Club, quilts, school and health kits for Lutheran World Relief and Oesterlen Youth Service. Members also have an active prayer chain and make prayer shawls and baby blankets for members. They also provide a funeral dinner for members who have had a death in the family.
"We are a church in transition. We are undergoing a vision process and are looking to the future to see what we could be going as part of the community. We want to use the gifts we have. We are in the process of putting our new visions in place and are focusing on developing the areas which need to be reinvisioned. We are keeping up with changes in society and are always looking at what we are doing and what we could be doing. We are always adapting.
"We have several ministries at Lord of Life, including The Gathering Place, which is intended for senior citizens in the community to meet and enjoy each other's company, and have a little fun, once a month. They meet the second Monday of every month. This is part of our revision plan," Richie said.