Boardman lobbies legislators for help toward new school
---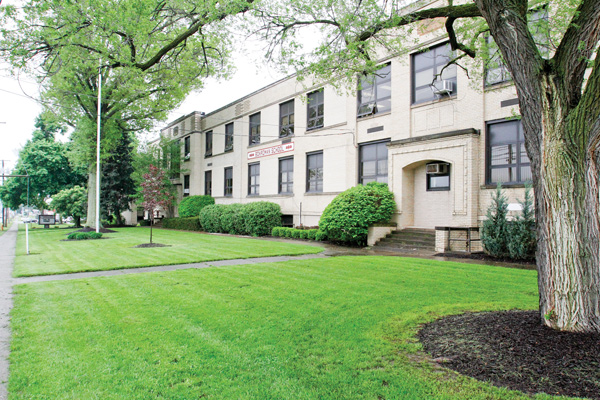 Photo
Parts of Boardman Center Middle School on Market Street are more than 100 years old.
By Kalea Hall
Boardman
A state representative and state senator are looking into possibly changing Ohio Revised Code rules for awarding school districts money to build new schools or revamp older ones.
The Boardman school district says it needs a new school to replace Boardman Center Middle and Glenwood Middle schools to bring students into one middle-school building, but the cost to do so would rely heavily on the local taxpayers.
"We as administrators and board members are aware that this building is old. We are also aware the community is still recovering from the recession," said Frank Lazzeri, superintendent of Boardman schools. "It would be irresponsible to put anything on the ballot."
The Boardman Board of Education received an evaluation from the Ohio Facilities Construction Commission within the past year, after the district was invited into an "exceptional needs program," Lazzeri said.
"After we applied and we were deemed to be the highest in need of the 19 districts invited, we assumed that we would get a higher percentage of the [state] share," Lazzeri said.
After a measure of the local property wealth, however, officials determined that the district would receive 16 percent of the share for the project from the state. The rest, 84 percent, would have to be covered by Boardman taxpayers.
"Part of our challenge has become the commercial business area," Lazzeri said. "[Boardman] is the center of commerce."
One factor Lazzeri would like to see taken into consideration is the increase of students in the free- and reduced-lunch program. Today, about 40 percent of the student population falls into this program in Boardman compared with 10 percent who did in 1996.
"[Boardman's] evaluation is high, but it is not an accurate display of what has changed in the district," said Senate Minority Leader Joe Schiavoni of Boardman, D-33rd. Schiavoni is working with state Rep. Ronald V. Gerberry of Austintown, D-59th, on "trying to find something that will benefit Boardman, but not impact other districts," Gerberry said.
"I really, sincerely want to be able to do something to increase that percentage to help the community, but unfortunately, that is not easy," Gerberry said. "Just because it has never been done before doesn't mean it can't be done."
Some parts of Boardman Center Middle School are more than 100 years old, and Glenwood was built in the early 1960s. The estimated cost to build a joint middle school and knock down BCMS is $40 million. The new school would house approximately 1,300 students.
"We have kept this building in great shape. It just doesn't support 2014 learning," Lazzeri said.
Some problems the district has in Boardman Center include leaking windows, lack of air conditioning, technological delays, electrical issues and more.
The district was also asked to participate in the expedited local partnership program, in which the state would reassess every building in the district. The board will have to pass a resolution to enter the program and eventually commit to putting a bond issue on the ballot.
"The state wants to know we are serious about this," Lazzeri said.
Schiavoni hopes to go throughout the state to look for similar districts to Boardman in the same situation. The Matthews school district in Trumbull County is one other school district that contacted Schiavoni.
"You can't change the state law for just one school," Schiavoni said.
Last year, a 1.6-mill, permanent improvement, five-year replacement levy passed by four votes. It raises $1,313,621 annually. The funds gathered from that levy will go toward security upgrades in the existing schools. Among those upgrades include the use of Raptor system, which scans every person's identification card and checks background, updating entrances, public announcement and phone systems, cameras on buses and more.