Dobbins Elementary hosts Right to Read Week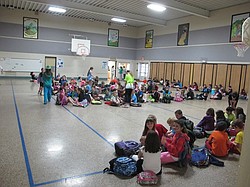 Photo
Neighbors | Tim Cleveland.Dobbins Elementary students filled the school's gym for the first day celebration of Right to Read Week.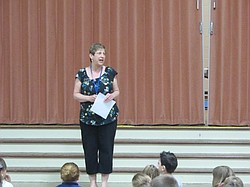 Photo
Neighbors | Tim Cleveland.Dobbins Elementary librarian Lois Dunnavant spoke to the students about the activities they would be doing during Right to Read Week.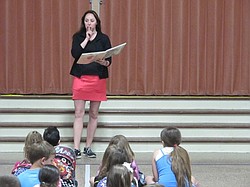 Photo
Neighbors | Tim Cleveland.Poland Schools physical education teacher Kristi Schenker read "The Knot Fairy" to Dobbins Elementary students during the first day of Right to Read Week.
By TIM CLEVELAND
One of the biggest things a school can do is to encourage students to read at a young age. From May 12-16 Dobbins Elementary hosted Right to Read Week, with guest readers all week in an effort to get students to enjoy reading more.
"We do Right to Read Week every year," said Dobbins librarian Lois Dunnavant. "We just change the theme every year to try and find something that we think will encourage them."
The theme for this year's Right to Read Week was "Enter the Magic Kingdom of Reading." Dunnavant said the idea was to come up with a theme that would resonate with students.
"We wanted to find something that all the students can relate to," she said. "Every student has heard of a Disney movie. They can relate to it. With all the different worlds that are out there we figured that gives you a wide genre of subjects. There's got to be something out there that we're going to hit with some student something that will perk their interest."
The Dobbins Elementary hallways were decorated with quotes from Disney movies and books and pictures of Disney characters. The Poland library's children's librarian discussed the summer reading program, and on Tuesday the Poland Seminary High School choir sang songs from Disney movies.
Each grade level represented one of Disney's Magic Kingdoms from Fantasyland, which focused on books about fairies, countries [from It's a Small World] and fairy tales to Liberty Square's Hall of Presidents [with presidential biographies].
Various teachers from the Poland School District appeared each day during the week to read a different book to the 215 Dobbins students in grades kindergarten through four. For Monday, the reader was physical education teacher Kristi Schenker, who read "The Knot Fairy." The readers for the following days were Poland Schools superintendent David Janofa ("Pirates Go To School"), North Elementary principal Stephanie Mateja ("Miss Smith Under the Ocean"), Officer Steve Kent ("Diamond Jim Dandy and The Sheriff") and on Friday WFMJ meteorologist Jessica Briganti, who read "Me…Jane" and was escorted by Mickey and Minnie Mouse.
Third-grader Alyssa Glaros said she loves reading and enjoyed the Right to Read Week activities.
"I love to read so I thought it was a great idea," she said. "I like to read long chapter books. My favorite one is 'Half Upon a Time.' It's like a fairy tale and I like creative things."
Dunnavant said encouraging children to read is the main goal of Right to Read Week.
"I think it'll give them a little more excitement of reading, realizing how exciting reading can be," she said. "That's what we want. We want them to be excited about reading. That's what everything is based on. We want that excitement for them. When a student who thinks a book is only for studying will realize they can get enjoyment out of it too."