Published: Tue, May 13, 2014 @ 10:15 a.m.
Youngstown Police Chief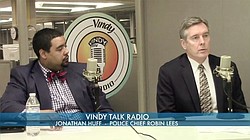 Video Set
Vindy Radio will be live from 8 a.m. to noon May 14 with host Louie Free.
Along with his regular programming, Louie will welcome Youngstown police chief Robin Lees for a special segment starting at 9 a.m. Lees, who was recently appointed police chief by mayor John McNally, will discuss crime in the city of Youngstown and what he hopes to achieve during his tenure as chief.
Go to vindy.com/radio to listen to the show live, or vindy.com/mobile/vindy-radio to listen from your smartphone.
Click here to listen to the show. Follow @vindicator and @vindyradio on Twitter to check out live tweets from our chat with Chief Lees. Check back on this story later to see video clips from Lees' visit.
Vindy Talk Radio Studio: 330-333-4454