There are financial penalties if he leaves YSU early
By Denise Dick
YOUNGSTOWN
YSU President Jim Tressel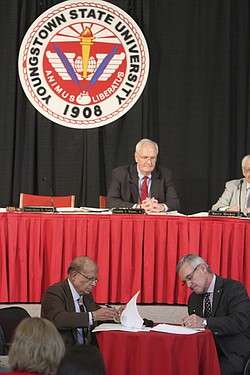 Gallery
Jim Tressel was named YSU President.
Jim Tressel, newly chosen ninth president of Youngstown State University, will be paid $300,000 to start, under contract terms signed Monday.
The former YSU and Ohio State University head coach said he was offered more money by YSU but declined.
Randy Dunn, who resigned in March after eight months as the university's president, was to earn $375,000 his first year.
"Ellen and I know how lucky we are. We know we have a lot to prove," Tressel said. "It's up to us to make a tremendous impact on this region."
Tressel's three-year term begins July 1. Tressel will earn $300,000 the first two years with the third-year salary undetermined, the university announced.
The contract terms were approved in a special YSU trustees meeting in which the panel moved into closed session for about 40 minutes.
Tressel and his wife, Ellen, then joined the open meeting. Members of faculty, staff and administration and some students were among attendees.
Tressel and YSU Board of Trustees Chairman Sudershan K. Garg then signed a letter of understanding with the contract terms, shaking hands — with the chairman welcoming the Tressels "home to YSU." The president-designate introduced his wife and then his in-laws, Frank and Norma Watson.
YSU will pay reasonable relocation costs.
Tressel will also get an American-made car and housing in the Pollock House on campus.
If Tressel terminates the contract within a year, he'll pay the university $200,000; he'll pay $175,000 if he terminates within two, and $150,000 if he leaves within three years. University trustees wanted those guarantees in the aftermath of Dunn's quick exodus.
Tressel said he spent much of the weekend responding to texts and emails from people who extended their well wishes in his new position, calling it an "amazing outpouring of encouragement."
Tressel, who last week visited campus as part of the interview process, said when he arrived on campus, he stopped outside the MVR restaurant and thought about the late Carmine Cassese and the importance of people. Cassese died last July. As the third generation Cassese to serve Youngstown, Carmine gradually transformed a small family restaurant in the Smoky Hollow into a destination spot. He was a long-time YSU supporter.
Tressel, who has spent the past two years as an administrator at the University of Akron, spoke about the need for everyone on campus to work together to tackle the challenges facing the university.
"Each one of us is insignificant without each other," he said. "With tradition comes responsibility."
Tressel said a mentor of his reminded him of the phrase, "Increase excellence" — and he said it's an imperative.
At a news conference, Tressel said he's "blessed" to be back at YSU. He stressed the need for collaboration with businesses, schools, the Catholic diocese and non-profit organizations — as well as new leadership at Hiram College, Kent State University and the University of Akron.
"Northeast Ohio has been one of the extraordinary shining lights of our country," he said.
He said YSU needs to improve its graduation, retention and placement rate.
"That's the scoreboard," he said — stressing that student success is "No. 1."
Tressel also said he thinks Dunn was doing a great job during his brief tenure.
He said the university needs to make sure, with fundraising, that YSU is affordable for many students. The No. 1 reason someone selects a university is affordability, he said, noting scholarships can help with that.
At the same time, officials need to address student debt.
As YSU and public colleges and universities continue to combat decreased state funding, Tressel said he'll make YSU's case in Columbus — but will make other plans, too. YSU can't assume state subsidy will go up, he said.
"We're going to count on the things that we can do," Tressel said. "The most important thing we can do in retention is believe it's every person's responsibility."
At a public reception and meet-and-greet for his supporters after the news conference, Tressel met some of those who urged trustees to appoint him early on. Many Valley business and political leaders had lobbied university trustees to choose him.
After recommendations from these Valley leaders, YSU's union leadership and others, Tressel was selected over Mary Cullinan, president and professor of English at Southern Oregon University, and Gary L. Miller, chancellor at University of North Carolina at Wilmington.
Tressel was selected by the trustees in a unanimous vote Friday morning. The former national championship coach for YSU and OSU football teams and current executive vice president of student success at the University of Akron was also in the running for the presidency at Akron. But Scott L. Scarborough was selected as the 16th president there Thursday.
Tressel declined to say whether he withdrew his UA application instead offering, "I hope we got two darn good presidents" who want to do their best for the region and their universities.